LET THEM EAT CAKE – Allianz Madvac President/CEO Does Not Pay US Workers; He Does Pay His Canadian Workers
Surprising story posted onto Allianz website.
April 12, 2011; reprinted from front page of Allianz website, www.allianzsweeper.com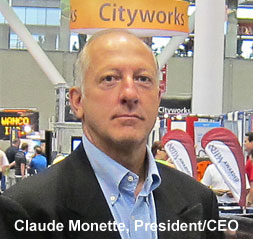 By now the sweeper industry has learned that Allianz Madvac and Allianz Sweeper Company have closed their doors.
Rumors regarding the possible sale of Allianz had been buzzing for months. What many are not aware of is the unsavory method that Allianz President/CEO, Claude Monette, implemented the closure with the apparent blessing of key share holder The Fund QFL of Canada (major share holder of AMI and ASC located in Canada).
President/CEO, Claude Monette, allegedly made the under-handed decision NOT to pay the last months salary (or vacation, etc.) to employees of their California facility in Ontario, CA. Monette sent this memo to the Allianz dealer network indicating business as usual and support was intact (click here to read Allianz Madvac Dealer Memo 2-25-11).
Some employees had been with the company for over thirty years. Monette sent several of his direct staff to the California facility during this period in what allegedly appears to have been part of his plan to close the doors and not notify or pay employees.
Allianz Sweeper employees were never informed or notified of the impending closure. Allianz Sweeper employees were never informed or notified that they were no longer employed by Allianz. The doors were shut and locks changed over the weekend of March 20, 2011.
Employees were informed by Canadian bank representatives sent to the Allianz Sweeper facility in Ontario, CA that there were no provisions to get their owed pay. Employees were left out in the cold with no information and were not provided any way to contact anyone that could answer the pressing questions regarding owed salaries, etc.
This situation created by Monette at the helm of Allianz Sweeper and Allianz Madvac has undoubtedly put some Allianz employees in precarious financial stress. Employees attempted to contact Allianz Sweeper, Allianz Madvac, and The Fund QFL to try to get some kind of word about unpaid salaries, etc. - to no avail.
In addition, several former Allianz managers, U.S.-based employees did not get reimbursed for prior months of travel and expenses, vacation and overtime pay due, charge card balances Ð and even that salaried U.S. employees have to date not been provided with Cobra insurance access. As one long-time Allianz manager related, "It is a blatant 'spit in the face' to loyal employees, some of which have been with the company for over thirty years."
Canadian news media covered the closure of Allianz Madvac in Boucherville, Canada (click here to view news clip) on March 18, 2011.
Inside sources at Allianz Madvac in Canda commented that they were informed by Monette's direct staff to avoid and ignore contact with Allianz Sweeper in California during this period. Phone calls and emails from the California facility were indeed ignored according to employees in California.
Employees of Allianz Sweeper in California are said to have filed claims with the US Department of Labor in California and Washington DC. Also, claims have been filed with California's Labor Board. The IRS and California Franchise Tax Board have also been notified regarding the possiblity that Allianz did not appropriately pay employee tax contributions.
Apparently the employees have hopes of due process in what Monette has allegedly illegally done (illegal in at least in the United States and California). Apparently these claims point directly at Monette, Allianz Sweeper, Allianz Madvac, and The Fund QFL.
It is rumored that media coverage regarding the method of closure and employee non-payment may appear in several leading publications, including the New York Times and Wall Street Journal. The US Department of Labor and California Labor Board are taking this situation quite seriously. It appears that Monette and The Fund QFL are certainly implicated in these federal and state claims.
News media in Canada and the US have made attempts to contact The Fund QFL and have been told they have no comment. It appears that the Canadian employees did receive full pay. US employees did not. Alledgedly US laws do not seem to be appreciated by Monette.
It is also rumored that dosiers in this regard have been sent directly to the offices of US Senator Barbara Boxer and US Senator Dianne Feinstein in California and Washington DC for review and expedition, as well as to New York City Commissioners.
Neither Allianz Sweeper Company or Allianz Madvac Inc. are in bankruptcy. However, they are in receivership. Records indicate that Allianz Sweeper Company/Allianz Madvac Inc. owe an estimated $1.9 million in employee salaries.
The word is that they (Allianz Sweeper Company/Allianz Madvac Inc. and The Fund QFL) intend NOT to pay any of it. Which is very interesting considering that Allianz Sweeper Company/Allianz Madvac Inc. had their employees work a full month under what appears to be premeditated fraudulent circumstances with direction from Monette.
It is clear that Allianz employees that were cheated out of pay are not going to back down any time soon.
Industry media has picked up on what appears to be a blatant example of Monette's utter disregard for loyal and dedicated employees, as well as disregard for US and California State labor laws. (click here to read editorial).
Click here to view, download, save, or print this news article in PDF format.
Companies go out of business all the time. That is not an issue. The issue is in the manner Allianz Sweeper employees have been wrongly treated, let alone getting stiffed out of their owed pay. Allianz Sweeper has millions of dollars of inventory in the Ontario, CA facility and in Allianz Madvac Boucherville, Canada.
They are also rumored to be awaiting payment upwards of $5 million for machines for delivery. None of which seems to be slated to pay their California employees.