September, 2008

Allianz Sweepers introduces the new Allianz Johnston RT655 regenerative air sweeper.
The new Allianz Johnston RT655 boasts the largest hopper in its class.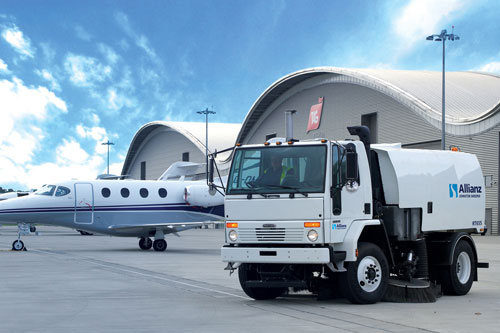 Allianz, the world's largest manufacturer of street sweepers, introduces the RT655. Allianz representatives call the company's new 655 "a product of engineering genius, designed and built to meet the demanding needs of today's customer.
"This regenerative sweeper produces the most incredibly powerful and continuous blast of air into a sealed hood that is pulled along over the road surface. This air blast loosens and disturbs all debris it encounters. A suction duct, located within the hood, conveys the newly-disturbed dirt and dust into the debris hopper."
The RT655 features a gearbox-driven blower, which eliminates belts and other high wear components. This results in a lower cost of operation. The RT655 is available with a unique water recirculation system which filters water from the debris hopper resulting in less water usage and greater productivity.
Features of the Allianz RT655 include:
Largest hopper in its class (8.5 cu.yd.)
Largest water tank in its class (250 gal)
John Deere turbocharged diesel engine
Safer operation with automatic body prop
Wide sweeping path (140 in.)
Allianz has a worldwide customer network of 125 stocking distributors in over 82 countries. Allianz designs and manufactures street and runway sweepers with technology configurations that include vacuum, mechanical and regenerative air.
Founded in 1955, the company is a recognized and respected leader in its field. Allianz produces and provides the highest quality sweepers for airports, highways, major cities, towns and municipalities, federal and state properties, industrial and commercial complexes, landfill sites, parks, schools and universities, shopping centers and parking lots, and for streets and contractor applications.
For further information please visit the Allianz website:
www.allianzsweeper.com
Telephone: 1-909-653-5600
Email: info@allianzsweeper.com