AdfinityTM X20R REVTM Automatic Floor Scrubber Announced as ISSA Innovation Award Recipient

The Advance AdfinityTM X20R REVTM has been named the winner of the 2011 ISSA Innovation Awards in the Equipment Category.

Competing with five other unique equipment products, the Adfinity REV was selected as the leading innovative product by cleaning-industry distributors, wholesalers, building service contractors and in-house service professionals.
Plymouth, MN – October 7, 2011
The annual ISSA Innovation Award Program took place online at ISSA.com from July 15, 2011 to September 30, 2011. During that time, industry professionals and end-users selected the most innovative offerings from 30 entries in five unique categories. Voters had the option to vote for one product in each category.
"We are extremely honored to receive the ISSA Innovation Award as it is a direct reflection on how our customers view our equipment," said Steve Baker, Vice President of Sales & Marketing for Nilfisk-Advance.
"We are also encouraged that our early product development work focusing on solutions to our Education and Healthcare customers' cleaning challenges paid off with REV. Our customers' exuberance over REV has resulted in more than 50% incremental sales growth in our small scrubber category since its release."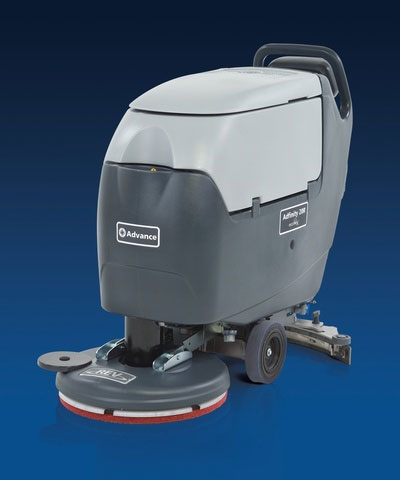 The Adfinity X20R REV automatic floor scrubber provides the most uniform daily scrubbing performance and deep scrubbing for chemical-free finish removal in a single pass.
Equipped with patent-pending Random Orbital Scrubbing technology, the Adfinity REV is the industry's first automatic scrubber to clean floors with distinct, random orbital and rotational motions. This powerful, patent-pending combination delivers a uniform, non-swirled floor surface while using far less water and chemicals, leaving floors ready for restoration.
Advance will be featuring the Adfinity REV at the ISSA/Interclean trade show October 18-21, 2011 in Las Vegas, NV at booth 1415. In addition to viewing the unique scrubbing capabilities of the Adfinity X20R REV, attendees are invited to see our latest product innovations, including new products in the REV family of scrubbers due out in 2012.
Advance is a brand of Nilfisk-Advance, Inc. For more information on the Adfinity X20R REV, call 866-429-8175 or visit http://www.advance-us.com/rev
---
About Nilfisk-Advance
Nilfisk-Advance is one of the world's leading manufacturers and suppliers of professional cleaning equipment. With global company headquarters in Denmark, the company has developed professional cleaning equipment for over 100 years.
Nilfisk-Advance has production facilities in North America, South America, Europe and China, has an extensive network of sales entities in 43 countries and is represented in more than 100 countries around the world. The company currently has over 5,000 employees worldwide, with global sales of over $1 billion USD in 2010. Its Americas headquarters are based in Plymouth, Minnesota.
---
If you have a question or comment about this press release, please let us know. If appropriate, we'll add it to the bottom of this page.
---