Advance SW8000 Rider Sweeper Provides Superior Dust Control for Indoor and Outdoor Power Sweeping
Plymouth, MN – February 1, 2013
Advance introduces the SW8000TM, the company's newest industrial-sized rider sweeper. Featuring a 50-inch main broom–the widest in this sweeper class–and DustGuardTM side broom dust suppression system, the SW8000 provides the widest dust controlled sweeping path in the industry.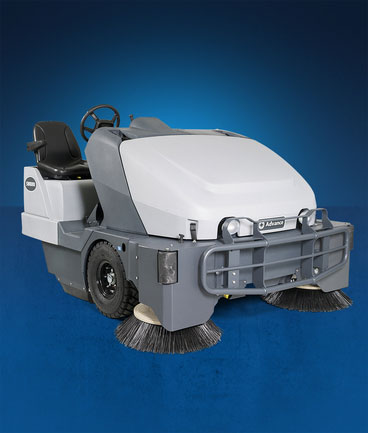 The SW8000 delivers unprecedented dust control through the patent-pending DustGuard dust suppression system, which attacks dust at the greatest source of power sweeper fugitive dust, the side brooms.
"The Advance SW8000 takes power sweeping to the next level," said Erich Schroeder, Product Manager, Nilfisk-Advance. "Compared to conventional rider sweepers, which control dust at the main broom only, the SW8000 with DustGuard increases productivity by over 70 percent, allowing our customers to complete large sweeping jobs in considerably less time without the problem of fugitive dust."
In addition to superior dust control, the SW8000 provides the following benefits:

Quiet, smooth and reliable operation with reduced maintenance costs are achieved with Kubota engines for all fuel types.
Easy-to-use, One-TouchTM controls minimizes operator training.
Clear-ViewTM design provides operator a comfortable and safe view of side broom and in front of machine.
Enhanced operator safety with hopper safety arm engagement from the operator seat, impact-absorbing, roto-molded body structure with an integral 5-mph bumper.
Designed for industrial environments, the SW8000 is ideal for a wide range of applications, including but not limited to manufacturing plants, warehouses, contract and rental cleaners, parking garages, surface lots, municipal parks and amusement parks.
Advance is a brand of Nilfisk-Advance, Inc. For more information on the new Advance SW8000TM Rider Sweeper, call 800-850-5559 or visit this link.
---
About Nilfisk-Advance
Nilfisk-Advance is one of the world's leading manufacturers and suppliers of professional cleaning equipment. The company has developed professional cleaning equipment for over 100 years. Nilfisk-Advance has production facilities in North America, South America, Europe, and China, and has an extensive network of sales entities in 43 countries and is represented in more than 100 countries around the world. The company currently has over 5,000 employees worldwide, with global sales of over $1 Billion USD in 2010. Nilfisk-Advance is a part of the NKT Group and listed at NASDAQ OMX Copenhagen.
---
If you have a question or comment about this press release, please let us know. If appropriate, we'll add it to the bottom of this page.
---