Industry's First Hybrid Drive Combination Sweeper-Scrubbers Slash Fuel Costs, Emissions and Hydraulic System Maintenance
Energy-efficient Advance CS7000 doubles operating run time while virtually eliminating 98 percent of high-maintenance hydraulic systems.
Plymouth, MN – May 10, 2011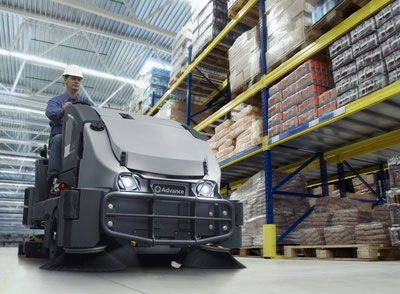 Advance introduces the CS7000 sweeper-scrubbers, delivering unprecedented performance, fuel efficiency and operational range on one sustainable platform. Using efficient hybrid drive or extended run-time battery powered configurations, the CS7000 largely eliminates complex, high-maintenance hydraulic systems of traditional ride-on cleaning equipment.
"The CS7000 is a huge advance in the future of sustainable cleaning, offering less mechanical complexity while still adhering to high productivity expectations," said Mike Kanitz, Product Manager for Advance. "We have bridged the gap with the CS7000, offering machines with unparalleled energy efficient electric motor technology at the lowest cost of ownership for industrial floor cleaning."
Advance offers three models built on the innovative CS7000 high-efficiency electric drive system, with two Hybrid drive models and one ePowerTM battery model available to meet diverse cleaning application requirements.
The Advance CS7000 Hybrid models – available in LP or diesel – offer equipment owners an efficient green cleaning option with the following benefits:
Up to 50 percent less fuel consumption significantly reduces harmful carbon dioxide (CO2) emissions and minimizes high fuel costs.
Lower operating noise than similar engine powered machines provides minimal intrusive operation within facilities.
Hybrid system battery power allows users to drive to refueling station if machine runs out of fuel during operation, minimizing lost productivity particularly in large operations.
The CS7000 ePower battery model significantly reduces equipment owner's total cost of ownership.
Additional benefits include:
Extended run time of up to 5.4-hours sweeping and scrubbing on a single battery charge versus traditional 3.5-hour run times on competing machines.
Cleaning performance equal to similar engine powered machines.
Zero emissions increase indoor air quality.
The CS7000 sweeper-scrubber operates with reliable IP55 washdown-rated, electronically-controlled electric drives and propulsion, offering simplified operation and maintenance.
Compared to competitive dual cylindrical sweeper-scrubber designs, the CS7000 utilizes a cylindrical sweeping system and a separate disc scrubbing system.
Dedicated sweeping and scrubbing functions with one-pass cleaning power keep dry debris dry without introducing scrub solution into the debris hopper. This provides operators and equipment owners with increased productivity and reduced maintenance.
Optional equipment features provide users with unlimited flexibility to meet their cleaning challenges. The patented DustGuardTM System suppresses dust at its source during sweeping, reducing dust generated by side brooms by up to 75 – 85 percent.
Combined with the patented, high capacity Donaldson PowerCore® ultra-web nanofiber filtration technology, the CS7000 improves dust control further by eliminating clogged filters. Users can also employ the optional EcoFlexTM System, which puts flexible, cost-effective cleaning power at their fingertips with one touch control, green cleaning capabilities.
The CS7000 is ideal for industrial cleaning applications that present difficult-to-manage areas due to the size and scope of the required cleaning area, including warehouse, shipping and manufacturing facilities. Outdoor cleaning applications, such as heavily-accessed university grounds or large parking lots, also benefit from the CS7000's dual cleaning capabilities.
Advance is a brand of Nilfisk-Advance, Inc. For more information on the new Advance CS7000 Sweeper-Scrubber, call 866-429-8175 or visit http://www.advance-us.com/cs7000
About Nilfisk-Advance
Nilfisk-Advance is one of the world's leading manufacturers and suppliers of professional cleaning equipment. With global company headquarters in Denmark, the company has developed professional cleaning equipment for over 100 years.
Nilfisk-Advance has production facilities in North America, South America, Europe and China, has an extensive network of sales entities in 43 countries and is represented in more than 100 countries around the world. The company currently has over 5,000 employees worldwide, with global sales of over $1 billion USD in 2010. Its Americas headquarters are based in Plymouth, Minnesota.
---
If you have a question or comment about this press release, please let us know. If appropriate, we'll add it to the bottom of this page.
---