APWA Names 2012 National Top Ten Public Works Leaders
Kansas City, MO; May, 2012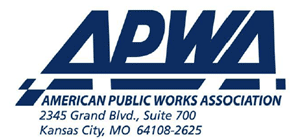 The American Public Works Association (APWA) announced today the 2012 Top Ten Public Works Leaders of the Year. Marking the 52nd anniversary of the award, the honor is among the most coveted and prestigious presented by APWA.
Each Top Ten Public Works Leader is recognized at local, community-oriented events, as well as during the Awards Ceremony as part of the APWA 2012 International Public Works Congress & Exposition in Anaheim, California during August 26-29.
"APWA is proud to honor the Top Ten Public Works Leaders from the U.S. and Canada, which are part of APWA's National Public Works Week celebrations from May 20-26, 2012," said APWA Executive Director, Peter B. King. "These Top Ten Leaders are exceptional public works professionals who have been selected by a committee of peers for their career-long professionalism, expertise, service and personal dedication to improving the quality of life in the communities they serve.
This year's Top Ten list includes an Operations Director, Directors of Public Works, a State Secretary of Transportation, an Engineering Development Review Manager, Vice President, and City Engineer from municipalities across North America, who represent the best of the public works profession. They are all to be highly commended, and are extremely worthy of this honor," said King.
Award recipients include:
William D. Brown, P.E. – Director of Public Works, City of Overland Park, Kansas
Phil Broyles, P.E. – Director of Public Works, City of Springfield, Missouri
Robert R. Gordon, P.E. - Director of Public Works, City of Temple Terrace, Florida
Thomas M. Grisa, P.E. – Public Works Director, City of Brookfield, Wisconsin
Paula Hammond, P.E. – Secretary of Transportation, WS DOT, Olympia, Washington
Peggy Keppler, P.E. PLS, -Engineering Development Review Manager, City of Eugene, Oregon
Larry T. Koehle, P.Eng., MPA, PWLF – Vice President, ASI Technologies, Brampton, Ontario
David Lawry, P.E. – Director of Village Operations, Village of Wauconda, Illinois
Dan Mikkelson, - City Engineer, City of Salisbury, North Carolina
Vitaly B. Troyan, P.E., Director of Public Works, City of Oakland, California
To see the Top Ten recipients since 1960, please visit the APWA Top Ten Awards section online here.
For information about individual awards presentations, contact APWA Media Relations/Communications Manager, Laura Bynum, M.A. at (202) 218-6736 or lbynum@apwa.net.
---
About APWA The American Public Works Association (www.apwa.net) is a not-for-profit, international organization of more than 28,500 members involved in the field of public works. APWA serves its members by promoting professional excellence and public awareness through education, advocacy and the exchange of knowledge. APWA is headquartered in Kansas City, Missouri, has an office in Washington, D.C. and 63 chapters in North America.
---