March, 2018
1-800-SWEEPER Hires Executive Director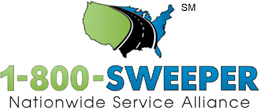 1-800-SWEEPER, a nationwide service network of independently owned power sweeping companies, has announced Ben Steyer as its new Executive Director.
As the 1-800-SWEEPER Executive Director, Ben will be focused on creating a strategic growth path to increase servicing footprint of the 1-800-SWEEPER organization, market share for the partner companies and vendors while advancing the sweeping industry in general.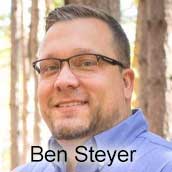 Ben has been involved in many different aspects of business built on his Bachelors of Business Administration degree from Tiffin University. His career started with a thorough understanding of accounting and organization which included tracking a vehicle fleet across the country.
Ben is passionate about customer service and understands how vital communication is between company personnel and the client to deliver on promises and guarantee solutions. In his recent role as Vice President of Sales and Marketing, Ben collaborated with the executive team to devise strategic plans that resulted in nearly tripling sales revenue within 6 years. Through rebranding, strategic organizational development, improved sales strategies and excellent reporting acumen, Ben left his former company with excellent momentum.
"I was immediately impressed with Ben's passion for business growth and his ability to establish measurable goals that boost efficiencies," states Mike Lucht, Founding Member and President of 1-800-SWEEPER. "Ben's experience and success gives me great confidence in his ability to lead our group and serve as a resource to the partners and our customers well."
Ben is thrilled for the opportunity to utilize the solid components of the 1-800-SWEEPER business model to improve the brand message and brand consistencies in the industry. Leveraging the centralized marketing, Ben anticipates launching programs and plans that will further benefit partners all the while growing the organization. In addition to enjoying the challenges of the business world, Ben, along with his wife, Whitney, an Occupational Therapist, devotes his time to raising two sons, Jackson and Tyson, in Temperance, Michigan.
Ben Steyer can be reached at bsteyer@1800sweeper.com; alternatively, call him at 1-800-SWEEPER (793-3737).
About 1-800-SWEEPER:
1-800-SWEEPER is a nationwide service network that brings independently owned sweeping companies from coast to coast under a unified marketing, purchasing and service structure. Visit the organization online at: https://www.1800sweeper.com/about-us/1-800-sweeper-foundation
If you have comments or further information on this topic, please let us know.