October 10, 2011
Nationwide Contract Sweeping Service Organization Launched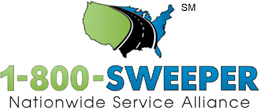 1-800-SWEEPER, a new service network of independently owned power sweeping companies across the United States has been launched. The organization brings companies from coast-to-coast under a unified marketing and service structure.
Offering parking lot sweeping, street sweeping and a variety of construction related sweeping services under a common brand, 1-800-SWEEPER benefits nationwide and regional facility management customers with the ability to contract self-performing local service providers through a single point of purchase. Customers at all levels benefit from the strength, experience and leverage gained through this combined initiative.
Coordinator Mike Lucht says: "We're combining our resources to provide innovative sweeping solutions to meet the diverse environmental responsibilities and challenges that are inconsistent across the country due to the varying effects of climate and regulations at the local level. 1-800- SWEEPER provides our professional self-performing affiliates a conduit to leverage themselves into a national service organization thereby strengthening the value of their local knowledge, experience and performance to customers nationwide." Lucht is the president of member company Progressive Sweeping in Toledo, Ohio and Detroit, Michigan and is the spokesman for 1-800-SWEEPER.
1-800-SWEEPER provides power sweeping services in the private and public sector to commercial properties, businesses, contractors, municipalities and state governments throughout the United States. From one-time, on-call hourly power sweeping or establishing ongoing routine service to a municipality to sweeping multiple commercial locations on a contract basis, 1-800- SWEEPER offers reliable, value-oriented solutions that feature only licensed, insured, drug tested, and professionally trained environmental technicians and a variety of well maintained equipment.
Addressing Changes in the Market
In recent years, large national big box retail stores such as Target, Lowes, Rite Aid and Best Buy have centralized their purchasing and reduced their number of vendors in the interest of reducing their costs for exterior maintenance services. As a result, in many cases, individual store managers no longer are involved in contracting directly for these services at the local level. While this practice has reduced the vendor list for those multiple locations across the country, it has introduced several "generalist" facility management companies such as US Maintenance (USM) into the market as a middle man between the buyers and the performers of the service.
"As a result, many local, qualified service providers are unable to pursue the business on a national or regional scale, due to lack of time and/or resources. They find themselves disconnected with their customer, and working for a third party facility maintenance broker becomes their only alternative. Consequently, those with the investment and the risk have somewhat lost control of their destiny in this sector of the market," Lucht noted.
1-800-SWEEPER provides facilities managers an alternative to the third party facility maintenance brokers with an opportunity to re-connect with local, self performing service providers without giving up the economies of scale inherent to a single vendor. "Through our organization, we provide single point billing, single point of contract administration along with responsibility and built-in quality control for keeping parking lots clean using a dedicated, professional, drug-free workforce." Lucht noted.
Property managers, municipalities, homeowners' associations and construction managers recognize power sweeping as a best management practice or BMP that shows immediate returns with residents and customers alike. Sweeping directly affects asset management, risk management, environmental management and the esthetics of your property.
Creating Competitive Advantage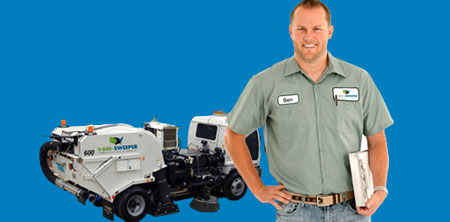 Membership started with 21 companies and is poised to grow to 75 companies and beyond with one member per market area. The individual members of 1-800-SWEEPER all share in the combined cooperative marketing of the organization through a unified phone number - 1-800- 793-3737 (SWEEPER, of course!) that appears on all members' vehicles – "rolling billboards" Lucht calls them.
The national website, www.1800sweeper.com, lets a prospective customer select a local sweeping service company or contact the main office to arrange for regional or national sweeping services. In addition, members of 1-800-SWEEPER share valuable benefits beyond marketing. The organization combines its purchasing power with strategic vendor/partners to create competitive advantage pricing for the members in each of their respective local markets, as well as creating growth opportunities for the vendor. Discounted pricing for parts, supplies, equipment, and even fuel are perks of leveraging the power of the buying group co-op model.
"Bringing buyers and sellers together to achieve mutual benefit, is our mission", says Lucht. "Leveraging our combined buying power ultimately keeps the prices down for our customers and allows 1-800-SWEEPER to be a truly sustainable solution."
Supporters of the National Educational Organization
All contractor companies involved in 1-800-SWEEPER are current members of the North American Power Sweeping Association (NAPSA.) NAPSA is a national nonprofit trade association committed to promoting and educating the power sweeping community while enhancing the environment. Several 1-800-SWEEPER partner company executives are current or former NAPSA board members. Mark Carter, of Bill's Sweeping Service in Orange County, California and a former NAPSA board president, says: "NAPSA membership tells your clients that your business is knowledgeable, experienced, and professional."
For more information about this topic or to schedule an interview with Mike Lucht, contact Carolyn Bell, Member Services Administrator, via email sent to cbell@1800sweeper.com; alternatively, call her at 1-800-SWEEPER (793-3737).
If you have comments or further information on this topic, please let us know.