Sweepers of the Future, Circa 2019
With nearly 2,500 registrations and artists from 110 countries, the NVIDIA Metropia 2042 Challenge brought creators together to visualize a futuristic world surrounded by cutting-edge technology. Second place in the 'Vehicles of the Future' category went to UK prop artist Joe Seabuhr's rendition "Sweepers of the Future."
by Ranger Kidwell-Ross
The Vision: Autonomous Street Sweeping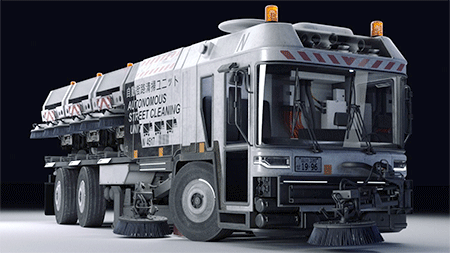 As shown above, Seabuhr's vision includes a vehicle chassis that is fully modular, allowing for up to 4 autonomous smaller cleaning units to be mounted onto the rear of the unit for transport. He sees the carrier machine, which is also a sweeper in its own right, as having quick, self-inflating tire technology, which will allow for more stability when unloading.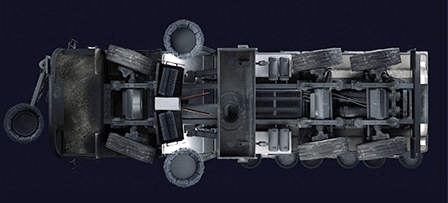 Seabuhr envisions the carrier sweeper as being fully electric and with no carbon footprint. It will be, he postulates, capable of "level IV self driving."" However, as you can see in this rendition, a driver's seat is installed. This allows for human operation although, he reasons, it will mainly be for "operation of the autonomous sweeper units.""
Each wheel on the carrier he sees as being outfitted with its own 300 hp electric engine, capable in total of 177 KPH. Each of these autonomous units will have its own 70 hp electric engine capable of 48KPH. The range of the unit, when fully loaded ad at full charge, is 1150 km or, for the autonomous units at full load, 95 km.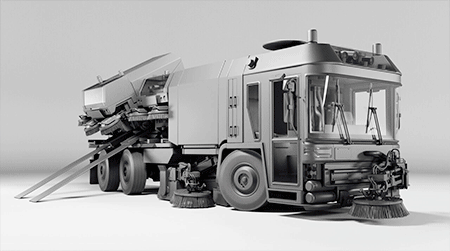 Once the carrier sweeper reaches its destination, the smaller sweepers will offload down side ramps, as shown in the rendition. These presumably would then deploy to clean up various areas they have been programmed to handle. Once completing their sweeping tasks, they would be programmed to load back onto the carrier sweeper. Meanwhile, the larger carrier sweeper would also be sweeping on its own.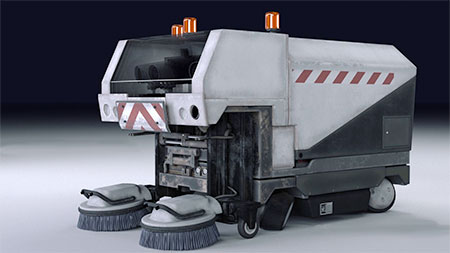 Seabuhr envisions that the smaller sweepers, once deployed, would have several features that would make them more versatile in operation. For one, the sweepers would be able to adjust their height up and down in order to access otherwise on accessible ledges. They would also be outfitted with omnidirectional wheels so as to be more maneuverable for access of small city alleys.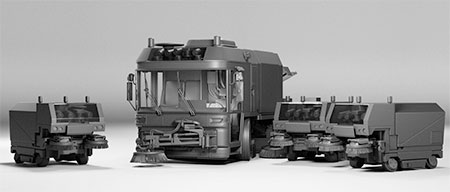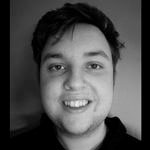 Our congratulations go out to Joe Seabuhr for his second-place finish in this competition. It was refreshing to see a vehicle in the sweeping industry chosen. For more information on Seabuhr, we invite you to check out more of his artist renditions on his web presence at ArtStation.com. You may also see the rendition photos we used at a larger size at the Nvidia-Metropia Challenge website.
As for what the future will actually look like, we invite you to stay tuned to the WorldSweeper website where we will no doubt be covering any innovations in power sweeping as they occur.
By the way, actual autonomous street and parking area sweeping are both forecast to be coming to parking lots and streets near you in the near, rather than distant, future. Shown below is an example of one such sweeper already in limited operation in Shanghai, China.
Also, we're always on the lookout for more sweeper-oriented information we can add to the website, so keep us in mind if you find interesting information about sweeping.