A 'New Page' in Sweeper Production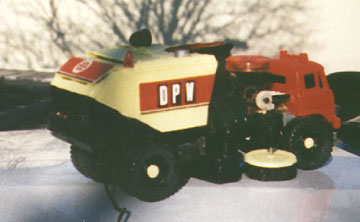 McKinley Page loves sweepers. Back in the mid 1980s, he even bought a 1959 Elgin, just because he liked the way it looked. He still owns the Elgin today. Soon after that, Page built his first toy sweeper model, which he says was 'a generic, no-name' unit.
In 1992, Page became a sweeper operator for New Jersey-based Liberty Services in Hackensack. "I told the owner, Frank Lombardo, about my interest in sweeping. He gave me a shot at operating a sweeper, and I've been doing it ever since. The first machine I ran was a Schwarze 222. Not long after that, I made a working model of that Schwarze sweeper. I looked at how the machine operated, and figured out how I might make a scale model of it."
Using materials scrounged from flea markets and elsewhere, Page painstakingly fabricated and assembled the components he needed to make a remote-controlled Schwarze 222 sweeper toy. He outfitted the battery-operated model with a fan that's powerful enough to pick up debris from the floor and deposit it into the tiny hopper. The model is even outfitted with a separator screen, flashing warning lights and a curb broom that spins.
Since then, Page has fabricated several other toy sweepers. Each closely resembles an actual production sweeper. One is a Tymco 210, which he also built with a working curb broom and fan. It, too, is a remote-controlled unit and, when the hopper is full, there's a control for raising it up and dumping the collected material. Additionally, Page has produced a model of a mechanical broom Mobil sweeper. As you push the toy sweeper along the floor, the broom turns via a mechanical mechanism and conveys material into the hopper. One of his latest works is a model of a Tymco 600. Instead of operating via a remote control, it's a battery-operated 'bump-and-go' sweeper. However, the toy model 600 is outfitted with a miniature fan that works well enough to pick up light debris from the floor.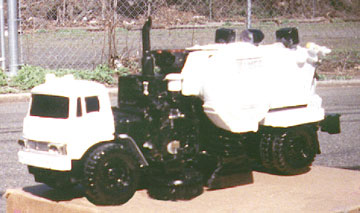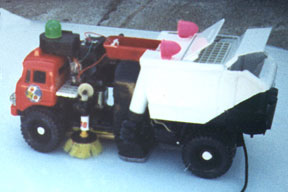 "I've really put some time and thought into each of these model designs," said Page. "I also work two jobs, so people wonder how I make the time to design and build the sweeper models. I guess it's because making these models is something I really like doing, although it is a time-consuming process. I start by getting the design in my head, then go out to find the materials I need from somewhere. Once I collect what I need, I usually build the new model over the course of a couple of months." As an example of the creative thinking that's required when it comes to materials for this one-at-a-time process, the hopper of the 600 is made entirely from an automatic dishwasher silverware holder. Page cut the plastic holder into the pieces needed for the hopper and then glued and assembled it all together.
The amount of time it takes for individual fabrication is one reason why Page would like to see his model concept become a standard production toy. "Although there's no way to build them cost-effectively one at a time," said Page, "I'm convinced there would be a real toy industry market for them. Each of them works well, in terms of pickup ability, yet they don't have all that many components - maybe 20 - that would need to be part of a fabrication process. If all the pieces were readily available, someone could assemble probably 30 a day by hand. It seems like an ideal product to be made overseas where labor is less expensive.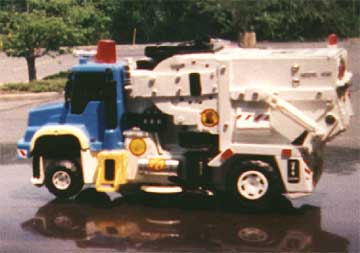 "I don't have the money or expertise to make it happen on my own, but I'd like to think there are people in the sweeper industry who would join me in getting one or more of these sweeper models into production. From the extremely positive responses I've received from everyone who's seen my models, they would sell quite well. It's a toy that actually does something, and it's a toy that would be very unique in the marketplace. Having a working sweeper toy out there would also serve to raise general awareness about the service that parking lot and street sweepers perform, as well as how they improve the environment."
If you'd like more information, or to explore what it would take to get one or more of these models into production as toys, you can reach McKinley Page at 973-759-8807. You can also reach him by email at sweepernj@aol.com.
This article is reprinted from American Sweeper magazine, Volume 7 Number 1, 1999.