New Calgary Stampede 'Sweeper Critters' Now on the Job
by Ranger Kidwell-Ross, with City of Calgary
In 2001 Calgary, Alberta – which is located in the western portion of Canada – started a tradition of affixing giant 'street sweeper critters' onto the city's sweepers for cleaning up after the City's celebrated Calgary Stampede festivity events. In 2014 the previous critters were retired. However, new ones were designed and debuted to assist with sweeper cleanup at this year's Calgary Stampede parade.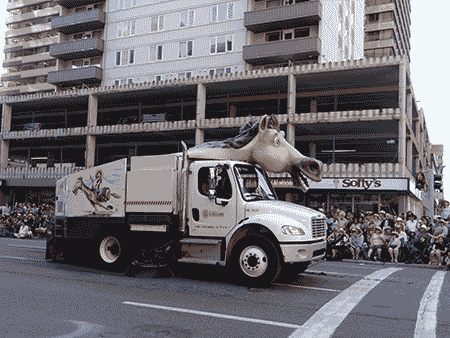 In 2014 Calgary residents said a sad farewell to the city's Calgary Stampede street sweeping Critters. For 13 years Dixie, Samson, Rocky and Alfalfa kept the Calgary Stampede parade route clean on parade day. Since the Critters' retirement last year, though, the City has worked to design and build four new Critters, including a horse, a cow, a bull and a buffalo. These were introduced at the 2015 Calgary Stampede to replace the old crew.
"The Critters have been a Stampede tradition for nearly 15 years," said Roads Director, Troy McLeod. "We received feedback from Calgarians who were disappointed when we retired the Critters last year so we wanted to continue the tradition for visitors and Calgarians enjoyment for many years to come."
The Critters aren't just a part of the annual parade. They are also taken to Alberta's Children's Hospital for the kids to enjoy during Stampede. "We are also glad to be able to bring some joy to the youth unable to travel to the Stampede parade and our operators say it is the most rewarding event of the year to support." said McLeod.
The latest four Critters were designed and sculpted in Calgary by various workers of Heavy Industries Theming Corp. They were milled out of lightweight foam material, hand sculpted, then painted. All were fitted specifically to the city's new fleet of Better Roads street sweepers and have been designed to make it easier for the operators to see during the parade. They're also waterproof which will help keep the new Critters in good condition for years to come.
If you'd like to see a brief, fast motion video of the mounting of one of the Critters onto a sweeper, use the link below:
Before the new Critters made their debut at this year's Calgary Stampede Parade, the City held a naming contest. The four winners were treated to a ride-along in a Stampede sweeper during the parade. The winning names are as follows: Bull is named: Outlaw
Cow is named: Daisy
Buffalo is named: Barlow
Horse is named: Chestnut