Creating Customer Service Agreements for In-House Fleet Management
by Steve Kibler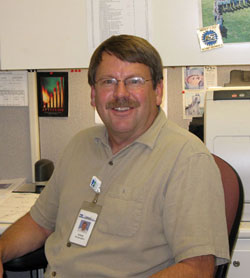 Steve Kibler, a 20-year veteran of municipal fleet management and head of that department for Loveland, Colorado, offered his rules of thumb for managing municipal fleets at APWA 2008. In the following audio interview with Kibler, he transmits the many ideas he has developed for making his fleet management department accountable and productive.
Central to developing an in-house fleet management department that rivals those of private sector organizations, Kibler says, is to view the operators of municipal vehicles as 'customers.' As such, Kibler says, their needs must be met as well as possible when it comes to both keeping their vehicles repaired and doing so in the best possible manner.
In the following audio interview, which runs approximately 20-minutes, Kibler provides an overview of how Loveland's fleet services are managed. He details the methods they have developed that are designed to promote communication and accountability. This includes a climate of escalating accountability for any problems that surface, as well as structured use of GPS and fleet management software.
---
---

Note: The interview will play without downloading any files onto your computer. If you hear the interview at 'chipmunk speed,' you will need to download the latest version of Adobe's free Flash player.

Steve Kibler may be reached via email sent to kibles@ci.loveland.co.us.

If you have questions or comments about this interview, please, let us know and we can add it in as an addendum to this article.