Internet Auctions: Less Hassle and Time Wasted, More Revenue
by Ranger Kidwell-Ross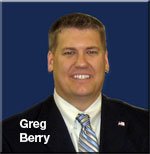 "My time working within our municipal government here in Pottstown has provided an education on a wide variety of topics.
"One of Pottstown's challenges has long been what to do with used and surplus equipment. Especially when it comes to large items, like fleet vehicles such as sweepers, it was always difficult to sell them for anything near their actual worth. That's the challenge we now address with the structure of Municibid.com."
- Greg Berry, president and founder of Municibid.com
The Municibid.com website specializes in working with municipal entities. In fact, only municipalities may sell equipment on the site. And, instead of doing what so many other auction companies do, which is to charge a percentage of each sale, the Municibid.com concept is to offer its services to municipalities for a modest fee per year. The fee is based on a sliding scale, with, as Berry says, "...the vast majority of our clients are cities of under 30,000 population. For $200 per year, they can auction off any number of items per year."
In the following audio interview, which runs approximately 23-minutes, Berry provides an overview of how Internet-based used equipment auctions operate in general, as well as specifics of Municibid.com's unique system. Berry also discusses the even more new concept of reverse auctions for equipment purchase.
This type of system, which Municibid.com plans to roll out nationwide in early 2009, will allow municipalities to purchase sweepers and other types of items directly from vendors in a reverse auction. After vendors show the prospective purchaser that their product meets the published specification, they will be allowed to bid on the price at which they will provide their respective products. Unlike a regular auction, reverse auction pricing gets lower as time goes on.
If you'd like a great primer on the increased value that Internet-based auctions can provide, just click on the link shown below.
---
---

Note: The interview will play without downloading any files onto your computer. If you hear the interview at 'chipmunk speed,' you will need to download the latest version of Adobe's free Flash player.

Greg Berry may be reached via email sent to gberry@municibid.com. You may also reach Municibid.com by calling 800.531.6074. The standard inquiry email address for Municibid.com is: info@municibid.com.

If you have questions or comments about this interview, please, let us know and we can add it in as an addendum to this article.