We appreciate any suggestions you might have for this section.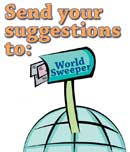 Click on the graphic above for an email window.

What is an RSS Feed?
The logo means the WorldSweeper.com has an RSS feed, which is a special file used to describe the most recent contents of the website. As our website's content changes, its RSS feed will also change automatically. If you don't already have an RSS feed reader plugin embedded in your browser, you'll need either one of those or a standalone RSS Feed Reader program to get the information. For your convenience, we have added links further down the page for downloading free versions of either of those.
With one of these, you'll be able to see the latest changes on the WorldSweeper.com website automatically, without even going to the site! (The WorldSweeper.com website also has a regular page with the latest articles that have been added to the site.)
Websites with RSS feeds will have a logo, usually with the words 'RSS,' 'Atom,' or 'XML.' on them. Ours looks like the one shown on the front page (and to the left side of the next paragraph). Most feed readers will even automatically recognize websites that have RSS feeds, like WorldSweeper.com.
Get a Free RSS Feed Reader Plug-in For Firefox or Internet Explorer

Your current browser may already have a feed reader plug-in as a component. If so, you should be able to access the WorldSweeper.com RSS feed by using the button shown to the left. If you can't, no problem! If you're using the popular Internet Explorer or Firefox browsers, use the links shown below to get an RSS plug-in that will work with those browsers.
Or, Choose a Free Standalone Feed Reader
Or, if you use another browser or would like to opt for a stand-alone feed reader, click on the CNet or About logos shown below to choose one of those. The good news is that with any of these free RSS readers you can stay on top of the latest content from the WorldSweeper.com website and many, many more. It's become the easiest way to find out what's the most current news available and much more.
Still Have Questions?
Let us know if you have questions that need answered, about the topic of RSS Readers or any aspect of the power sweeping industry. Just use this email link to our Contact Form.