Second Generation Leadership Guides Dominance of Nationwide Environmental Services, Inc.
by Ranger Kidwell-Ross

It was in 1968 that Joe Samuelian first got into the sweeping business, as an adjunct to his daytime lunch truck and nighttime janitorial and maintenance service. He named his new venture, appropriately enough, Joe's Sweeping, and bought a Wilshire ride-on sweeper to do the work.

Joe's mission statement at the time was "To provide quality sweeping services utilizing the latest state-of-the-art equipment and creating the highest level of customer service available." Because he truly lived his mission statement, Samuelian was loved by his clients and his company became a success.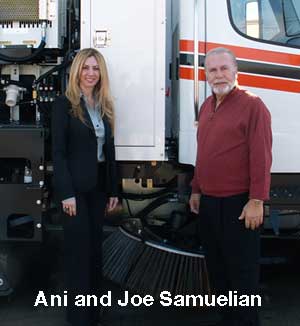 Although Joe remains involved in the company, today Joe's daughter, Ani Samuelian, is part of the second generation management team overseeing what is billed as the largest street sweeping company in America. In 1996, to better describe the leading edge environmental service emphasis that the firm's operations were reflecting, the company was renamed Nationwide Environmental Services, a division of Joe's Sweeping, Inc. (NES)
The Samuelian family's success story is one of fulfilling the American dream through hard work, conscientious business methods and endless innovation. In the mid-90s NES was one of the first sweeping companies in America to install data logging equipment on its street sweepers, as a result of a request by one of its sweeping clients, Los Angeles County.
Sophisticated for its time, the readouts included brooms on/off (or sweeping head up/down), miles per hour while sweeping and total miles swept. Using this data, county oversight officials were able to review and confirm what officials felt were the most important aspects of out-sourcing its sweeping operations. For NES' management team, this was the nucleus of what has become an extremely sophisticated GPS tracking and fleet management system that keeps NES in the forefront of preventive maintenance, time tracking and service accountability.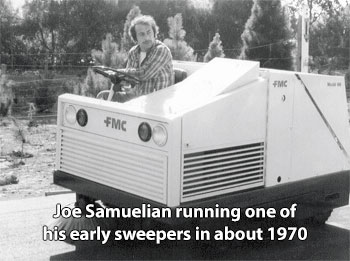 Joe Samuelian first got into the sweeping business with the idea that he would be cleaning parking lots. He was able to steadily build up that business, adding on machines similar to the FMC you see to the left.
However, when he received his first contract for street sweeping a few years later, Samuelian's vision allowed him to see that as a better direction in which to guide his sweeping efforts. Although NES continues to do some parking area sweeping, the predominant portion of the company's clients are municipalities.
Today, NES' fleet of more than 50 street sweepers service nearly that many municipal agencies in the Greater Los Angeles area. In addition, the company sweeps for a number of school districts, transportation authorities, private communities, as well as its private business clientele.
Although the company's extensive sweeper fleet includes a number of makes and models, including Schwarze and Elgin machines, the 'bread-and-butter' sweeper used for municipal sweeping is a fleet of all-CNG TYMCO model 600 sweepers. "When it comes down to providing a thorough cleaning," said Ani Samuelian, "we have learned there is no better sweeper than the TYMCO 600. Plus, TYMCO has been very supportive of our efforts to be one of our nation's environmental leaders in regard to not only sweeping, but in terms of our entire operation. TYMCO Has long been a leader in providing CNG-powered sweepers in the Southern California region, where alternative fuel is mandated.
"We were the first street sweeping company in America to install our own onsite CNG fueling station. This addition saves us time and allows us to keep our CNG fleet rolling at all times of the day or night. One of the advantages we offer to our municipal and other clients is a rapid response to any type of emergency need. We cite this 24/7 availability as one of the many advantages NES is able to provide, in contrast to a city running its own in-house sweeping operation."
The company's data logging system, innovative for its time, has given way to ever-more advanced tracking systems. Today, NES has a Teletrac performance module on all of the vehicles in its fleet. Tracking is done via 1-minute increments, which enables the management team to capture a rich stream of data.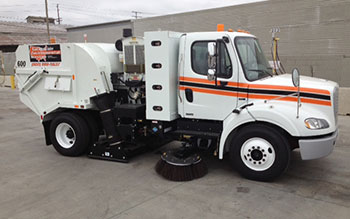 "The Teletrac system provides us with complete control over our many routes," said Ani Samuelian, "as well as compiles performance data on all of our employees. In the event a homeowner were to call, for example, and say that our sweeper did not go by on a designated sweeping day, we are able to show conclusively what the facts are. This provides an added layer of accountability, as well as a reduction in liability, for both us and our clientele. This is an extra tool for our management personnel, in addition to the high level of supervisory oversight we also employ."
For fleet management, NES also has developed a proprietary software system. This allows their inhouse service team the information and data it needs to conduct preventive maintenance, as well as ongoing maintenance, on the company's entire fleet. This allows NES to keep costs to a minimum, while at the same time ensuring the fewest possible breakdowns on the jobsite. Combined with the extensive fleet NES now owns, one advantage the company offers is its ability to always perform a high quality job of sweeping at the time designated.
"Our sweepers are inspected daily," said Samuelian. "For us, safety comes first and we feel that's one of the best ways to ensure a safe working environment. Also, about half of the cities we work with have car removal programs for when the sweepers are coming by.
"When people are out there moving their vehicles prior to when the sweeper is scheduled to clean on their block, it's important that we sweep during the designated timeframe. That's important to us and important to our municipal customers and the people who live and work in those cities."
---
NES Mission Statement
"To provide quality sweeping services utilizing the latest state-of-the-art equipment and creating the highest level of customer service available."
---
Joe Samuelian's initial mission statement is continuously employed today, says Ani. When it comes to customer service, she says she was brought up to understand the importance of keeping the customer satisfied.
"As I became involved," said Ani, "Dad taught me that no matter what I should always provide the customer with the best service and guarantee their satisfaction at any cost. He said to always be a person of your word and, if you promise a person the job will get done, then do whatever it takes to get it done."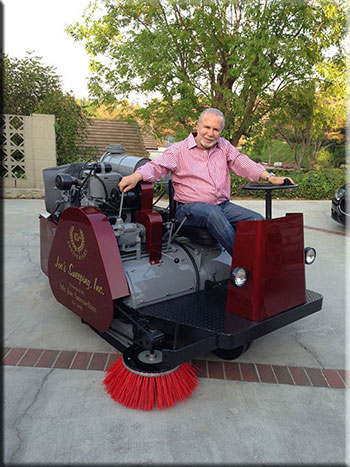 As a surprise for NES' founder, Joe Samuelian, during the company's celebration this year of 45 successful years in business, the company management team had his first sweeper entirely rebuilt for him.
Another area where the NES management has strived to provide satisfaction is with employee team. Training is extensive for each job position and, because of the size of the operation, there is room for advancement for those who strive for that. "Many of our employees have been here for decades," said Samuelian, "some for more than 20 years.
"The fact that we don't have to re-train people all the time helps us to be more competitive. It also helps to ensure we are providing the same quality job for our customers every time. We want that to be true whether we are sweeping for someone, or if it involves any of our other core business services like pressure washing, roll-off pickup and delivery, graffiti removal, bus stop maintenance and catch basin cleaning."
Ani Samuelian says there is no doubt that municipalities benefit from privatizing their sweeping operations with a well-run sweeping company like NES. "The cost of purchasing sweepers these days is upwards of $300,000," she said. "Plus, there are the other costs of operation, training and liabilities: all of these are borne by the contractor.
"A municipality can contract for an ongoing level of service, which is a lot easier than purchasing capital equipment with outlays that exceed half a million dollars for just a pair of sweepers. Then, the real expenses start as the city operates the machines. Plus, our certified repair personnel truly know how to keep sweepers in top condition at all times. We are also immediately available 24/7 for spills and other emergencies. Customer service, quality of service; we do a good job and train our employees. When you combine all the factors in an objective manner, it's easy to see the many advantages of contracting street sweeping services.
Ani Samuelian may be reached via the company's website, which is located at nes-sweeping.com.
If you have questions or comments about this article and interview, please, let us know and we can add it in as an addendum to this article.