Puerto Rico's Sweep and Vac Combines Contracting With Equipment Sales
by Ranger Kidwell-Ross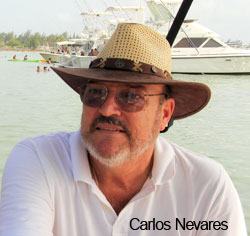 In the 1970s, Carlos Nevares made decisions for the sanitation department of San Juan, Puerto Rico. In that position, he became familiar with a wide variety of equipment, including a number of types of sweepers. His long term goal became to get into the sweeping business, but he wasn't motivated to do so until he saw a magazine ad for an entirely new type of sweeper.

"All of the sweepers I'd seen you had to tweak them every day to get them to work right," said Nevares. "Then, in 1988 I saw an ad for a Schwarze air sweeper and was impressed enough that I visited the company in 1989. We talked business and essentially by buying the sweeper I became the dealer for Puerto Rico. I believe that today I'm the Schwarze company's oldest dealership."
In late 1989, Nevares bought his first Schwarze sweeper and started a contracting business based on the unit's capabilities in early 1990. The company, which is named Sweeping and Vacuum, Unlimited Inc., has grown throughout the intervening years. However, says Nevares, the growth potential for a contractor in Puerto Rico is limited.
"Especially back then, the government didn't want to hire a contractor to do any of its street or parking lot sweeping," said Nevares. "Instead, when they saw the sweeper I bought they wanted to buy it and have the government employees operate it. For the most part that situation still exists today, which is why the selling of municipal equipment lines is more important than is the sweeper contracting work.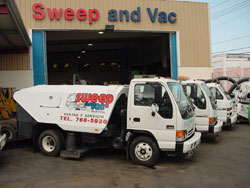 Puerto Rico sweeping comes with a unique set of problems due to the number of cars on the road. The territory has three million cars, almost as many vehicles as there are people. Because of that, the roadways see extreme usage and sweeping without cars parked along the curb is next to impossible.
The other looming problem for sweeping contractors in Puerto Rico is that the EPA is closing landfills that no longer meet its increasing stringent requirements. The previous 80 landfills have been reduced drastically, says Nevares, to about 25 or 26. That has raised the price per ton of disposal, while at the same time a further distance must be traveled to an open landfill. For some customers, this has brought the cost of disposal to an amount larger than the costs of picking up the debris in the first place.
Plus, customers do not want sweeping debris put into their onsite dumpsters, since if there is an open dumpster anywhere it will be quickly filled by people bringing in their residential trash. Figuring a way around that problem has also become a headache for Nevares' sweeping business.
In addition, having debris in a commercial parking lot is not seen to be as large a problem in Puerto Rico as it is in the rest of the U.S. A certain amount of litter is tolerated by customers and will not affect shopping habits. Plus, for many managers the mentality is to have someone on their current payroll do the cleanup with a broom and dustpan.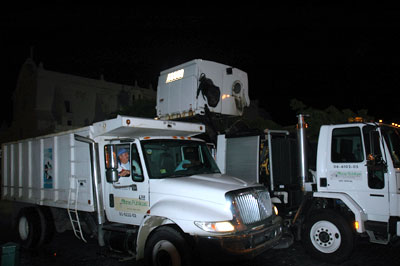 Since Puerto Rico is also a relatively small and isolated marketplace, it can be worse than in other parts of the U.S. when 'low-ball' contractors enter the market. About five years ago, says Nevares, some competitors came into Puerto Rico with pricing that was unrealistically competitive. "My contracting business has been going down for about the last five years," said Nevares. "That's due to a couple contractors that started into business and undercut my pricing up to 45%. There was no way I could match their pricing and remain profitable, so I lost a number of my sweeping accounts.
"However," said Nevares, "recently I've been receiving calls from former customers asking me to return to them. The other contractors, apparently unable to repair or replace their sweepers, have gone out of business. Although I knew their prices weren't sustainable in the long run, there was no way of knowing when it would catch up with them. Since Puerto Rico is such a small place, we have had to do other things. Here, you can't afford not to.
"Most of my sweeping accounts historically have not been the usual strip malls and other commercial properties that make up a typical U.S. contractor's business. Rather, they are ports, maritime companies and non-retail commercial companies. For retail, there is just not a recognition that the parking lots should be cleaned by a contractor. Instead, they have their employees do it by hand or the landlord provides someone who cleans them. There isn't an awareness that parking lot cleaning should occur like exists in the rest of the states.
"The other big factor is that when property owners have the debris picked up by hand it's easy for them to get whatever is picked up deposited into their dumpsters. When we pick the litter up by machine it's much harder to dispose of it. If a customer left us an open dumpster to use, citizens here would fill it up in an hour. Although Puerto Rico has weekly garbage pickup, because of the heat here people will take food-based garbage with them to the store and try to dispose of it right away before it gets smelly."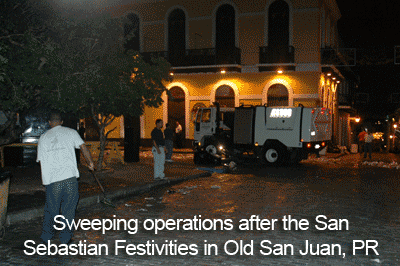 Besides sweeping, Nevares' company strives to provide any other services his customer might want, which he says is simply how business is done in Puerto Rico. "If a customer wants us to power clean equipment or pick up planting debris," said Nevares, "we do it. That's just expected and doing a variety of services is how a company like mine survives."
Although street sweeping has historically been done by the municipal agencies themselves, recently one of them has contracted out street sweeping. The contractor is doing the sweeping with a pair of Schwarze A7000s. Nevares said he has been in contact with the company about selling them some new sweepers to replace replace their aging units.
The varied difficulties in contracting have provided incentive for Nevares to expand upon the equipment lines that he sells. Until he recently started receiving calls from his former customers, Nevares says he had considered getting out of the contracting business altogether and devoting all of his company's resources to equipment sales and support. In any event, a significant part of his business model today is equipment sales.
"Over the last several years," said Nevares, "I have expended more effort to expand into selling additional equipment lines. We have been actively adding to the Schwarze sweepers we already represented as a dealership. Today, we offer an ever-increasing array of municipal-type equipment lines throughout the Puerto Rico market and, more recently, have started selling in Panama and the Dominican Republic, as well.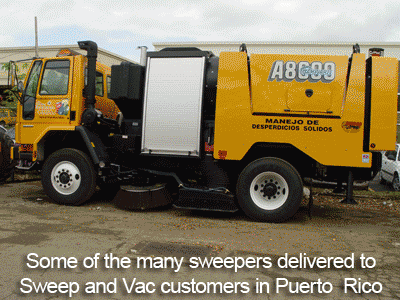 As he does in the contracting portion of his business, Nevares also extends the "whatever is needed" level of effort to his equipment customers. For example, he is currently having a specialized sweeper made for a customer that has a car battery recycling operation. "The company has been cleaning its paved areas with a Powerboss," said Nevares. "However, that isn't doing the job the EPA requires and the agency moved to fine them hundreds of thousands of dollars. What the EPA required for the company to sidestep the fines and stay open was some type of machine that could put down half-a-gallon of water per square yard, then remove the water once it's been applied."
Although the Schwarze organization declined to get involved in making such a hybrid sweeper for just one unit, Nevares then contacted Mark Schwarze, former owner of Schwarze Industries, Inc. and now president of Victory Sweepers, Inc., who agreed to build the required machine.
"What we're having built is a modified Victory Mark II air sweeper," said Nevares. "It will have a water capacity of about 1,000 gallons and a front spray system capable of applying the required water volume. Added to that will be on-demand gutter brooms arrayed across the front of the modified Mark II that will be able to scrub the pavement surface. Once the water has been applied and the scrubbing done, the sweeper will then pick up and transport the lead-infused water and any other debris to where it can be deposited directly into the company's water treatment facility, which is designed to handle it."
In the approximately 29-minute audio interview with Carlos Nevares linked below, you will hear details about everything written above as well as further discussion of how he sees the eventual transition in Puerto Rico toward EPA-mandated environmental street sweeping playing out.
Because of the huge density of cars due to many families having three-to-five cars per household current street sweeping is conducted with them on the street. To meet the EPA's NPDES mandates, Nevares feels it is clear that in the near future municipalities will have to require no-parking regulations in order to meet the increasingly stringent water quality requirements.
Note: The audio interview with Carlos Nevares will play without downloading any files onto your computer. If you hear the interview at 'chipmunk speed,' you will need to download the latest version of Adobe's free Flash player.
To play the interview, click this link or on the small triangle inside the circle you see to the left. If you have any trouble accessing the audio, please let us know.
---
Carlos Nevares may be reached via email sent to cnevares@sweepandvac.com. You may also reach the company by calling 787.768.5930. The company's website is located at www.sweepandvac.com.
If you have questions or comments about this article and interview, please, let us know. If appropriate, we will add it in as an addendum to this article.