Florida's Superior Property Maintenance Service "Shoots for the Stars"
by Ranger Kidwell-Ross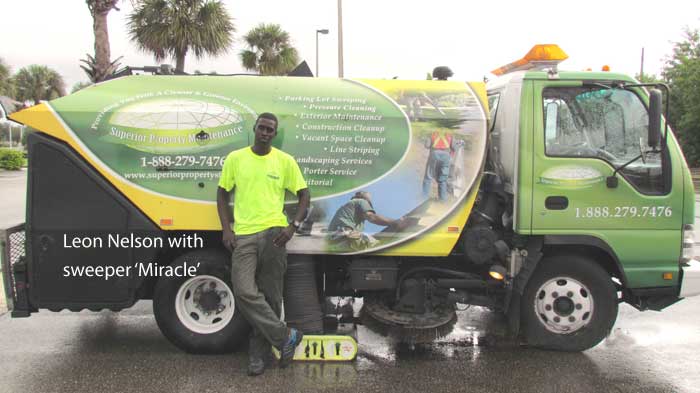 Ethics; Perseverance; Honesty: These are all traits that describe Leon Nelson, owner of Superior Property Maintenance, Inc. A native Jamaican, Nelson's first job when he came to Florida in 1997 was as a sweeper operator.

After working for two different sweeping companies over the course of the next six years, Nelson then went into the sweeping business with a co-worker partner. However, as you will read, it wasn't an easy road after that, either.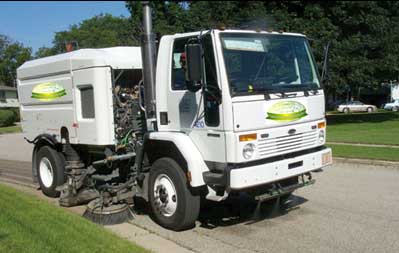 After the partnership didn't work out, Nelson got a job with Waste Management using his primary trade skills as a welder. Before long, though, the contract he was working under was cancelled and he had career choices to make once again. At that point his Waste Management boss suggested he get a sweeper truck and go into business for himself.
Unfortunately, he didn't have money to do that. It was at that point that the contractor for the welding company offered to loan Nelson $25,000 to get a sweeper truck so he could go into business for himself. A week later, the check was cashed with Schwarze Industries as the down payment for a 348-I sweeper.
"It was 2005," reminisced Nelson, "and in my experience people don't just write someone a check for that kind of money. I remember having that check for about a week while I was trying to figure out what to do with it. Once I got a sweeper from Schwarze I got my first contract, which was with a WalMart store. I'm proud to say we still have that contract today."
The company, which he named 'Nelco' after his own last name, then was able to get a number of new accounts. "We really took off," said Nelson, "and did well for five years. However, at that point I ran into partnership difficulties once again and I ended up walking away with nothing.Yes, it was very difficult to start all over again, but I was determined. Sweeping was all I knew."
When Nelson restarted as Superior Property Maintenance, Inc. in 2010, he was also facing a number of personal issues, including poor credit and the cancer his mother was fighting. "No one," Nelson said, "believed I'd be able to get a sweeping company up off the ground and make a go of it. Then, I called David Crews at Victory Sweepers, Inc. and he said he'd work with me to get back into the business."
Of course it wasn't much of a sweeper, given the situation, but Nelson knew he could rebuild it himself to get it into good shape. While he was at it, he also painted the machine to spruce up the outside, as well.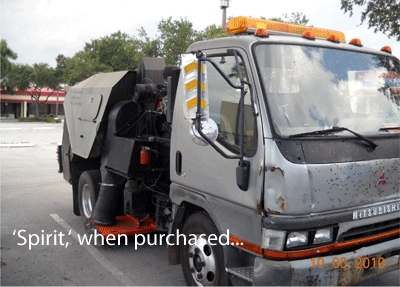 "I mailed back a picture to Victory," said Nelson, "and know they were surprised at the change in it. Still, as an old sweeper it had many issues and we had a hard time at the beginning getting Superior going in the right direction. It took a lot of work.
Thankfully, my Business Manager, Patricia McEachin, had lots of faith in me. We named that first sweeper truck "Spirit" to remind ourselves that we could get off the ground regardless of whatever situation we might find ourselves in.
Clearly the reminder worked. Although the company is in an extremely competitive area, today – just two years later – Superior operates a total of six sweepers. In addition to Spirit, the others are named Miracle, Endurance, Faith, Prosperity and Glory. If you want to see the reason behind each of these names (Hint: you do...), click here. In a reflection of what a proud operation Nelson and McEachin run, all are extensively lettered and painted as rolling billboards advertising the company.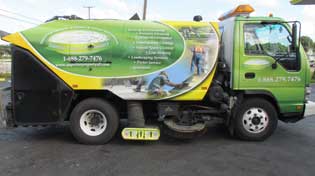 On the sides of the sweepers, the company lists a variety of information about the services it provides. They even include photos of workers doing various activities, like backpack blowing, for example.
"We love and appreciate our customers and are very serious about making them more competitive by giving them the Superior high standard way which I can confidently say you do not see a lot of around here in South Florida. Keeping their exterior looking great is what we are paid and expected to do," said Nelson.
"We always fulfill our contractual obligations, but also are on the lookout for anything extra that needs to be done. I tell my operators to 'shoot for the stars when it comes to the quality of service you provide. Then, if for some reason you only get to the moon, we'll still be providing a very good job."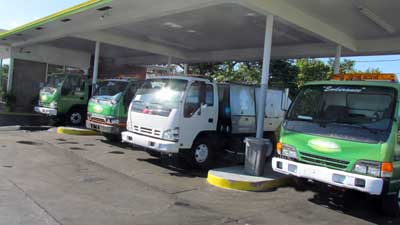 "For example, the other day one of my drivers reported that the area next to one of our customer's properties was making their property look bad. There were leaves all over. Since he had the sweeper there, I told him to clean the area up so it wouldn't be a reflection on our customer. I believe that's just the way good business should be done."
In addition to parking area sweeping, Superior offers a variety of additional services, like porter services, power washing, general property maintenance and junk removal. Another of their services, storm cleanup, is reflective of the company's Florida location.
"We get big tropical storms and worse here in the Ft. Lauderdale area," said Nelson. "When that happens, we work as quickly as we can to get debris off our customers' properties so they can be back in good shape as soon as possible. Sometimes, this entails a major cleanup effort before we can even think about bringing in a sweeper for the final touches. I know our customers appreciate that they can count on us when the worst occurs."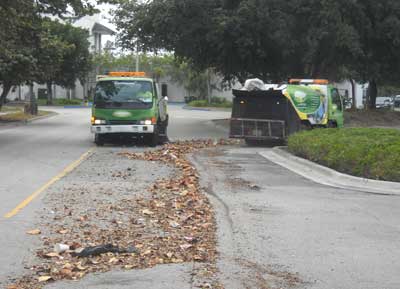 In the audio interview, linked below, Nelson discusses all of the above as well as much more. He relates how he is dealing with keeping his operators from using cell phones while working; talks about several unusual items – including an alligator and a deceased person – that he's discovered while out on sweeping routes; and, dealing with competitors in an area where some of them don't even have a sweeper truck. (Wait until leaf season when they can't get a property cleaned up with backpack blowers and you'll get many of your previous clients back...)
Throughout, Leon Nelson embodies the traditionally American spirit of entrepreneurship – except in this case he learned those ethical and workplace pluses in his own native country of Jamaica. For the rendition of a true success story in the making, we encourage you to listen to what Nelson has to say and how he says it. My belief is that you will go away at the end with an experience you will find both instructional and inspirational.
In the approximately 43-minute audio interview with Nelson, you will hear details about everything written above and more. Note: The audio interview with Leon Nelson will play without downloading any files onto your computer. If you hear the interview at 'chipmunk speed,' you will need to download the latest version of Adobe's free Flash player.
To play the interview, click this link or on the small triangle inside the circle you see to the left. If you have any trouble accessing the audio, please let us know.
---
Superior Property Maintenance Services, Inc. may be reached via email sent to info@superiorpropertysfl.com. You may also reach the company by calling 888-279-7476. The company's website is located at http://www.superiorpropertysfl.com.
If you have questions or comments about this article and interview, please, let us know and we can add it in as an addendum to this article.