DC-Area's Quiet Sweep, Ltd. Also Handles Many Other Event(ualities)
by Ranger Kidwell-Ross
Eight years ago, Steve Dekelbaum had a good handle on the course that his future business life would take. He'd gotten his pastry chef certificate in 2004 and was utilizing it in the family business. At the same time, he managed the shopping center where their business was located. However, that's when fate stepped in.

Dekelbaum, who baked on the night shift, says he started noticing the cleanup being done by the center's sweeping contractor had become less than stellar. Plus, he started getting some complaints from other tenants. Over the course of talking with the sweeping company's owner a number of times, he learned that what Quiet Sweep's owner actually wanted to do was sell out and retire.
At the time, Dekelbaum says he and his wife were expecting their second child. Perhaps seeing that change of life looming, they were more open to doing some reevaluation of their own lives. After discussing the concept of getting into the power sweeping business, they did market research to assess the viability of the purchase. They both liked what they saw.
Making a decision that continues to impact their life today, the Dekelbaums decided to take the plunge. He and his wife bought Quiet Sweep, which came with "three really beat up sweeper trucks and a total of five accounts." As many startup contractors have done before him, Dekelbaum initially did all the sweeping while continuing to make cakes and other pastries at night, as well.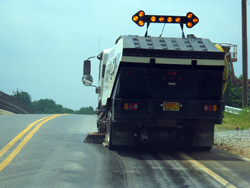 "Although it was," Dekelbaum recalls, "an incredible number of hours to work, eventually it paid off. What I soon learned was that all of my clients basically just wanted to work with someone who was honest, would do a good job of cleaning their properties, and who they could communicate with regarding any of the other problems on their property."
Employing the concept of helping their customers with any property maintenance needs they could figure out how to handle, Dekelbaum's Quiet Sweep, Ltd. grew. Within a year they could afford a new sweeper; at the time, they decided on a Schwarze 348. The next year they were in a position to purchase another new machine, which was also a Schwarze. By the middle of his third year of sweeping, Dekelbaum says it was clear he needed to quit his baking job and spend his full time managing the sweeping business.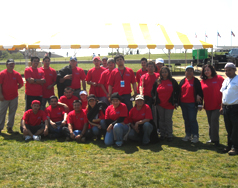 Today, Quiet Sweep boasts a total of almost 200 properties they sweep at night, in addition to its construction and other sweeping. The company has 21 sweepers, a mix of Nite-Hawks, Schwarzes and a Mobil Athey. Last summer, Dekelbaum bought out another sweeping company that was strategically located: "They swept properties next to many of mine, across the street and otherwise nearby my accounts," said Dekelbaum. "It was a perfect fit."
One reason the buyout was such a good fit is the other company offered only sweeping. Quiet Sweep, on the other hand, has expanded enormously in terms of services offered. As you can see by the listing taken from the company's website table of contents, Dekelbaum's company now offers a wide variety of services in addition to all types of sweeping.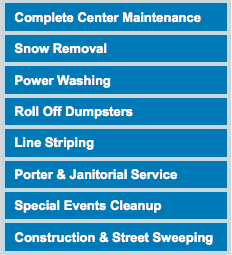 "In addition to sweeping we can do cleanouts, bulk trash, rolloff dumpsters, line striping, power washing. We also offer as many light maintenance services that we can to property managers. we make it a one-stop shopping experience for our property managers. The less amount of people they call, the more secure we feel on the property."
That means Quiet Sweep's multi-faceted team also has a larger upside when buying out a competitor that just sweeps. Although Dekelbaum says he's been providing only the same sweeping services – just at a higher level – to the clients he recently acquired, that will change with the new year. That's when they will start marketing their full-service aspects to those customers.
One action Dekelbaum credits for his success is frequent communication with his clients. He makes it his job to call on each of his steady customers as often as every week or so, just to make sure all is well. Plus, he has a strong contact program in the event his operators or inspectors see anything on a customer's property that needs work.
"Anything I can see where I can contact my customers with information that will help them out, I'm glad to give them a call. We also email, with photos and so forth, but I'm a phone-oriented people person so I like to call personally." And, he might have added, who better than the owner to inform current customers about other services available through Quiet Sweep?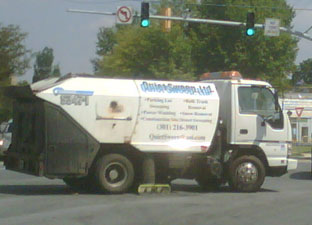 Handling event cleanups has been a fast-growing side of the business for the last several years, due to a comment made to one of his former employees who had begun working elsewhere. When his current boss was looking for a sweeper to handle debris left during a marathon, his former employee referred him to Quiet Sweep.
"They were looking for someone to sweep up all the cups and other debris from the water stations for the marathon," said Dekelbaum. "We started that five or six years ago with one event cleanup. Now, we hold the five-year contract for that Marine Corps Marathon, and we're up to 27 events throughout the course of the year where we handle total cleanup.
"In addition to the Marine Corps event, this includes the National Book Festival, Cherry Blossom, Race for the Komen Cure, the Brain Cancer Cure Race and the list goes on. Event cleanup has become a big part of our business. Basically, when you start event cleanup you look to see what you can do that makes you more valuable.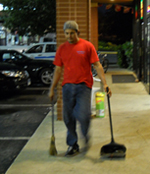 "Okay, you're there to do the sweeping; but, do you have rolloff dumpsters? Let's take care of all the trash, all of the recycling. Let's work with all the agencies for all of it, let's hang up the signs for the event people. There are so many avenues you can take once you get in the door to widen your exposure.
Imagine when the marathoners in the Marine Corps event, for example, start running in the morning in 33-degree weather. As they run and as it gets warmer, from the start line to seven miles into the race they shed their sweatshirts, running pants, and so forth as their comfort level changes. We started out with providing one or two trucks. This year, we brought 17 vehicles down for the race. Just this year, we donated 280, 55-gallon bags of clothing to the local homeless shelters."
For more details about how Quiet Sweep has become a growth company in its region – as well as discussion on the value Dekelbaum has learned he receives by using his sweepers as rolling billboards and other topics not covered here in the written article – you are invited to listen to the approximately 18-minute audio interview with the company's president, Steve Dekelbaum.
Note: The audio interview with Steve Dekelbaum will play without downloading any files onto your computer. If you hear the interview at 'chipmunk speed,' you will need to download the latest version of Adobe's free Flash player.
To play the interview, click this link or on the small triangle inside the circle you see to the left. If you have any trouble accessing this audio, please let us know.
---
Steve Dekelbaum may be reached via email sent to Steve@quietsweep.com. You may also reach them by calling 240.426.6764. The company's website is located at www.QuietSweep.com.
If you have questions or comments about this article and interview, please, let us know and we can add it in as an addendum to this article.