The Katz Group's Transition From Property Management to Sweeping Continues Tradition of Professionalism
by Ranger Kidwell-Ross
Rich Katz grew up in the construction and property management business. So, it wasn't much of a stretch for him to found – along with his brother, Daniel, and cousin, Brett – a firm to manage properties. However, when the crash of 2007 occurred, the trio found themselves scrambling for ways to continue their company's historical profitability.

"We decided one thing we could do was to provide sweeping on our own properties," said Rich. "So, we bought a sweeper truck, hired an operator and put him out sweeping on our six properties. That worked out well, so we put up a website and have continued to expand from there."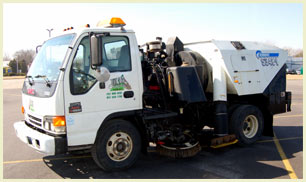 Today, just five years later, TKG Sweeping & Services, LLC, is a thriving sweeping and property maintenance company with a dozen sweeper trucks and a variety of other equipment that's used to service its 100+ customer base.
The family-run operation allows for a sharing of responsibilities and utilization of each of the men's talents. Rich Katz oversees operations and Daniel handles accounting, while Brett Katz is in charge of real estate matters and company sales.
"Having family members working together really makes for a much better company," said Rich. "Fortunately, in our case we know we can rely on and trust each other explicitly throughout our organization. Everyone works hard to produce the best possible outcomes.
"Plus, because we each have three kids, our partnership allows us to get away for family time at soccer games and the other situations that come up. We know we're all putting in the hours and getting the results, so there's no concern over someone needing to be involved with family life, as well."
Although the Katz organization still has some properties in its portfolio, today that is not the major focus of the sweeping and maintenance company. However, there is no question that the background experience the owners bring to the table makes a difference to its clientele.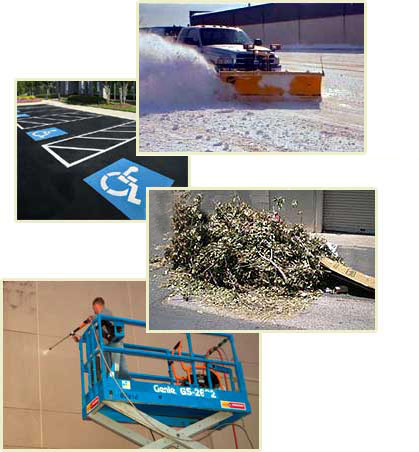 "Our experience makes for an easy pitch to property managers, since it's clear we know what they need. We understand their budgets, we understand CAM (Common Area Maintenance) issues and everything else they face in trying to get the best sweeping and maintenance outcomes for their businesses. Plus, we make it plain that we treat their properties exactly like we treat our own.
"For example, our sweeper operators have no idea when properties on their route are owned by our group. If they see a problem, they're trained in how to handle it. Depending upon how serious a situation is, they are trained to make the right response. In most instances, they can just take pictures using the digital camera that's onboard each sweeper. If it's an emergency, I expect a call. Everyone knows they can contact me directly or take other appropriate action.
"If something has occured where we need to transmit information about it to the property's management team, then a note needs to be on my desk when I arrive in the morning at eight. Since I'm usually there before customers are getting to work, I want to have an email waiting for them before a tenant calls them about it."
The Katz organization offers a property inspection protocol as part of its slate of services. This is designed to provide participating customers with a (typically) monthly snapshot of their property's condition.
"We offer all of our customers a program of periodic property inspection," said Rich Katz. "We provide these in several different levels of thoroughness. I'd estimate that we perform property inspections for about 30% of our total clients, which makes it into another small profit area for us.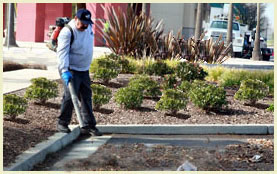 "Perhaps surprisingly, it's not just those from out of town who request our inspection service. We have found that many local property managers are busy and like to have a historical 'snapshot' of their property's condition they can keep on file for ongoing reference."
In the accompanying audio interview with Rich Katz, he discusses a number of other topics in detail. One is how he has handled the issue of cell phone use while driving a company vehicle. Especially in light of emerging regulations, this issue is becoming a serious one for all sweeping companies.
Katz employees are forbidden to have a cell phone in their hand while operating a vehicle, though use of bluetooth earpieces are allowed. No dialing or texting is allowed while driving, though doing so quickly while stopped at a light is okay.
"We put it all in their handbook, teach it in safety meetings, and have done everything else we can to prevent wrong use of cell phones. However, we do not provide cell phones so it's all personal phones in the vehicles. I don't know how I can guarantee what is or is not happening when I'm not out there at night.
"All I can do is explain every issue, every dangerous thing, then have them sign off on it in the handbook. We all know it's dangerous to use the phone while driving. We teach them about it, have them sign that they've learned and from there can only hope they do the right thing."
Another topic discussed in the audio interview is the company's use of GPS in both its sweeper and snowplow fleet. All operators know the GPS is installed, but emphasis is put onto using the system as a positive training tool for new-hires, as well as a monitoring system to ensure pricing is correct.
In the approximately 40-minute audio interview with Rich Katz, you will hear details about everything written above and more. Note: The audio interview will play without downloading any files onto your computer. If you hear the interview at 'chipmunk speed,' you will need to download the latest version of Adobe's free Flash player.
To play the interview, click this link or on the small triangle inside the circle you see to the left. If you have any trouble accessing the audio, please let us know.
---
TKG Sweeping & Services, LLC may be reached by calling 847-505-1400. You may contact Rich Katz via email sent to richk@tkgcompanies.com. The company's website is located at www.tkgsweeping.com/.
If you have questions or comments about this article and interview, please, let us know and we can add it in as an addendum to this article.