Custom Maintenance Services' Michael Nawa Helped Define America's Contract Sweeping Industry
by Ranger Kidwell-Ross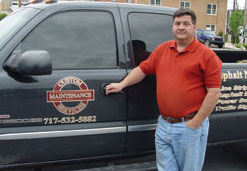 Michael Nawa has been involved in the parking lot sweeping industry almost since its inception. In 1976, Nawa founded Industrial Grounds Maintenance (IGM) with his father, Andrew. He ran that operation until 2002, when he quit over differences of opinion with his dad on the directions the firm should take.

When he sold his interest in IGM to his father, Nawa transferred his leadership skills to Custom Maintenance Services, Inc. That was a two-year-old company founded and still owned by Nawa's wife, Judy. Today, ten years later, the company sweeps over 240 properties with its fleet of 18 sweepers, as well as provides an extensive property maintenance solution for many of those customers.
Throughout his more than 35 years in power sweeping, Nawa has been a regular at what is now the National Pavement Exposition, both as an attendee and as a lecturer. Nawa's recollection is that he has missed only two years of that show in his decades of being in business.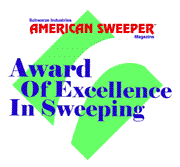 He was also heavily involved in previous incarnations of the sweeping industry trade associations, NCSI and CSI, and in 2004 he and his father were the first co-winners of American Sweeper Magazine's Award of Excellence in Power Sweeping. (Author's Note: I was the Editor of American Sweeper Magazine at that time.)
"When I started Industrial Grounds Maintenance back in 1976," said Nawa, "there was no power sweeping industry as we'd think of it today. Although debris was seen as a problem that stores didn't know what to do with, there wasn't an industry that had grown around doing that portion only.
Rather, as a contractor, I spoke to property managers about their various maintenance needs, then found a way to handle the cleanup of the lots if that's something they wanted us to take care of for them.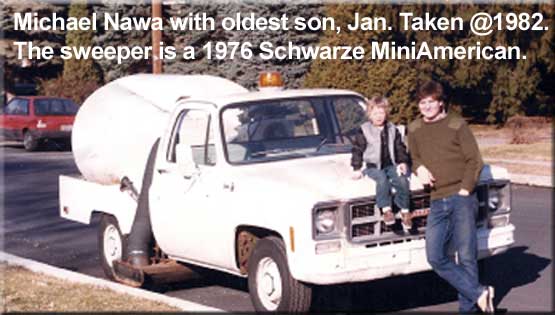 "At the time, managers typically directed someone who worked for them to pick up litter and make their grounds look as presentable as possible, much like what we term 'day portering' today. The landscaper was doing it or the janitor was doing it. Basically, the managers didn't know what to do or how to do it.
"Back then there were only two sweeper companies, TYMCO and Schwarze Industries. We bought the sweeper that Schwarze offered, which was a 1976 model that said 'Mini American' on it. The sweeper was was a two-yard round tank with no dump mechanism. Mounting was on a half-ton Chevy truck. There was no curb broom and a manual winch was used to raise and lower the sweeping head. You even started the engine from the outside."
The operator had to shovel the debris out and to make that easier the company had a Dutch door setup in the rear; you'd open one of the doors to put garbage bags in and then open both doors to shovel out the hopper. As I recall, it cost about $17,000 and we ran it as our sole sweeper until 1982. Then, as sales started to increase and the idea of sweeping parking lots became known, we bought more sweeper trucks. Over time, I've purchased about 60 sweepers from Schwarze, and continue to buy from them and other manufacturers today."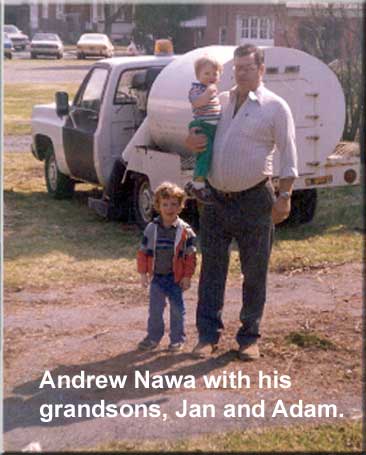 Since the idea of running sweepers on parking lots was largely unknown during Nawa's first decade in business, the topic of parking lot sweeping on its own didn't come up much except as a piece of the overall maintenance puzzle. Then, over time as the sweeping industry matured, there were more requests from property managers to have their parking lots swept.
"Our business grew around the industry," said Nawa. "We emphasized talking to owners while their centers were being built. We always talked about their exterior maintenance needs – asphalt maintenance, property maintenance – it was never about parking lot sweeping. Rather, it was about who was going to handle their overall property maintenance. There weren't many competitors in those days and it was a matter of educating a customer, not so much of being more professional than your competitors."
Something Nawa says truly helped in the beginning was that no one owned just one commercial property in those days; rather, the same organization owned a number of them. An example he cited was the now defunct Leo Isenberg Company.
"I had one shopping center that was developed by the Leo Isenberg Company," Nawa related, "and within a couple of years I had seven or eight of their properties. They recognized that we were doing a good job for them and, as they built each of their new centers, they kept hiring us to maintain them."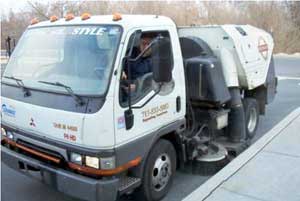 Today, although about 80% of revenue comes from power sweeping, the Nawas' Custom Maintenance Services company is one of the most experienced and professional full service maintenance companies in America. You will find the advice he dispenses in the extensive podcast audio interview to provide a number of ideas and overall inspiration about how to run a successful organization. I recommend this audio as a "must hear" for anyone with fewer than five successful years of industry experience.
As an example, Nawa says "Professionalism isn't about what you do; rather, it's about how you do what you do. If you're going to get started in this business, whatever your slate of services is be sure to generate a reputation of being professional at it. Along with that, build relationships with your customers.
"When you have a relationship with a customer they will understand if, for some reason, you have to skip a night. They won't think you're trying to rip them off. They also won't be interested if someone comes in charging a couple dollars less per sweep because they will not want to compromise the overall relationship with your company, which will be seen as providing great overall value to them."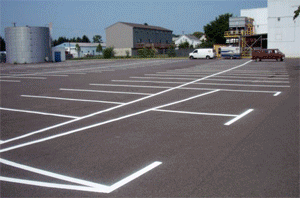 Nawa also encourages every contractor to become an involved part of the sweeping industry. His advice is to go to the National Pavement Exposition and meet the other contractors involved in the same business as you. At the tradeshow, he says, you can get your questions answered by people who are not in your market area. You will find that, although the geography and marketplace will be different, the basic problems those other contractors face will be the same.
"Interacting with other contractors," said Nawa, "collecting business cards and being open to their questions, gives you an ongoing database of people you can call with questions. You'll end up with a network of other industry professionals that will be invaluable for growing your business.
"Make as many friends with others in sweeping and in allied industries as possible. Any line of work you can name – unless it becomes obsolete for some reason like buggy whip manufacturing – there will be people doing it in 10 years and there will always be a way for professionals in that industry to flourish.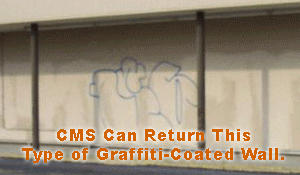 "Don't kid yourself that in this business customers don't notice when you're doing a shoddy job. If you're marketing a service that supposedly provides a clean end result, then there's no hiding the fact when you are not cleaning.
"The great thing about sweeping and maintenance is that it has to be done. No matter when buildings were built, they have to be maintained. All of your customers have mortgages and, as a result, they are all inspected and there is a strong managemente desire to keep the properties well-maintained so the owners will have a strong portfolio when they go to a bank or eventually put the property up for sale.
"Even the oldest shopping center can be painted, striped, well-lit and otherwise maintained. That's what keeps people from driving to some other place down the road and that's what your customers' tenants want, as well. As a professional sweeping and maintenance contractor you have job security when you run a professional business. When you are not professional, you don't. It's as simple as that."
In the approximately 86-minute audio interview with Michael Nawa, you will hear details about everything written above, as well as about his company's use of GPS and more. Note: The audio interview with Michael Nawa will play without downloading any files onto your computer. If you hear the interview at 'chipmunk speed,' you will need to download the latest version of Adobe's free Flash player.
To play the interview, click this link or on the small triangle inside the circle you see to the left. If you have any trouble accessing the audio, please let us know.
---
The CMS Family of Companies include Stein's Clean Sweep, Asphalt Maintenance Solutions of Central Pennsylvania and Custom Maintenance Services. Together, they offer a complete range of services for the maintenance of retail properties including parking lot sweeping, sealcoating, line striping, asphalt repair, crack sealing, landscape maintenance and many other services that property managers rely on for daily operational support. Custom Maintenance Services maintains more than 240 retail properties in four states.
Custom Maintenance Services may be reached via email sent to info@custommaintenance.com. You may also reach the company by calling 717.776.4708. The company's website is located at www.custommaintenance.com/.
If you have questions or comments about this article and interview, please, let us know and we can add it in as an addendum to this article.