Arizona Contractor Combines Sweeping With Water Flushing
by Ranger Kidwell-Ross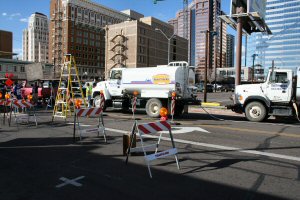 Scott Duscher started in business as a construction contractor. In Maricopa County, Arizona, where the business was located, someone's name had to be on a sign out in front of each project so they could be contacted if there was a dust or trackout problem. Scott was that person.
As an investment, the company bought a water truck to handle the needs of a community they were building. When the building economy tanked, they started expanding into the water trucking business as an alternative. Having capital, they bought more trucks in the down economy since the price was right. From there, they focused on dust control since they knew a lot about it.
Duscher went through Maricopa County's training program for dust control and before long became a certified trainer and started training others on the topic. Having these qualifications, in turn, helped establish the company's credibility in the water truck business.
The only problem with the water trucks, though, is that when it rains they don't work. And, when there is mud trackout from a job site that is leaving muddy tracks, the best solution is a broom-type street sweeper.
That conclusion led him to the purchase of a sweeper, since the two business types dovetailed with each other.
Dust control is actually mandated on the federal level through the Environmental Protection Agency. Since dust is such a problem in Arizona, that state enforces its dust control laws quite stringently. On top of federal regulations, though, each state can make air quality rules that are even more stringent, and each county can add to that.
In most parts of Arizona, the federal air quality standards have largely not been attained. As a result, much emphasis is placed on training contractors and others on implementing dust control BMPs. Since Nevada was in the same situation and found ways to get into compliance, Arizona's tactic was to mimic what Nevada had done. Even more pressure was exerted since Arizona was threatened with losing significant federal highway funding if improvements weren't made.
One reason that dust control is seen as increasingly important is that, when small particles of dust are breathed into human lungs, they are not expelled. In the desert of Arizona, this creates what is known as 'Valley Fever.' This medical condition creates serious respiratory problems.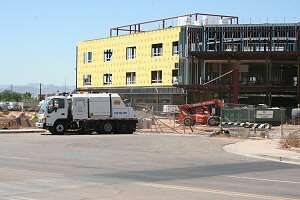 Duscher is a strong advocate for combining water trucks and sweeping in the same company. " When we give our training for Maricopa County we emphasize that the amount of water put down has a huge impact on how much trackout will occur.
A lot of guys are so focused on what they're going to do with their water truck that they lose track of the bigger picture. Most water truck drivers do not understand how volume of water affects track out and other problems the sweeper will need to correct. Operators need to be trained to just keep the ground moist, not wet everything in sight as most do. Those are the guys that make a lot of work for sweepers.
Since there are no requirements for training sweeper operators on construction sites, many of them do not have the correct techniques. For these reasons and others – because the two services interact with each other in specific ways – there are a number of advantages to combining the services.
There are no rules that require these two trades to work together. Combining both services within the same business is a way to do that, to the advantage of both your company and your customers. Unless you have both operators within your company is really no way to get each aware of the problems that the other one faces. For example, water truck drivers need to be trained to make the ground damp but not wet; otherwise, there will be unneeded track-out that will require more sweeper time to correct.
Construction company customers appreciate the value they receive when the water trucks and the sweepers are provided by the same company. However, you need to sell them on the value the combination provides. Even if they do not understand the value initially, the competitive advantage you have over other, single service companies is significant. You can market to them via the points included above and they will, most of the time, recognize the extra value received from the combination.
"We kind of brag on the fact that if you use our water trucks, you probably won't need a sweeper," said Duscher. "And, we tell our prospects that if your other trades make a mess, we have a sweeper that can handle it. We make a point of letting them know we're there to cover their back because the fines go to the general contractor. To our credit, none of our customers has ever been fined.
"What does occur, though, is that other trades who bring in their own water trucks. Often, these are rental trucks where the amount of water that is put down cannot be controlled. This is often where serious problems can arise. When you see a rental truck on-site, most of the time you can be assured there will be a mess."
Another problem that arises with rental water trucks is the subcontractor has it operated by someone with little-to-no training. Typically, it is the same person that is operating a backhoe, dump truck or other pieces of equipment. That also contributes to problems.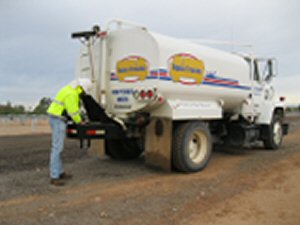 "When we are on-site with the water trucks," said Duscher, "it usually takes about a week until the general contractor figures out that we should be much higher in the chain of authority than would otherwise be the case. Often, they will put our water truck driver next in line under the job supervisor because they realize the central role the water truck has – when correctly operated – in keeping the jobsite safe and in regulatory compliance. Still, subs often don't care until they get a back charge. Then, they start taking an interest.
"The way we win is when a general contractor realizes that when we are on the job he doesn't have to worry about it anymore. He doesn't have to yell at the water truck driver anymore and, really, doesn't even have to spend time on that aspect of the job.
When Duscher sells his company's services, he provides a menu plan that includes both use of water trucks and sweepers. These are shown as hourly expenses. Most general contractors already realize that you need both of those machines for dust control. In our case, even our sweeper drivers are certified with a state air quality card. We also discussed how are sweepers are set up for dust control and discuss with the general contractor what we have learned about the best way to use us.
We are also very knowledgeable about the recordkeeping requirements. Finally, and this is a big thing in our particular area, all of our operators speak English. So, when directions are given there is no question that they are understood. That makes for a better job, as well.
In the attached audio, Duscher also discusses the setup needs for both types of vehicles. For example, on his company's water trucks every spray head is set up to operate independently. And, every spray head may be adjusted for how much water comes out of the opening and the angle is set to spray. If you can control those things, he says, then you can control how much water is put down and where it goes.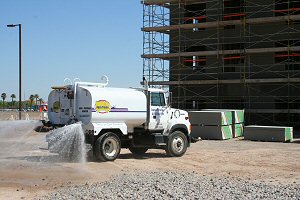 "Our trucks also have sight tubes that show the operator, with a glance into his rearview mirror, how much water is left at all times," said Duscher. I also believe it is important to have low-geared trucks, because then you can use your front spray bar just as effectively while backing up."
By contrast, Duscher notes, most rental trucks have a set opening for nozzles and cannot be independently adjusted. Usually you have to either operate all the front heads or all of the rear spray heads, but do not have the option of independent nozzle operation and aiming.
When it comes to his construction sweepers, Duscher also points out the importance of spray tip location. These have water nozzles on a front spray bar, at each gutter broom and at the main broom, although we sell them use the latter.
"When we are trying to bust up track-out," he said, "we put lots of water on our gutter brooms, which allows them to do a better job. Another trick we employ in many instances is to use a hand-held scraper. Often, this can work faster and provide a better, more thorough job, than the sweeper can accomplish. Where it is safe to do so, it can be faster to have the operator get out of the sweeper and scrape up the clumps before sweeping them than it is with any other method. That can save hours of time."
Dust control regulations on construction sites are a federal, not a state, requirement. Although they may be enforced somewhat differently in different states, there is no question that the trend for enforcement is an upward one. When you listen to the accompanying audio podcast with Scott Duscher, you will gain many ideas about the value in combining water trucks with your sweeper operation. he also provides a number of tips on how to market the service, make the combination be effective, and ensure compliance with federal dust control regulations.
Note: The audio podcast with Scott Duscher, which is approximately 40 minutes in length, will play without downloading any files onto your computer. If you hear the interview at 'chipmunk speed,' you will need to download the latest version of Adobe's free Flash player.
To play the interview, click this link or on the small triangle inside the circle you see to the left. If you have any trouble accessing the audio, please let us know.
Scott Duscher may be reached via email sent to scott@aguatrucks.com. You may also reach the company by calling 623.734.7767. The company's website is located at www.AguaTrucks.com.
If you have questions or comments about this article and interview, please, let us know and we can add it in as an addendum to this article.