Sweep All, Inc. Offers Two Decades of Quality Experience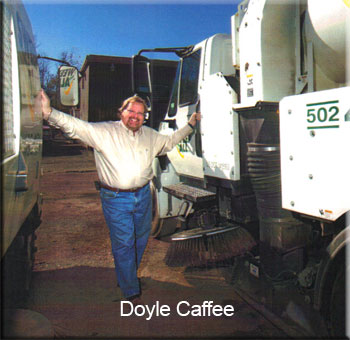 Doyle Caffee bought his first sweeper for $13,000 in 1991. His idea was to start a sweeping company, run it for five years and then sell it and start again with something else. Twenty years later, he has no regrets about having stayed in the industry for the long run.
by Ranger Kidwell-Ross
"Looking back, I was very fortunate about where I bought my first sweeper," recalls Caffee. "I purchased it from Malcolm Goos of New Jersey Sweeping and Maintenance. Whenever I had a question, either Malcolm or his right hand man, Frank Mysoski, would graciously spend time with me to provide guidance and assistance."
In the end, though, 'OJT' – on the job training – was the real teacher. Caffee did all the work himself, which was quite a change from being a finance manager for Xerox, where he financed a wide variety of equipment, including sweepers.
"Like many people," recalls Caffee, "I looked at how other people ran their business and thought to myself 'I could do better.' When I was about to experience a career change because of downsizing I picked the sweeping industry as the business to start. There was a low dollar threshhold to get in, as compared to a garbage company, for example."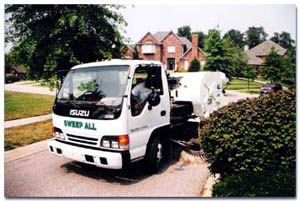 After 20 years of running the business, Caffee says he is preparing to transition it to the next generation of management. They are increasing the leadership roles for people now in the company, including family members, and also have an eye out for individuals who can complement their management and operations team.
"We are also considering what our next expansion might be," says Caffee, "in terms of ways to expand the business and capitalize on our current capabilities our current capabilities."
Today, the company operates in both the Kentucky and Indiana markets with a fleet of 25 sweepers and about another 20 support vehicles. For many years Sweep All operations have been located in leased 8,000 sq. ft. building. Recently, though, Caffee moved his organization into a new, company-owned 12,000 sq. ft. facility that is a tilt-up concrete structure.
"Our new facility will accommodate 35-to-40 sweepers and the support equipment it takes to run them," Caffee says. "It positions us well for growth and the internal maintenance we do. It's also a first-rate facility for our employees to operate from." As part of the move, the company held a grand opening that included both customers and local dignitaries.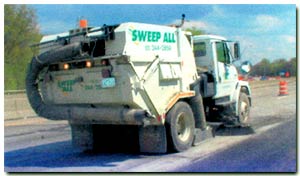 Sweep All's sweeping mix is about a 50/50 split between street-type work and parking area sweeping. They also do snow and ice removal and abatement in the winter and some pressure washing in the summer months. For out of area customers, especially, the company also performs some managerial work; basically, whatever a remote manager might need done, from having lots striped on their behalf to meeting with prospective and current tenants.
"Those customers value the extra services we can provide for them," notes Caffee. "They have learned they can count on us to handle things correctly for them and that goes a long way toward keeping them with us for the long run."
In the audio interview, Caffee discusses that topic in more depth as well as a variety of other threads that will be of interest and help to contractors with less experience or who want to learn more about Sweep All's operation.

For example, the company found that having an article in Louisville's business newspaper, Business First, was something that helped the Louisville business community understand both Sweep All, specifically, and the concept of sweeping, in general. (We offer a PDF file of the article on WorldSweeper; click here to access it.)
Caffee also discusses some of the more difficult jobs they have been involved in through the years, as well as the cleaning of Papa John's Cardinal Stadium, home of the University of Louisville and the Cardinal pro football team.
He additionally provides learned wisdom in a variety of other areas. For example, when he finally hired a salesperson he had him running sweepers on the night shift for a considerable period "so he would know what he was selling." In total, the audio has a number of ideas that will be of interest to other contractors.
For more about how Sweep All operates from its location in Louisville, KY, including information not covered here, you are invited to listen to the approximately 50-minute audio interview with Doyle Caffee.
Note: The audio interview with Doyle Caffee will play without downloading any files onto your computer. If you hear the interview at 'chipmunk speed,' you will need to download the latest version of Adobe's free Flash player.
Note: To play the interview, click this link or on the small triangle inside the circle you see to the left. If you have any trouble accessing this audio, please let us know.
---
Doyle Caffee may be reached via email sent to info@sweepall.com. You may also reach them by calling 502-267-0066. The company's website is located at www.sweepall.com.
If you have questions or comments about this article and interview, please, let us know and we can add it in as an addendum to this article.