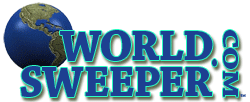 Sweeping Industry Ethics
Power Sweeping Contractors'
Industry Ethics Requirement
Power sweeping doesn't require any type of specific industry licensing and, unfortunately, the people who hire sweeping done often don't know the most important questions to ask. Although a client can quickly confirm most service issues, including how good a job is getting done, ease of getting hold of them when needed, callback speed, etc., the fact is that these items are less important than a number of others.
For that reason, the editorial board of WorldSweeper.com developed an Ethics Statement, which is detailed further down on this page. We suggest to all who purchase sweeping services from a contractor that they confirm whether or not their contractor of choice is in compliance with WorldSweeper.com's Industry Ethics Statement.
Even though situations may vary from state-to-state, a reputable sweeping contractor should, at a minimum, be in compliance with all of the information referenced below.
When you choose a contractor from our Contractor Locator system, they will be a member of World Sweeping Association (WSA). This means the contractor working for you will have access to the largest storehouse of information available about running a professional company. This includes the latest in sweeping procedures, client security procedures, safety, the latest sweeping equipment and much more.
In addition, prior to becoming a member of WSA each participating contractor is required to sign an agreement that confirms its ethical compliance. Plus, the contractor must have been in business for a minimum of two years. Only then is a sweeping company able to have a listing at WorldSweeper.com's high-traffic Contractor Locator area.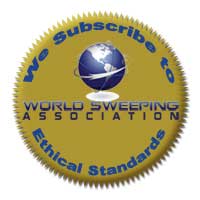 Only a contractor that has complied with all of the above requirements is authorized to display the program logo on its website, as well as on letterhead, brochures and other printed material. We invite you to check out the World Sweeping Association website for more details.
If the sweeping company you're using currently does not display the program logo in its marketing materials and/or is not listed in the Contractor Locator area, WSA has developed a PDF handout you can provide them with to confirm the company's professionalism. If you need us to email, fax or mail you this form, please let us know.
To participate in this program, a contractor company must be willing and able to provide their customers, upon request, with any or all of the following:
WorldSweeper.com's
Industry Ethics Statement
| | |
| --- | --- |
| Requirement | Why this is important... |
Insurance.
Company must carry a reasonable level of liability insurance and a copy of company's Certificate of Insurance will be supplied upon request.
If the contractor doesn't carry liability coverage then the owner of the property on which an accident occurs is much more likely to be held financially liable.
Workers' Compensation Law Compliance
Workers' compensation insurance is carried on all employees and all subcontractors used are required to comply with such rules.
Some companies cut corners by not paying the workmens' compensation on their employees. Without it, there is a much greater chance that a sweeper operator who gets injured will successfully be able to sue the owner of the property for damages.
Regulations
Compliance with all local, state and federal regulations regarding both required licenses and the proper disposal of sweeping debris. Proof of proper disposal methods will be supplied to customers upon request. All required taxes are being paid, including all payroll, sale and fuel taxes.
Legitimate businesses comply with ethical business practices, including all licensing requirements. Hiring companies deserve assurance that payroll and any other taxes required are being paid. In some states, the liability for some taxes may be passed on to the client company if they are not paid by the contractor. Likewise, client companies may have liability for any of its debris not disposed of legally and properly. If property managers do not provide an onsite container to dump collected litter, they should be able to confirm that litter from their site is being disposed of legally and properly.
Employees
Employees receive training for all equipment used and are provided with safe working conditions. All state and federal laws regarding compensation are followed.
Employees who enjoy safe working conditions and who have been trained are more likely to do a good job and less likely to have accidents that result in injury to themselves or others. Also, client companies deserve assurance that all laws regarding employee compensation are being followed.
General
Business is conducted with honesty, integrity and projection of a professional image. Advertising is truthful and non-deceptive. Proposals shall be complete and accurate in describing services/products rendered.
Much of the business of power sweeping is conducted at night, when property managers are not present. Since sweeping contractors represent their client companies while onsite sweeping, it is important that the job be done professionally and honestly.
Likewise, sweeping companies owe it to their industry and to their prospective clients to provide any and all company information accurately and truthfully, as well as to provide the level of services agreed upon prior to beginning work for a client.
---
If your current contractor doesn't display the logo shown above on its website or promotional material, and/or is not listed in our Contractor Locator section, we suggest you print either this page or the pdf version of this page and ask management to confirm the company is in compliance with the WorldSweeper.com Industry Ethics Statement.
WorldSweeper.com presents this information in the interest of promoting sound and ethical business standards throughout the United States power sweeping industry.
We appreciate any suggestions you might have for this section.