Using a GPS-based Driver Scorecard to Boost Performance
Operator performance is one of the keys to having a smooth-running operation. GPS systems, which have become the norm in today's sweeping industry, are sometimes seen as a negative. Some operators see them as 'Big Brother' watching over their shoulders. What if you turned GPS into a positive via game-playing?
by Ranger Kidwell-Ross with info from Lance Holt

GPS is one of the best ways to monitor performance, of a sweeper itself as well as the person operating it. What this article is suggesting is developing driver scorecards as a way to monitor the performance of your fleet.
Any such system you might develop should have as a goal the boosting of morale among your employee group and, ideally, offer a way for your drivers to correct their own behavior. Especially with today's workforce, many if not most of whom have grown up in a video gaming atmosphere, making a game of best practices can reap positive rewards.
Called 'gamification,' used in this context it is the idea of taking the core elements of game playing, such as point scoring and competition with others, and applying them to sweeper operation. The idea is to create a healthy environment of competition using driver scorecards to improve and/or correct operator behavior.
You are likely already collecting the data needed via GPS tracking. The next step is to decide on the specific 'measurables;' i.e., the rules of the operator improvement game you are developing. Here are some examples of what you might want your measurable's to be for parking lot sweeping:
number/frequency of callbacks
whether the time spent on the jobsite is over or under the expected time
accidents or other incidences
getting to the job on time
following the correct route to and from customer locations
scoring by oversight managers
For street sweeping, the following might be indicated:
times an area or block needed to be re-swept
whether operator was sweeping at the optimal speed
number of accidents or other incidences
In the area of safety, you might want to include:
speeding
harsh braking
rapid acceleration
no cell phone usage while driving
No matter which categories you choose for your new "sweeper operator game," it is important that they identify the challenges that are specific to your operation and address the areas that will help you meet your goals. All of that must be clearly defined for your sweeper operators so they can play within the rules. This is vitally important so there is no misunderstanding when winners are chosen, for example.
When you set up the scorecard for your system – and after you have determined which events to include – you will want to emphasize some areas more than others. For example, harsh braking might have a different score than callbacks. You will also want to set a timeframe for the competition, i.e., weekly, monthly, etc., as well as well-defined rewards for the winner(s). This might be in the form of gift cards to local restaurants or other places, time off with pay, use of a particular parking space, or whatever else your creativity tells you might be a good motivating factor for your operators.
When you try setting up something like this, encourage feedback from your operators so that the amount of "buy-in" they have is maximized. You will also need to define what your follow-up will be for those who commit infractions or otherwise don't score well in your system. Remember: Praise in public and provide constructive critique in private!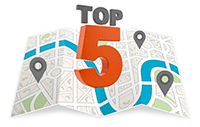 According to GPS provider, GPSINSIGHT – where a blog post by that company's content marketing specialist, Lance Holt, provided the nucleus for this article. GPSINSIGHT cites a recent survey conducted by Bobit Business Media, the publisher of magazines including Automotive Fleet, Government Fleet, Fleet Financials, Work Truck and Business Fleet, on the adoption of telematics and usage within the light- and medium-duty fleet market. Fleet professionals were asked a variety of questions about telematics and the effectiveness of their current providers.
In that survey, driver scorecards received the third-highest response as something that fleet professionals thought could improve their operation. Here's a link if you would like to learn more about GPSInsight and/or the other four items on the list.
You may well also find the SweepInspect app we previously reported on to be of value in this regard.