Python Sweeping in Phuket
by Phuket Gazette Staff


In Phuket, Thailand, a city street sweeper raised the alarm when he spotted a five-meter (16+ feet long) python hiding in a storm drain near Saphan Hin Park. "Many people were exercising in the area. I was afraid it posed a danger to them," the street sweeper told the Phuket Gazette.
The area, near Saphan Hin Park, is renowned as a recreational area where thousands of city dwellers go for family picnics on weekends, and where hundreds exercise each morning. Quick to arrive at the scene on Tuesday morning were Phuket's expert snake-handlers: the Kusoldharm Foundation rescue team.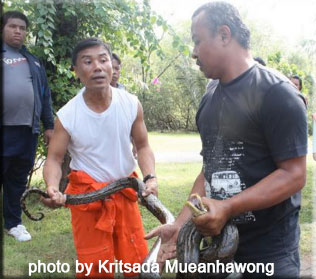 Rescue worker, Phoonsab Saeueng, told the Gazette that despite his extensive experience in bagging and releasing snakes this reptile was particularly difficult to lure out of its lair.
"The python had secured itself inside the drain and was protected by steel bars," Mr. Phoonsab told the Gazette. "We called in officers from the Department of Disaster Prevention and Mitigation Phuket office to bring the right equipment to lift the concrete hatch to the drain, and we called in a fire truck to use a firehouse to flush the snake out from behind the bars so we could catch it," he said.
Despite the combined efforts of the three teams of rescue personnel, it still took an hour to snare the snake. "We bagged the python and later released it into the wild, where it shouldn't bother any more people," Mr. Phoonsab said.
Ranger Kidwell-Ross is editor of WorldSweeper.com, and the world's most prolific writer on the topic of power sweeping. In addition to the U.S., he has written stories about sweeping in many other parts of the world. If you have questions or comments, please let us know.