An Overview of Sweeping in Mairena del Aljarafe, Spain
by Jose A. Almarza Madrera with Ranger Kidwell-Ross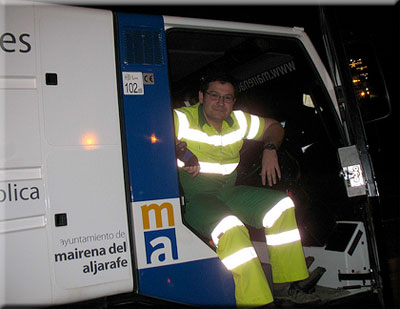 Jose A. Almarza, shown in the photo to the right, has worked for the City of Mairena del Aljarafe, Spain, population 40,000, for eight of his 38 years. In the following article, Almarza offers an outline of how sweeping is done in his City, which is located about 20 kilometers from the larger, and hence more well known, City of Sevilla.
In Spain, the amount of cleaning the streets receive is a direct result of the emphasis placed on street cleaning by the current municipal administration. The activity is usually, but not always, financed with public money. This is the case of Sevilla and the smaller city where I work, Mairena del Aljarafe.
My boss is under the direct orders of our environmental councilmen. We are municipal workers and our scope of work in all areas of the municipal infrastructure depends on the mandates of the Council of Mirena de Aljarefe.
In the nearby and larger city of Sevilla, by contrast, they contract out sweeping services to a company called LIPASAM. In part because Sevilla is much larger, LIPASAM employs a wider variety of sweeping equipment than we do in Mairena del Aljarafe. The different types of sweepers include Elgin Pelicans, as well as sweepers built by Bucher, Ravo, Swingo and Dulevo.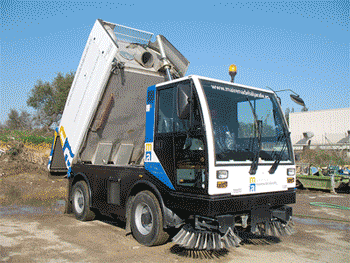 In Mairena del Aljarafe, where we do the sweeping ourselves, there is a lot of emphasis on keeping the city streets cleaned. As a result, we have a good range of equipment for the size of the City. Our street sweepers are: Three Bucher City Cat-5000s, one of which is new and we are waiting to receive one more next year; one Bucher City Cat-2020 which is the Street washer version; and one Piquersa BA-2000, which is the same model used in Evora, Portugal.
In addition, we have three wash trucks, two of which are new, six garbage trucks, three multiuse trucks and about half a dozen assorted cars and vans.
I very much like my job, which is the reason I initially contacted WorldSweeper.com to let the world know more about what we do here in our City in terms of street sweeping. I like to share what we do, and to show the type and quality of our daily work. It's great working for the public service, and being around people who know how to operate and maintain our machinery.
If you'd like to see more photos of our sweepers and sweeping operation, I invite you to take a look at my Flickr photostream. I also have a number of sweeper-related videos I've taken that you can take a look at.
MY BEST GREETINGS FROM SPAIN!
Jose A. Almarza Madrera
You may reach Jose Almarza via email sent to: jaalmarza@hotmail.com. For more complete answers, please write in Spanish.