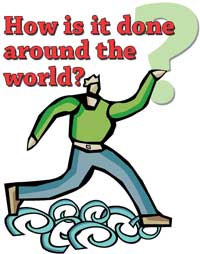 Ranger Kidwell-Ross, our webmaster and Editor of WorldSweeper.com, in 2007 went to Singapore to bring back news of how pavement sweeping is done in 'the city that is also a country.'

Table of Contents
Moving Toward Environmental Sustainability
An overview of Singapore that showcases how far the environmental methods of this highly urban, industrialized island has come in a few short decades. Read the story.
Pavement Sweeping for Environmental Health
Singapore's sweeping program is overseen by the Environmental Health Department, which is a component of the country's National Environmental Agency. This choice of oversight agencies shows how seriously pavement cleaning in Singapore is taken. Read the story.
Contract Sweeping Keyed Toward Environmental Cleanliness
Tan King Bok is Vice President for Customer Relations Management and Government Liaison for SembEnviro, the contracting company that handles pavement cleaning as well as a variety of other, related tasks for two-thirds of Singapore. This first-person interview details how that is all accomplished. Read the story.