"When I grow up I want to drive a Schmidt Swingo sweeper!"
Erewash, UK; August 8, 2005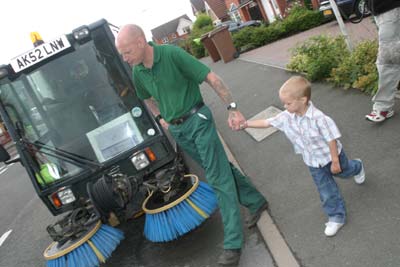 Little Harrison Lowe has been fascinated with the mechanical road sweeper that cleans the road outside his house almost since he was born - and on Friday (August 5) he got the biggest surprise of his life when the driver stopped off at his house to give him a closer inspection.
Harrison has been talking about the sweeper to his dad, Steven, for months - so much so that Steven takes the four-year-old to Ilkeston Market Place every Thursday, come rain or shine, to watch the sweepers in action. Steven, of Huckerby Road, Shipley View, Ilkeston, then wrote to the Council to see if a 'close encounter' could be arranged.
"It seems he is infatuated with the mechanical sweepers," said Bill Mellor, Street Scene Section Leader (North) at Erewash Borough Council.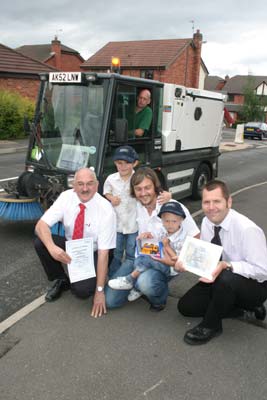 "We wrote to Harrison to tell him when the next scheduled sweep of his street was due, but what we didn't tell him is that he would be invited into the cab. We also arranged for his special car seat to be fixed into the passenger seat so he could be on board when it swept outside his house."
"Opportunities like this don't come along very often so it's great that we were able to make Harrison's dream come true. Who knows, we may even be looking at a future council road sweeper!" added Bill.
Trevor Greet, the driver who treated Harrison to a ride in the mechanical sweeper, said: "I'm just pleased I was able to help make Harrison's day. He really enjoyed being a passenger whilst I swept the street and I think it's something he'll remember for years to come."
The vehicles that are the subject of Harrison's fascination are Swingo Compact Suction Sweepers, manufactured by European market leader Schmidt UK.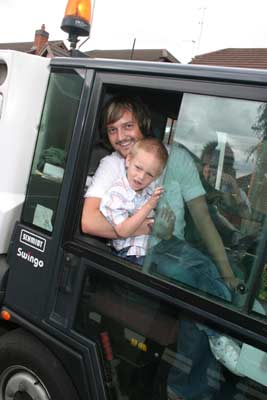 Harrison was given a certificate by the Council and Schmidt Regional Sales Manager Les Bullock to mark the occasion. Mr Bullock also presented him with a Schmidt baseball cap and a replica model of one of its range of vehicles.
Steven Lowe said: "Whenever my wife Emma and I take Harrison to a toy shop, all he seems to be interested in are road sweepers. He's built up quite a collection. He even wanted me to buy an actual road sweeper that was being auctioned on eBay, but the bids were in the region of £2,000. It's turned into a bit of an obsession. Fortunately it's one that isn't shared by his brother Oliver!"
"I have to take Harrison to Ilkeston town centre every Thursday to watch the sweepers cleaning the Market Place. He sits absolutely transfixed. Harrison calls the sweepers 'Noo-noos' after the Teletubbies character, which probably explains where he developed his fascination for them. He says when he grows up he wants to be a Noo-noo driver.
"I am absolutely amazed by the positive manner in which Erewash Borough Council and Schmidt responded to this," added Steven.
For further information:
Bill Mellor, Street Scene Section Leader (North), on 0115 850 8322
Richard Skelhorn, Communications Manager, on 0115 907 1159
---