Lisa (and Freddie) James, of Big Easy Sweeping, Tell About Their Ongoing Ordeal in the Wake of Hurricanes Katrina and Rita
by Ranger Kidwell-Ross, editor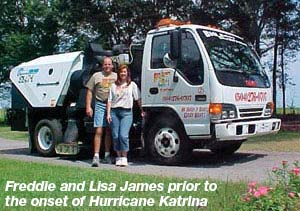 October 10, 2005 (Information updated for a lookback a decade later.)

With all the true grit of a pioneer woman, on October 6th Lisa James related to me what she and her family has gone through since New Orleans was devastated by Hurricane Katrina and, a scant two weeks after that, Hurricane Rita.
Perhaps most unsettling to me was how bad the conditions still are as of almost the middle of October, weeks after the Hurricanes struck. They've only had power for a week; people scattered in sleeping bags throughout the parking areas they're trying to sweep; no phone for their business until perhaps next January.
When you hear this first-hand account of what took place, complete with anecdotes about how the tragedy affected a myriad of those around them, as well, my prediction is that you'll feel the impact of the hurricane as never before. Even after being deluged with news coverage on television, for me the reliving of the devastation, heroism and heartbreak in this interview through the eyes of an acquaintance who lived it was an entirely different story.
Before you listen to the audio recording of the interview with Lisa linked below, here is some background information you'll find helpful. She starts out talking about "getting their copy" of an interview done about the company. This refers to a feature article in PAVEMENT magazine that was done on Big Easy Sweeping in its August/September issue. As you'll hear, they didn't get their copy of the article until after the storm.
Lisa also mentions having to pay for their website, which had a payment come due around the time of the hurricane. The site is one of those we host at WorldSweeper.com's sister company, American Proofreading. As you will hear, we are providing them with free website hosting through the end of 2006.
At one point, the fate of a person I call "Randall," and who Lisa calls "Randy," is discussed. The person in question is Randall James, who is Freddie James' brother and at the time was the manufacturer of the Tow-Vac line of tow-behind parking area sweepers (later purchased by Victory Sweepers, Inc.). Along with his brother, Chris, Randall was additionally a partner in Quality Sweeping, a company that is also mentioned in the interview as having been devastated by the storm.
Although the Tow-Vac factory is located in the greater New Orleans area, it was spared the brunt of the storm. Although Quality's location was covered with water, they were able to drain the oil and fuel from their Tow-Vac and it's back operational. Here's what Randall had to add when I spoke to him today.

"The Tow-Vac factory was very fortunate. The tidal surge from the storm stopped right at our front door. My first concern was to make sure our employees were okay, and then to help find them places to live. Only then could we even think about getting back into operation. Fortunately, we were on a main electrical grid, so we got power back in just a few days. I'm proud to report that everyone in our organization has been re-settled to somewhere and we've just delivered our first 3 units since Katrina.
"The best news is that the health of Chris' baby (talked about in the audio interview) is also improving. Doctors are now saying they think it will only be a matter of time until he gets normal brain functions. We're sure keeping our fingers crossed. That has been such a terrible part of this situation for the family.

Update on Chris and Grace's Baby, October 24th

A recent email from Randall James says, in part: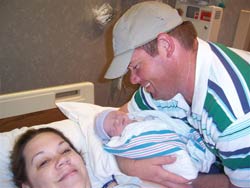 "My nephew came home from the hospital Friday after 35 days of intensive care in Jackson University Medical Center. He still has a feeding tube and some other things attached to him, but he is thriving and growing. Best of all, his brain functions are slowly becoming normal. (Picture shows Chris and Grace with the baby when newborn.)

All of my family's businesses are up and running and only a few family members are still without their own housing. A small inconvenience at this point. I want to thank everyone for their prayers and support.
-- Randy & Missey James

"Part of the story that I think needs to be told were the responses of so many of our customers in the wake of Katrina. As was reported in the national media, Wal-Mart was the first on the scene with aid. The value of that early response was enormous. What hasn't been told, though, is that with just a single phone call they've kept the checks coming for sweeping services for Quality Sweeping even though all of the records at the office were destroyed by being under water.
"I also have to single out the actions of the large property management firm of Developers Diversified for an act that was completely above and beyond. Quality sweeps a large parking area for them, yet Chris simply had to be at the hospital with his baby. What Developers Diversified management did was take over cleaning their parking area with their own employees until the baby's health crisis is over, yet are continuing to pay Chris for sweeping services. That's still the situation even today.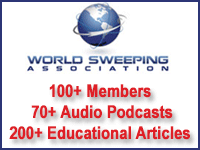 "That's not the kind of action someone would normally expect from a large corporation, but there were a number of them that really stepped up to the plate to do what they could in the wake of Katrina.
"I couldn't be any more proud of my little brother, Freddie. His shop and all but one of his sweepers ended up covered with over ten feet of water, yet in addition to having more than a dozen family members whose homes were destroyed by Katrina move in with him and Lisa, he helped at least 50 other people I could tell you about. "Freddie and Lisa have had to make some very tough decisions, and they have acted wonderfully considering all that's happened. It's seldom I've ever seen Freddie at a loss for what to do in any situation, but there were times when that was the case after Katrina. The real test was the actions he ended up taking, though, and he made great choices that really showed what he's made of.
"It will take a long time for anyone involved with this situation to fully recover. In the meantime, we're all just doing the best we can. God is good."
From Randall's reaction, it sounds to me like compassion -- followed by right action -- must run in the James' family. I don't think any of us can truly imagine how we ourselves might act in a tragedy so complex and enveloping as what happened in the wake of these hurricanes. Personally, I hope I never have to find out.
Via the link shown below, WorldSweeper.com offers you the exclusive audio interview with Lisa James. It is completely uncensored and uncut. Be prepared to have tears in your eyes by the time it's over; I know I did. When I listen to my own responses and questions I realize what an emotional interview this was for me.
When you click on the link your browser should open a new window and the story file should play.
Link to Lisa James' Interview
---