This WorldSweeper-sponsored tele-seminar featured Richard Arlington, President of Rich Arlington and Associates. Mr. Arlington provided background on the advancing trend of regional and national companies using 3rd party service providers.
Mr. Arlington is the Business Manager for 3rd party service provider, Affiliated Grounds Maintenance Group, Inc., and was featured in WorldSweeper.com's December 2010 newsletter. In addition, Rich is President of Arlington Lawn Care, which provides a number of services including parking lot sweeping. Finally, as President of Rich Arlington & Associations, he is a nationally recognized consultant to the lawn care and snow removal industries.
Rich Arlington has worked with a wide variety of service contractors on how to improve their businesses, as well as how to evaluate and work with 3rd party service providers. He has extensive knowledge and experience with such topics as:
revenue forecasting
customer service
employee training
lean management
sales and marketing
contract law expertise

subcontractor relations
improving operational efficiencies
implementing successful bid processes
best business practices for financial budgeting
organizational structure and responsibilities
safety in operations
What to Expect...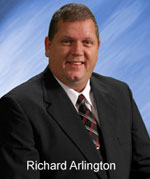 Richard Arlington provided a brief background about the trend by regional and national chain stores to use national service providers (also called 'third party service aggregators'). He then discussed the value this type of system provides and what it means for service suppliers, such as sweeping contractors.
Included was be his list of "do's and don'ts" when it comes to working with his and other service aggregators. Mr. Arlington also took questions from those listening; these questions and answers are provided on the tape transcript you will be purchasing.
For more information about Rich's work with Affiliated Grounds Maintenance Group, take a look at our feature story on the company done in December 2010 (opens into a new page). For more information about how our tele-seminars work, scroll to the bottom of this page or use this link to access our FAQ.
What Others Say...
"Rich is committed to helping contractors succeed. This commitment is reflected in his interest in educating contractors..."

– Doug Knotts, Knotts Land Care, LLC
---
"Rich Arlington has provided us with a wealth of information from his years of experience. He has helped us reword our contracts to reduce liability and has also showed us how to present ourselves to be more professional and more equipped to handle larger projects."

– Jason Schmidt, Manager, Schmidt Lawn Care, Southington, CT
---
"I met with Rich and his staff for a full day of consultation and I have to say I learned more about snow & ice management in that one day than I ever could have on my own. Rich tells it like it is and he helped me create some bidding systems that I literally put to use the next day!"

– Steve Rak II, Vice President, Southwest Landscape Management, Columbia Station, Ohio
Purchasing the Tele-Seminar...
To purchase the audio and PowerPoint presentation of this extremely informative seminar, please fill out this form. You will be re-directed to our credit card payment page. Questions? Call us, toll free, at 866-635-2205. You may also contact us via email.
Note that this webinar is offered with WorldSweeper's Unconditional Money Back Guarantee of Satisfaction. If you are not completely satisfied, after listening to the audio of the webinar in conjunction with viewing the PowerPoint presentation of the presenter, we will refund your $50.
We believe you will find this webinar to truly be the 'next best thing' to being there when it comes to skill's training and professional development. Once you try this type of learning, you'll find it to be the most cost-effective form of training available.
---