Profile on Affiliated Grounds Maintenance Group, Inc.
The following article and audio interview are the result of an interview with the Business Manager for Affiliated Grounds Maintenance Group, Inc., Richard D. Arlington III, CSP, CLP. The interview was conducted in December, 2010.

by Ranger Kidwell-Ross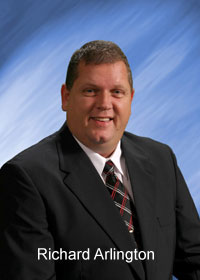 The impetus for starting Affiliated Grounds Maintenance Group (Affiliated) came about 1998, when a national service provider, also often called a "services aggregator," moved into the market area for Arlington's lawn care and sweeping company.
When he got his management team together to strategically plan out their response, they decided they could either work for this type of company or become one that did the job better. The latter seemed like the best course of action, since if becoming an aggregator didn't work out they would still be able to go back to just providing sweeping and related services.
Affiliated's initial forays into the field took place in Arlington's surrounding market area, including Erie, Pittsburgh, Pennsylvania, and Cleveland, Ohio. Gradually Affiliated moved out to other states and have kept expanding to where they are today, which is overseeing sweeping and other exterior maintenance operations in more than 150 different cities in 31 states.
"We developed a great reputation with clients, which in turn moved us to other cities and other states," says Arlington. "We came from a contractor background and built a national presence. It's given us a lot of insight into what many contractors are faced with, in terms of operations and structure. How they need to maintain profit margins and other efficiencies. We're not only managing a national presence, but we're also still running three sweepers of our own every day. This gives us a lot of insight when it comes to dealing with our contractors located around the country."
When asked what he sees as the economies of scale that allow his company to get into the middle of traditional competitive bidding by sweeping and maintenance contractors, and then keep both them and his company profitable, Arlington responds "That is the million dollar question that's out there today as a contractor."
It's true that the streamlining of the process is attractive to the end-user... We have many computer technologies and other changes going on today, for example, but you can't have a computer sweep your parking lot. However, what they [the regional and national chains] are looking to outsource is the management process, and they want to cover all bases of exterior maintenance.
"This all really got started back in 1978 in the landscape maintenance industry. Then, it got going in janitorial, pressure washing, lot sweeping and, now, it's even coming over into the snow industry. That's because it's a model that works for the end-user on what might be called a 'bean counter basis.' Although [the national chain stores] may pay the same for the services, they will save on the accounting end of things.
Arlington also has a consulting business, where he advises regional/national chains, what he calls his "end-users," on a variety of issues around this topic. He has learned there's a lot of unscrupulous business practices that are occurring in the national service provider industry. However, he is quick to point out that some companies in any industry are unscrupulous and that it's the same with the service aggregation business.
One widespread complaint I have long heard -- second perhaps only to slow payments -- is the practice of national providers requiring contractors to get some type of service validation slip signed for each sweep. This can be particularly onerous when it comes to sweeping, since it often means an extra trip back to the client property.
"In terms of [signing] post-it notes or other requirements, I can only speak for our business. We only pass along requirements that our customers initiate. It goes back to the streamlining of the process. When you look at a national service provider and they have a certain process that is required in order to participate with them, keep in mind that whatever those processes are will be explained in the contract long before the contractor signs it. I can't stress strongly enough that no contractor should be signing any contract where there are provisions they don't understand fully."
Like with all national aggregators he's aware of, Affiliated does not pay its contractors until it gets paid. "That's just the way the world works," Arlington says. However, he also emphasized that his regional customers typically pay within 15-to-30 days, and stressed that 98% of all the invoices of sweeping contractors who are utilized by Affiliated are paid within 25 days. "That is also something that should be spelled out in the contract," he says. "There is typically no reason a contractor should be waiting 60 or 90 days to get paid."
I told Arlington that in my experience with working with sweeping contractors for over two decades, I did not believe there was a substantial amount of money that sweeping services could be discounted -- even 10%. After all, the current pricing is in place as a result of years of competitive low bidding. Something has to give, and usually that means shoddy work, not sweeping on all proscribed days or other shrinking of the scope of work.
The chains he works with, says Arlington, often tell me "their customers have the same concern, especially when it comes to scope of work. They often report that the work seems not to be getting done, usually because the contractor underbid. Contractors need to either be comfortable with the contract price or say "no" if there isn't enough profit in it.
"Affiliated Management Group's model is different from many others in the industry," continued Arlington. "We ask the contractors for their price. Then, we add on our fee to cover our costs and submit the RFP Response to our end-user customer. We do not try to lowball jobs and then try to find a contractor that will do it for that price. As a result, we have a very good reputation from everyone concerned. Probably the biggest difference between our company and the other [aggregators] out there is that we're not constantly trying to drive down pricing."
Arlington went on to assure me that his company maintains strict confidentiality throughout the bidding process and, unlike many reports I have heard pertaining to other national providers, they do not either share contractor bids or bid contractors back and forth against each other. "Through my consulting business I hear a lot of the same thing," responds Arlington. "However, Affiliated accepts the low bid on the project that we are convinced has the resources to do the job. Again, there's a certain percentage of even national service providers that have bad business practices.
"One thing we like to brag about is that we have a very high retention rate among contractors. We call them AGMG Affiliate Partners, of which there are currently 4,000. Throughout the life of our company we've only lost five, and most of them were through death or retirement. That goes a long way to speaking to the integrity of our company.
I'll tell contractors who haven't heard of us to go to Google, type in 'Affiliated Grounds Maintenance Group' and read up about us. I also tell them to call us back if they find anything bad. They don't call back; they submit their application instead.
Arlington advises contractors to do their homework before signing up with any national service provider. Find out what other contractors are saying about the company, what the payment situation is, how they are to work with, etc. Then, don't sign up to work for them if it appears there are problems with the firm.
A central part of the complaint cycle appears to be that contractors sign up with a national aggregator without doing their research and, sometimes, without even reading the contract prior to signing it. Having a thorough understanding of all contract language should be a priority before getting into business with anyone. Today, the internet makes it easy to do that. And, when it comes to references keep in mind that no one will be giving you a list of references that are critical of their company.
As Arlington says, "It's much better to pay $200 to an attorney to review your contract than it is to lose thousands of dollars because you didn't get paid. Probably the biggest thing for contractors to remember is that in today's marketplace we, as contractors, feel that we provide something that we don't. Snowplowing is an emergency service and lot sweeping is a waste management issue, for examples. Yet, for any large company that hires you they're probably just line items in the budget. Contractors need to see where they're wasting their dollars in order to determine where they can do a better job. "Another advantage of working with Affiliated is that we will help our contractors on those types of issues. We have real people, who have really done the work, who will train them on better office procedures in order to streamline processes and more. We'll do whatever we can to help them stay profitable even though the general trend in the market is always to reduce costs.
"The trend [of chain stores going to national service providers] is not going to go away, especially since the biggest retailer in the country just went national last year. So, it's going to continue. You're starting to see restaurants and even gas stations doing it now... We call it 'they're turning our industry into a commodity.'"
Hear for yourself the entirety of what Richard Arlington has to say in our 25-minute audio interview with him. The audio includes what you've read, plus more.
---
Note: The audio interview with Arlington will play without downloading any files onto your computer. If you hear the interview at 'chipmunk speed,' you will need to download the latest version of Adobe's free Flash player.
Note: To play the interview, click this link or on the small triangle inside the circle you see to the left. If you have any trouble accessing this audio, please let us know.
---
WorldSweeper.com will be hosting a live webinar with Richard Arlington this coming February 24th, starting at 1pm, Pacific. More information on that will become available closer to the event.
---
Richard Arlington may be reached via email sent to rich@agmgus.com. You may also reach him by calling 814-490-4700. The Affiliated Grounds Maintenance Group's website is located at www.agmgus.com/.
The author of this article, Ranger Kidwell-Ross, is the editor of WorldSweeper.com. If you have questions or comments about this interview, please, let us know and we can add it in as an addendum to this article.