This WorldSweeper-sponsored tele-seminar will feature Richard Arlington, President of Rich Arlington and Associates. Mr. Arlington will provide background on the advancing trend of regional and national companies using 3rd party service providers.
Mr. Arlington is the Business Manager for 3rd party service provider, Affiliated Grounds Maintenance Group, Inc., and was featured in WorldSweeper.com's December 2010 newsletter. In addition, Rich is President of Arlington Lawn Care, which provides a number of services including parking lot sweeping. Finally, as President of Rich Arlington & Associations, he is a nationally recognized consultant to the lawn care and snow removal industries.
Rich Arlington has worked with a wide variety of service contractors on how to improve their businesses, as well as how to evaluate and work with 3rd party service providers. He has extensive knowledge and experience with such topics as:
revenue forecasting
customer service
employee training
lean management
sales and marketing
contract law expertise

subcontractor relations
improving operational efficiencies
implementing successful bid processes
best business practices for financial budgeting
organizational structure and responsibilities
safety in operations
What to Expect...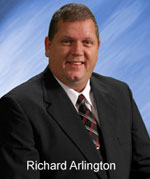 Richard Arlington will provide a brief background about the trend by regional and national chain stores to use national service providers (also called 'third party service aggregators'). He will discuss the value this type of system provides and what it means for service suppliers, such as sweeping contractors.
Included will be his list of "do's and don'ts" when it comes to working with his and other service aggregators. Once his overview information is concluded Mr. Arlington will take questions from those listening, both via direct questioning and via email.
For more information about Rich's work with Affiliated Grounds Maintenance Group, take a look at our feature story on the company done in December 2010 (opens into a new page). For more information about how our tele-seminars work, scroll to the bottom of this page or use this link to access our FAQ.
What Others Say...
"Rich is committed to helping contractors succeed. This commitment is reflected in his interest in educating contractors..."

– Doug Knotts, Knotts Land Care, LLC
---
"Rich Arlington has provided us with a wealth of information from his years of experience. He has helped us reword our contracts to reduce liability and has also showed us how to present ourselves to be more professional and more equipped to handle larger projects."

– Jason Schmidt, Manager, Schmidt Lawn Care, Southington, CT
---
"I met with Rich and his staff for a full day of consultation and I have to say I learned more about snow & ice management in that one day than I ever could have on my own. Rich tells it like it is and he helped me create some bidding systems that I literally put to use the next day!"

– Steve Rak II, Vice President, Southwest Landscape Management, Columbia Station, Ohio
Registering for the Tele-Seminar...
To register, fill out the form below and then hit the 'Submit' button. This will re-direct you to our credit card and PayPal payment link page. Once we have received your payment we will send you the toll free phone number to call, along with your access PIN. (Note you may also call us with your credit card info, toll free, at 866-635-2205.)
Would you like to attend but find the time inconvenient? No problem! If you are a registered attendee but cannot listen in live due to a conflict in scheduling, you can still hear all the information. We will record the tele-seminar and will provide all registrants with the link needed to access it later. If you can't be in on the seminar live, you may submit questions in advance via email and we will make sure they get asked. (Let us know if you wish to remain anonymous in your questioning.)
---
Frequently Asked Questions
About How Tele-Seminars Work...
Audio tele-seminar conferences are electronic meetings where participants call in from different locations and listen to a speaker, or group of speakers, who are experts in their topic areas.
Audio conferences are interactive, meaning that participants can ask questions in real time. They are considered the most cost-effective form of training because:
1) you can invite as many colleagues as you'd like to listen in on a single phone line;
2) you incur no travel expenses; and
3) employees are back at work immediately after the session ends.
How does this WorldSweeper.com audio tele-seminar conference work? When you register for a conference, you receive an 800 number and a PIN number. About five minutes before the conference is to begin, you dial the 800 number. You'll be asked to enter the PIN number followed by the pound key. An operator will then patch you into the conference.
Can others in my office listen in as well? Absolutely. The conference fee is for a single phone connection, and we recommend that all interested parties at a location listen in at once via speakerphone in a conference room. There's no additional cost. We believe this type of training conference is the most cost-effective form of professional education available on the market today.
Can I ask questions of the speaker or moderator? Yes. In fact, one of the benefits of attending a live audio conference event is the ability to ask the expert speaker a specific question relevant to your own situation. Most audio conferences have some mechanism for asking questions, either in real time over the phone or submitted via live chat or email to the conference moderator,
Is there a recording made for my later reference? After the tele-seminar, you will receive a link to the conference audio file. You may use this link to re-listen or as a way for others in your company who were not available during the live tele-seminar be able to access the information.
Audio conferences are truly the 'next best thing' to being there when it comes to skills training and professional development. Once you try this type of learning, you'll find it to be the most cost-effective form of training available.
---