Roots of Stewart-Amos Sweeper Co. Run Deep
In 1938, Al Amos founded what is today called the Stewart-Amos Company, maker of the Starfire line of mechanical broom sweepers. Initially, the firm was a distributor of mineral processing and aggregate production equipment for the limestone quarries located in Pennsylvania.
by Ranger Kidwell-Ross
January 2010

Today, that division of the firm has evolved into one of the mid-Atlantic region's premier suppliers of aggregate crushing and conveying equipment. With design and layout, engineering, fabrication, manufacturing, distribution, and installation, the staff of the aggregate division brings their expertise to each project regardless of the size and scope. From turnkey quarry installations to simple plant improvements, Stewart-Amos is the vendor of choice for the aggregate industry.
Also based in Harrisburg, PA, Bob Stewart started a road building machinery distribution company in 1947. The sales of asphalt pavers, compaction equipment, earthmoving machinery, refuse bodies and street sweepers fueled the growth of this division.
With the consolidation of the construction machinery manufacturing industry during the late 1980s and early 1990s, the decision was made for the Stewart division to concentrate on providing specialty wear item solutions for the construction and mining industries. Also at that time, the Stewart division began renting specialized equipment such as hydraulic hammers, mining and construction dewatering pumps, and street sweepers.
The street sweeper rental fleet grew to the point that, in 2004, a separate company was formed to design and manufacture chassis-mounted mechanical broom street sweeping equipment. Stewart-Amos Sweeper Co. combined the talents in engineering, fabrication and manufacturing from the equipment side of the company with the capabilities of sweeper-specific personnel brought on board to spearhead the product line.
The three main products of Stewart-Amos Sweeper Co. are the Starfire S-4, Starfire S-5 and Starfire S-6 models.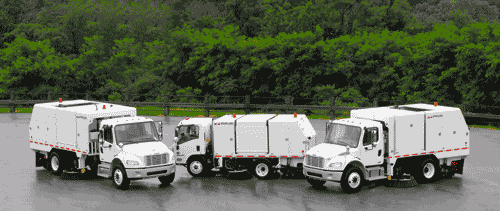 The S-4 is a 4-cubic yard capacity, midsize twin-engine sweeper mounted on a 19,500# GVWR chassis that does not require a CDL for operation. The short wheelbase chassis combines tight maneuverability like a 3-wheel sweeper, yet is still capable of traveling at highway speeds between jobsites. The S-4 has a 10' 2" dump height, an in-cab camera system for safety viewing of the sweeper's exterior, and surprisingly quiet operation. Click here to download a Starfire S-4 brochure as a PDF file.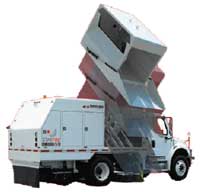 The Starfire S-5 is a full-size, single-engine, mechanical broom street sweeper mounted on a cabover or conventional 25,950# GVWR or a 33,000# GVWR chassis. The S-5 is manufactured for grueling, day-in and day-out, continuous heavy duty sweeping.
The Starfire S-5 features a 5-cubic yard debris hopper and an in-cab controlled, variable sweeping path for up to a 12 foot wide pass. The S-5 also includes a safety camera system and is available in single- and twin-engine versions. Click here to download a Starfire S-5 brochure as a PDF file.
The massive Starfire S-6 is a 6-cubic yard capacity, single- or dual-engine mechanical broom street sweeper mounted on a commercial chassis and manufactured for the most punishing day-in and day-out, continuous heavy duty sweeping.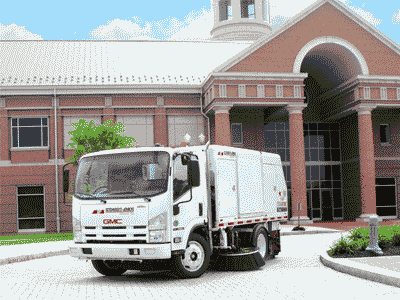 Built with reliability and simplicity in mind, the S-6 also features an in-cab controlled variable sweeping path for up to a 12-foot wide pass. Coupled with a 350-gallon water system and a 12' 2" hopper dump height, it provides the complete package in demanding street sweeping applications.
For high production and high performance sweeping applications, Stewart-Amos Sweeper Co.'s Starfire S-6 is the full size sweeper that can handle your most severe sweeping applications. This is an ideal unit for high production applications, including the heaviest of chip-seal/milling cleanup applications. Click here to download a Starfire S-6 brochure as a PDF file.
At the 2009 National Pavement Exposition, WorldSweeper.com filmed a 10-minute interview with Stewart-Amos' President, Frank Chulick. In it, Chulick showcased the features of the company's Starfire S-6. You can view this 10-minute YouTube video below.
Distribution of Stewart-Amos sweepers is through a network of highly qualified dealers that provide for the local parts and service requirements of the company's customers.
More information can be obtained by visiting the Stewart-Amos website, www.Stewart-Amos.com or by calling 800-482-2302.