A Contractor's Profile of Scarab's M65T Power Sweeper
by Ranger Kidwell-Ross
Ranger Kidwell Ross, Editor of Worldsweeper.com and Executive Director of the World Sweeping Association, conducted this interview with Tim Toler, owner of Clean Sweep Lot Services, LLC in Speedway, Indiana. Toler purchased the first Scarab M65T sweeper sold in the United States. The interview discusses his process in choosing the sweeper and his experience in operating it over the first two months of his ownership.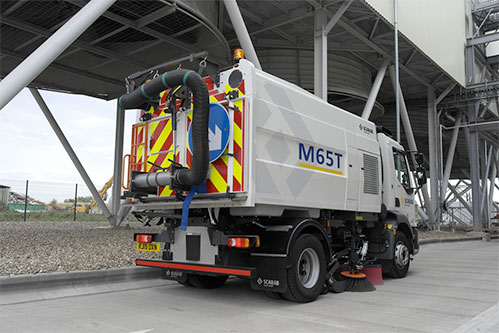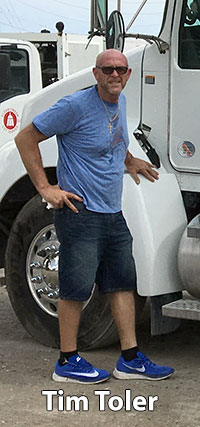 Tim Toler has been an Indiana based sweeping contractor for the past 23 years. Over that time, he has purchased several million dollars worth of sweepers. Always forward looking, toward the end of 2017 Toler began scouring YouTube for sweepers that were in the international market to see if he could find one that matched his specific wish list.
I first learned about his search in March 2018 when he contacted our WorldSweeper office with a request that I put him in touch with the Scarab sweeper manufacturing organization. With them, Toler then arranged for a demonstration of his sweeper of choice, a Scarab M65T. This was done through Scarab's NE dealer, Spezio Property Services, which is located in Rochester, New York, with assistance by Cees Van Der Put, Scarab's Export Sales Manager. On April 27th, Toler emailed to say that he had purchased the first M65T sold in the United States. The linked audio is a 17-minute conversation between Toler and myself about his experience to date with this new sweeper.
"After watching the videos of this sweeper I want to be clear that this is not a machine for a parking lot guy. Rather, they are made for companies that are doing big jobs like milling and street sweeping and, in my experience to date, they need to be run by an intelligent operator who really knows what he's doing and is interested in taking good care of the equipment that are driving.
"The operator really has to "work it" all the time they are operating it if they want to maximize the performance. That said, when you do you can pick up a massive amount of millings, as just one example. I've even driven the sweeper right behind a milling machine without having a skid steer or other broom-type sweeper going first and it's done a good job."
Toler's Scarab M65T is outfitted with a main broom, a windrow broom underneath and two 29-inch suction heads, one on either side. For the extreme duty of millings' pickup, Toler has found the best outcome to be via using one or the other of the pickup tubes along with the main broom. I've seen it pick up a softball-sized rock, he says, and it will really do a good job of gobbling up the material.
Something Toler would like to have is a 200-300 BAR spray bar that is mounted onto the sweeper, to enhance the machines capability. This is something he is still investigating and expects to retrofit at some point. The combining of serious pressure washing along with sweeping in one machine is something that is available in the European marketplace but has not yet become readily available in the US.
Toler's experience to date is that his Scarab M65T combines many of the capabilities of a regenerative air sweeper along with those of a mechanical broom sweeper. This has given him a machine that is attractive to many of his roadbuilding customers. However, he emphasized several times that it's not a sweeper that you can put any kind of newer operator into, since to get the best results there needs to be somewhat constant tinkering to maximize the sweepers capabilities.
For example, says Toler, his operators pretty much keep their hands on the adjustments for the main broom and curb brooms so they can tweak them somewhat constantly. He has found this is the best way to compensate for uneven pavment surfaces. The sweeper is designed such that, as the pavement or asphalt changes, the brooms may be easily adjusted to fit the new surface requirements.
The sweeper is mounted on a Kenworth chassis. Although the chassis makes it difficult to sweep a cul-de-sac, Toler's M65T is outfitted with an 8-inch wander hose and, he says, with a little creativity he's able to clean a tight cul-de-sac if he needs to.
We invite you to listen to the audio interview with Tim Toler in its entirety at this link.
Our interviewee, Tim Toler, owns Clean Sweep Lot Service LLC. You may reach Toler via email sent to here.