An Interview With Mark Watje, President of Curbtender Sweepers, LLC
by Ranger Kidwell-Ross
June 2019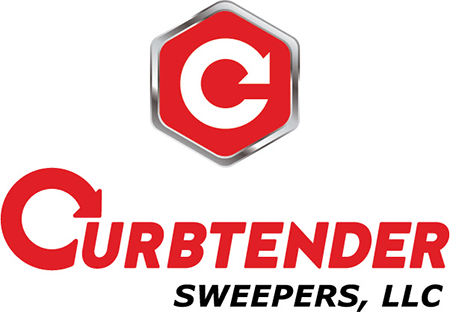 Wayne Engineering was long known as one of the top garbage truck suppliers in the U.S. In 2007 the company branched out into sweeper manufacturing under the name Wayne Sweepers via purchase of the Centurion sweeper from Tennant.

Since then, the company has increased its footprint into the sweeping industry, as well as reorganized with new investment partners and formed Curbtender Sweepers LLC in October 2017.
Mark Watje first got involved with the company where his father, Kevin, serves as CEO in the early 2000s when still a college student. However, after graduation Mark worked some years at Western Star Trucks before coming back in 2016 to what is now Curbtender Sweepers.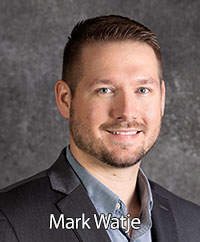 "During the process when we decided to rebrand/rename our company," said Watje, "one thing we realized was that the products at our long-standing equipment manufacturing company all involved the curb. One such product at our sister company in the refuse manufacturing division was called the 'Curbtender Automated Side Loader.' We thought the Curbtender name was worth adopting to make be the name of the whole company. It's one that identifies to all of the other products that we manufacture that are in our cities every day helping to clean the streets and clean out the curb whether it's a street sweeper or garbage truck."
When the company entered the sweeper manufacturing business in 2007, there could've hardly been a worse time to do so since the recession hit soon after. Although very sophisticated and one of the most environmental designs in the marketplace – offering waterless/dustless features and more – those features made the Centurion probably the most expensive street sweeper in America. However, because of the solid design that had been done by the Tennant organization, Watje says the machine taught them a lot about sweepers in specific and the power sweeping industry in general.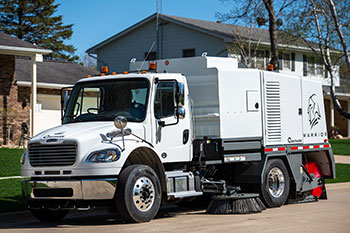 "What ended up happening," Watje said, "is that we morphed the Centurion into our Warrior model mechanical broom sweeper. The Warrior is very rugged and durable, and is essentially a stripped-down version from some of the more complicated aspects offered by the Centurion. The Warrior has really been our mainstay ever since.
"One of the difficulties we ran into with [the sweeping side of] our company initially was that we expected many of the dealers of our refuse division to take on our sweeper line. We had been selling garbage trucks for over 50 years and we automatically figured our dealers would take on the new product line. However, most of them had competing product lines. It has taken a long time to earn their trust and show to them that we are here to stay for the long haul. They have seen that we are introducing more and more products and that we offer a lot of great value to our customers.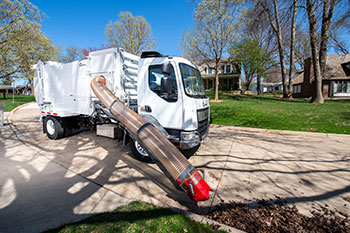 "Over time, we have gained more traction and, spurred by our reorganization to become Curbtender, our dealership network has accelerated quite dramatically. We have been introducing new products, including our Sentry regenerative air sweeper and a compacting vacuum leaf collector, called a VacPak, that have been very successful in their demonstrations. One of the other big reasons why we are able to advance more quickly is that we are now able to get our products out into people's hands.
Prior to 2017, under its old corporate structure, the organization was not allowed by its partners to have demonstrators. Two years ago, though, those partners were bought out and the company refinanced, which has freed up the father and son team to begin running the company the way they feel it should be run. This includes having a number of demo and stock trucks available across Curbtender's product line.
"Now that we can show our customers and our dealers the kind of quality product we provide, along with our customer service level, we have seen a catapulting of the amount of representation we have. We are now represented in 32 U.S. states and Canadian provinces. Before, we only had strong representation in 12 areas and were going direct in the rest, which was not nearly as good for our customers or for us. We have clearly opened another chapter in our evolution and are seeing people now knock on our door to see about representing our product line."
"Some of the excitement we have seen is also the result of the level of innovation we are offering. We will soon be introducing another regenerative air street sweeper that will complement our Sentry line. Beyond that, we have plans to work on purpose-built sweepers, as well."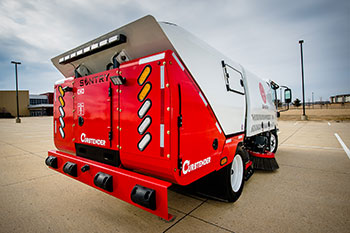 Curbtender's current regenerative air model, called the Sentry, is a 4.5 cu. yd. machine designed for both small municipalities and contractors. Watje says the Sentry is versatile enough to work well in complexes and parking lots but, at the same time, is very much at home on the street. The company is currently working on a more traditional-sized 6.5 cu. yd. sweeper model that is being designed as a low-dumping machine.
"We have a great engineering team and I'm very excited about the prospect of this new regenerative air machine. Our engineering group has me check in once in a while, when appropriate, but they are all very accomplished. We 'stole' our Engineering Manager from Honeywell Aerospace; our vice president came from John Deere, where he had been an Operations Manager.
"We are surrounding ourselves with great talent and right now are in the process of building out that team. We have also brought in four engineering interns from local universities. It's a great opportunity for them because it's not very often that an engineering student gets to work on something larger than a small 'widget.' Here, they are actually part of the research and development process of an entire large product line. You can really see them respond with excitement at what they're doing. We are at a great point in our company history and are happy to be at the spot we are with Curbtender. We have a bright future ahead of us and I'm very excited about the products we have out there now."
When asked about total cost of ownership (TCO), a concept emphasized on the Curbtender website, here is how Mark responded: "The primary aspect of TCO is to change how you design your products. Here's what I mean by that: There are companies that purposely design products that will generate parts' revenue. By contrast, we look at ourselves as manufacturers of new vehicles and new components, not as a parts distribution house. That's not our business; we want to make our money from building and selling the equipment, not from selling parts.
"Not just in our industry, but in others, products are designed to fail in certain areas, to have more wear surfaces and what have you. When it comes to wear parts, we are always thinking 'How can we replace that at some point and make it so we don't have to have a wear part there anymore?' We get this from the agrarian roots we have here in Iowa. We talk a lot about the common values we have here; many of us grew up on farms or have family members that are farming.
"When you farm, the dollar you're spending is very valuable to you. When you buy a piece of equipment you expect it to be dependable and to work hard for you because that's what feeds your family. It needs to work and it needs to work for a long time. You can't have it going down in the field for some silly reason. We are approaching communities with the intent of cleaning them and keeping their streams clean and their streets safe and we see that as a very important endeavor. If we succeed it's because we create cleaner communities and that's what we want to focus on.
"As a result, when we design our products we want them to be more robust than they need to be in most instances. We try to spec up on the materials that we're using. We go to that next level to make sure it's going to last. The other thing is that we take a very serious approach with our vendors, including the kind of support and warranties they are offering. If they are willing to offer a three- or a five-year standard warranty, that tells me they have a lot of confidence in the components they are supplying.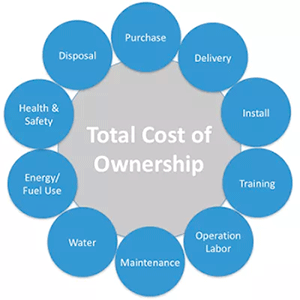 "The cost of a sweeper includes the cost on the backend as well as the expense upfront. We are trying to manage both sides. Our goal is to provide the maximum value for upfront cost. We are probably not going to be the cheapest company out there and will also not be the most expensive. However, what we want customers to feel is they got the best value for their dollar by buying a Curbtender product. Then, on the backend, I hope they are able to say 'I sure didn't have to replace as many parts as I normally do on a street sweeper.' That's our focus for total cost of ownership on our street sweepers."
Curbtender's sweeper line is touted as being 'PM-10 Certified.' We asked Mark Watje how important he saw that in the current sales climate. "I think the answer to that interesting question is somewhat regional and also fluctuates. Our Centurion line does dust suppression without the use of water. I can say from that standpoint that most municipalities are not prioritizing the environmental aspect like they did before. The Centurion model, when Tennant owned it, was the most environmental – as well as the most expensive – model out there and they sold a lot of them. Today, we don't get that many quotes for the Centurion because customers seem like they're just fine having a traditional, water-based dust suppression system. That's one big change I've seen.
"Back around 2008 we saw a lot more interest in waterless/dustless technology than we do today, when probably 99% of the sweepers we sell have a standard dust suppression system. However, there is a lot of focus by cities to clean up their streets as well as keep material out of their streams. I do think that aspect has increased, although the recession threw everybody off from their best intentions. Unfortunately, the street sweeper is the first vehicle taken out of the municipal budget. Firefighters and police get their new equipment first, then garbage trucks to keep the trash off the streets. I don't believe that to be correct since we need to keep the entirety of a community clean and safe. The reality is, though, it's expensive to keep a street sweeping operation going."
On our accompanying audio podcast, Watje discussed the current situation of Kansas City, Missouri, which recently stopped sweeping its streets. The result has been quite an outpouring of concern by citizens, since safety and cleanliness is being widely affected, especially for bicycle riders. He speculated that such an occurrence might actually have long-term benefit, since it makes people realize what street sweepers do. Years ago, he says, I don't know if you would've had that kind of public outcry.
That's one of the reasons why Curbtender focuses so strongly on total cost of ownership, says Watje, because it's not the upfront cost of the sweeper that causes sweeping programs to go down; rather, it's the ongoing cost of operation. Sweeping, unlike garbage collection, doesn't charge per household customer, so there isn't the same type of built-in funding mechanism for it. This is discussed in more depth on the audio, including the value of both funding street sweeping and removing more pollutants gained via vehicle removal during sweeping.
Watje also discusses on the audio podcast the recent advances in, and importance of, software apps that advance preventive maintenance on chassis to reduce repair costs. In brief, this now typically involves tablets outfitted with software that guides the operator through the machine's daily checkpoints. Small RFID tags can even be put at different inspection points a driver needs to see and the software can actually tell when the driver has gone to that point and spent the appropriate amount of time there, whether it's lubricating or inspecting or whatever else. The Curbtender team is looking at how they can incorporate those types of apps for their own quality assurance applications.
"We would like to have a way to show the operators what the factory-sponsored way is to achieve best practices for how to keep the vehicle running for a good long time. When we begin to incorporate that kind of technology it will really help out. We want to put the sweeper operators into that role from day one, with the tools they need to keep thir machine in tip top shape. Those types of systems also provide visibility and accountability for the fleet manager."
Watje was asked to discuss his company's unique Vanguard product, which is a removable front broom attachment. The Vanguard is offered with mounting options for trucks, street sweepers or skid steer units. In the photo it is shown mounted onto a Curbtender Warrior sweeper.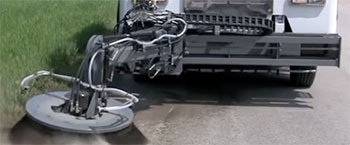 "The Vanguard is essentially a front broom attachment," he said, "one that is quite versatile: The broom can slide back-and-forth and articulate or be a fixed-point broom that swings out into position. The Vanguard product has the same type of hydraulics as the ones on our sweeper gutter brooms, with full tilt, hydraulic controls, down-pressure adjustment, etc.
"You can get pretty creative with how you use it but essentially it lets you reach out, away from the chassis, with your broom. This can be onto a sidewalk, for example, or if you are on a highway or freeway and don't want to get that close to a barrier you can utilize the Vanguard to let the vehicle it's mounted onto stay quite a bit further away from it. One that we sold into Germany was used to remove weeds and grass from the curb line. They spun it very fast to remove vegetation from the shoulder. We've mounted them on everything from skid steers to dump trucks to street sweepers. The Vanguard broom has even been used to remove pavement paint striping."
When asked what he'd like to have as his final thoughts in the interview, Mark Watje said the topic he'd like to bring up is finding ways to increase the safety of street sweeping operations. "Because our sister company is involved in garbage truck manufacturing, where there is more loss of life and limb, especially in rear loader trucks, we are very conscious of safety. I think the sweeping industry needs to get more creative about getting better safety systems on sweepers.
"We are a big moving target out there that's going slow in the lane of traffic. There are a lot of new products on the horizon that will assist with sensing and identifying collision events and objects. There might be ways we can design safety systems that will help alert oncoming traffic [to the sweeper's presence] as well as helping us to avoid obstacles and traffic we are engaged with when we're operating the equipment.
"For example, Freightliner is developing active braking and collision mitigation systems on its trucks. I had an opportunity to test these when I worked a several-state region for Western Star prior to joining Wayne, now Curbtender. They can take a full tractor-trailer to a complete stop from 60mph to zero if there is, for example, a stalled car in the middle of the lane. This technology is evolving every day and the question is, 'How can we design these types of systems so they work for our sweepers?'
"Right now, the systems are designed to detect objects the truck is encroaching on. How do we make it work for vehicles that are encroaching on us? Then, how do we appropriately alert that encroaching driver, who may be texting or whatever, that they are about to slam into the back of the sweeper? As an industry, I hope we can come together and design this because the technology is out there. We just have to be creative enough to figure out how to apply it.
"These types of things present great challenges and, honestly, it's fun to be pressing on with innovation. We really love designing new technologies and systems and products. Engineering has always been at the core of our business; previously, the name of our company was Wayne Engineering and it didn't get that way by accident.
"The company was formed about 55 years ago by a previous chief of engineering at John Deere. Ever since then, engineering has always been a focal point of our company. We take that as part of our unique identity. We love it when somebody says 'I have an idea.' We are always ready to hear those ideas because that's a big part of our culture and what we do."
If you want to listen to the approximately 35-minute audio conducted with Mark Watje, we invite you to play the audio linked at this location (will open into a new browser window).
---
For more information on Curbtender Sweepers, LLC, the company's website is www.curbtendersweepers.com/. You may reach Mark Watje via email sent to: MWatje@curbtender.com. Curbtender's direct phone number is 319-266-1721.