Valley Power Sweep Provides Quality Services in British Columbia, Canada
Jeff Lindhout purchased Valley Power Sweep in 1998 during an economic downturn. Plus, his purchase only included a single sweeper and a 1-ton truck.

Since then, he has slowly built the company through doing a good job for customers and responding to their requests and a growing clientele. Today, he operates three Schwarze sweepers, an S-348 and two A4000 machines, as well as an assortment of smaller, trailer-mounted sweepers and scrubbers.


by Ranger Kidwell-Ross


Valley Power Sweep offers a wide-ranging service area centered around their location about 100km east of Vancouver, British Columbia. A willingness to travel that much distance is not unusual in the relatively sparsely populated western province of Canada. Once outside of the confines of Vancouver, BC, the province is primarily composed of small towns 15 to 20 miles apart from each other.

In addition to sweeping, the company provides scrubbing for warehouses, production plants and other industrial locations. They also perform a variety of hot and cold power washing services for the same type of clientele, plus cleaning of heavy equipment. Other services they handle in order to be a "one-stop shop" for their clients include asphalt repairs, crack sealing, curb repairs asphalt sealing and catch basin cleaning.

Another challenge facing anyone in that market area is the significant difference in weather conditions and snowfall from one area to the other. For example, there is little snowfall in the Vancouver area because it is located so near the Pacific Ocean. What is called locally the "Pacific effect" keeps snow events to a minimum and when it does so, in a accumulation typically melts in at most a day or so.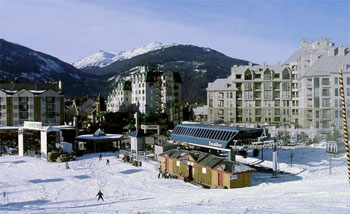 By contrast, the world-famous skiing town of Whistler – which was the site of the 2010 Olympics and is only 70 miles from downtown Vancouver – has an elevation of just over 2000 feet and an average snowfall of over 30 feet per year!
"In much of our market area, including all of the City of Vancouver, there is not a large emphasis on putting down sand or other traction material," says Lindhout. "That all changes when we get to Whistler, though, where we typically do 4-to-5 weeks of sweeping. They have to use much more traction material in the winter.
"The same is true for Chilliwack and other points east, as well, because the temperatures get much lower in the winter, down to minus 10 or 12 degrees at times. As a result, they use quite a bit of sand in those areas. So, our challenges become different in the spring in those areas. It's the same for our customers, though; they just know they want their parking lot clean.

To better cope with whatever challenge a situation might bring, Lindhout has one of his Schwarze A4000s outfitted with a windrow broom. This comes in handy in a couple of circumstances. "The windrow broom is mostly used for any kind of very tough debris that doesn't want to come up. Oftentimes where a lot of sand was put down we can get the top layer up with normal sweeping. Then, we use the windrow broom to break up the packed-down layer underneath before vacuuming it up with the sweeper.
"The windrow also is handy in heavy construction cleanup, and we have some clients with roads without a curb-and-gutter. They oftentimes just want the material swept off to the side of the road.
One relatively recent change Lindhout has seen in his market in recent years is that calls from construction contractors have been coming with less lead time. With the advent of cell phones, the typical contractor tends to wait longer to call a sweeper when one is needed, then wants them to show up onto the jobsite more quickly .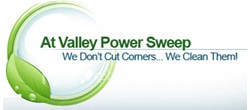 "We certainly try to accommodate everyone if at all possible," says Lindhout, "but sometimes if our sweepers are all out we just have to decline the business. When this occurs, typically that will become the catalyst for them to modify their planning process to give us more lead time in their schedule in the future. That type of thing is a learning process in both directions."
The equivalent of the US Environmental Protection Agency is called "Environment Canada." Currently, the agency does not require that there be a sweeper on a construction jobsite at all times. However, if an agency inspector is dissatisfied with the amount of dirt and debris on a construction site they will require that the contractor hire a sweeper. If that doesn't happen, the agency will make sure the site gets cleaned – but at a higher price than Valley or any other sweeping contractor is likely to charge.
"More and more," says Lindhout, "the agency is getting on contractors to keep their messes cleaned up. Even though sweepers are not required on construction sites, contractors are being warned that if they don't keep their site cleaned up they will be shut down. Most of the sites will have you come on twice a day, once around lunch time and then again at the end of the day around four o'clock when they're shut down."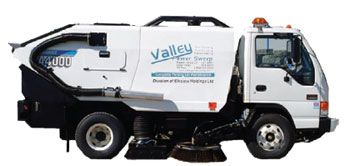 Although the vast majority of businesses in the U.S. employ a sweeper on occasion to keep their property cleaned, Lindhout says that's not necessarily the case in British Columbia. "There are people who don't really care what the outside of the property looks like," Lindhout says, "but the ones who do will have a sweeper come in. There are some parking lots that look so bad that I won't even go into the store. The fact is, though, that exterior cleanliness still doesn't matter to some of the businesses in B.C.
"They might have employees do some picking up, but that doesn't leave a great result. There's still material in all the corners and edges. Some have their landscapers work on their parking lots by blowing material with their backpack blowers but of course that doesn't do a very good job, either. With the vacuum sweepers you can get all the material, keep the particulates from running into the drain and really make a property look great."
Although Lindhout declined giving any real inside tips about his operation – since he'd done so in the past and had competitors use it against him – he was more than willing to talk about what has brought him the success he's seen.
"We've built our business on being straightforward, honest and doing good work. I do know of other contractors where, if there's a problem they will leave the problem and hope it goes away. There can always be times where a job doesn't get done quite right, due to weather or cars being parked in the parking lot or whatever. The important part is to work with your customer to gain a satisfactory end result. If there is an issue, we get it resolved.
---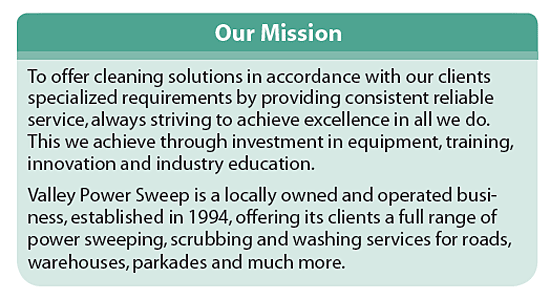 ---
One thing Lindhout did comment about was inadvisability of giving "special deals" to any particular people. In his experience, doing so can come back as a negative. "In the few situations where I have provided special pricing for someone, usually because we are going to be in the area or some such, it has turned out badly. They will talk to others about the price they got, forgetting about why they got a special deal. So, I have learned to provide the same price to everyone based on my cost of doing the sweeping.
"I would also tell other contractors to simply not take any work that doesn't meet their costs. I have read at WorldSweeper about the US Maintenance and WalMart issue and am surprised that some contractors appear to be willing to work at what must be less than their cost. If no one will agree to do that, then these big companies will run out of contractors and have to pay reasonable prices.
"In my experience, in these situations they will often come back to the 1st contractor they talked to, the one who gave them reasonable pricing and then insisted on staying at that price. Every contractor needs to realize that if they can't make a profit they just won't be able to stay in business."
For more about how Valley Power Sweep operates in their British Columbia market area, including information not covered here about their snow removal and deicing operation, you are invited to listen to the approximately 22-minute audio interview with Jeff Lindhout.
Note: The audio interview with Jeff Lindhout will play without downloading any files onto your computer. If you hear the interview at 'chipmunk speed,' you will need to download the latest version of Adobe's free Flash player.
Note: To play the interview, click this link or on the small triangle inside the circle you see to the left. If you have any trouble accessing this audio, please let us know.
---
Jeff Lindhout may be reached via email sent to info@valleypowersweep.com. You may also reach them by calling 604-792-8003. The company's website is located at www.valleypowersweep.com.
If you have questions or comments about this article and interview, please, let us know and we can add it in as an addendum to this article.