Clients Call on – and Count on – Professional Cleaning Co., Inc. for Whatever Services They Need
As a college student, Jim Weinberg spent a couple of summers working at the Arlington Park Racetrack for the housekeeping contractor who took care of cleaning at the track. As fortune would have it, just at the time Weinberg finished college in 1984 the contractor was expanding his business and needed an operations manager.

Armed with a newly minted college degree, Weinberg suddenly had a new management job to go with it.
by Ranger Kidwell-Ross

"The contractor had just acquired a number of community-type shopping malls," reminisced Weinberg, "smaller malls in the 100,000-to-200,000 square foot range. At the time, the company centered on janitorial services: window washing, vacancy cleaning and related services."
However, a couple months after Weinberg came on board one of the customers requested the addition of parking lot sweeping to the services offering. "Although there were a couple of power sweeping contractors in the area already," Weinberg recalled, "they weren't happy with them. So, we added sweeping. After that it wasn't long until we started adding other parking lot services like striping, pressure washing, lift truck work and, as is reflected in our service list today, much more."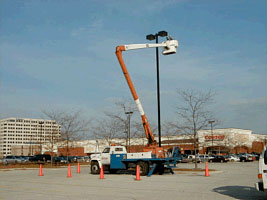 As this interview was conducted in November of 2011 Weinberg's company, Professional Cleaning Co., Inc. (PCC) was just finishing up with its decorations' season, when it uses its lift truck to hang Christmas decorations, lights, etc. for many of its retail customers. The lift truck is also used for sign work, lights change out, pole repair and more.
Perhaps because his company started on the janitorial side and then moved to parking lot sweeping, Weinber's approach has been to perform all the services in between for his clients, as well. PCC's concept is to take on pretty much whatever its customers need, 365/7/24. If it's not one of the few services they do not perform inhouse these days, they have established a local professional roster of the companies that do a good job at a reasonable price.
Weinberg is proud of his track record with client retention. He cited a situation that occurred not long after the company started parking lot sweeping that, Weinberg says, told him the company was on the right track. "Simon Properties at that time was outsourcing the sweeping of their 13 community shopping centers in the Chicago area," he said. "My company and another company were each awarded half and half. After a month's time, PCC had all 13 centers under contract. Out of the eight centers Simon still manages today we are currently servicing five of them. That's over 25 years of service and is the kind of client retention we like to have as our hallmark."
As part of PCC's company concept, callers never get an answering machine. A live person answers the phone 24 hours a day, one who is well trained to handle any type of emergency situation or referral that is needed. A rotating roster of different employees are on call for emergency contact at different times. A number of his clients, Weinberg related, list PCC as the emergency contact for their tenants.
"Whether it's a sewer backup, a plumbing leak or something else entirely, it's then up to us to get the situation handled," said Weinberg. "For example, in the case of plumbing problems we have developed a list of the preferred plumbing companies for our clients. If it's something we can handle, then of course we do. Either way, there is just one number a tenant needs to call in order to get their problem handled."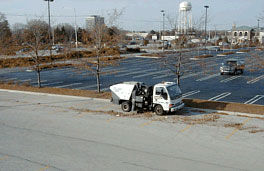 To help its customers keep up with the needs on their properties, PCC conducts on-site inspections as a routine part of doing business. There is no charge for the service and, Weinberg says, it provides a level of security for his company's customer base. "Our people routinely go out and personally inspect our client properties," said Weinberg, "not just for the cleaning needs but to also find out if there are any damages to the curbing, or to trees, or if graffiti is present – and a variety of other items. Our customers are promptly notified of anything we find. This includes digital photos to show exactly what is needed. All of that is provided along with an estimate for repair. That is something that no one else in our area was doing at the time. Today, more and more customers are insisting on this type of service, which for us has long been an established part of our business.
"Without a company like us keeping track of what's going on the gas company can sometimes mistakenly turn off the service. Being in the Chicago area, if that happens in the winter months extensive damage can occur as a result of broken pipes or other results due to the extreme cold. Our overriding goal is to make sure our company properties remain safe and well-maintained. We have a number of property managers who are located out-of-state, and these services are particularly valuable to them."
PCC performs virtually all types of sweeping except municipal street sweeping. Since most street sweeping contracts are one year only, to Weinberg it doesn't make sense to gear up with needed equipment for contracts that can be that short. However, the company has a wide variety of sweepers, including street class sweepers that can handle construction cleanup and other heavy-duty sweeping activities.
Although they started with two TYMCO sweepers, since then PCC has had primarily an all-Schwarze sweeper fleet. Their versatile fleet includes several low-profile, 343-D units that allow clearance for parking garages, as well as a 233 single-engine gas unit. These complement PCC's main fleet of twin-engine parking lot machines. It's larger fleet includes an A7000 and M-series broom sweepers.
In the audio interview, which is linked below, Weinberg discusses a number of additional aspects of his company. These include his experience with employee leasing that stem from a unique perspective – PCC provides an employee leasing program for some of its clients. Weinberg outlines how this has worked for his company and what has been involved with providing these types of services.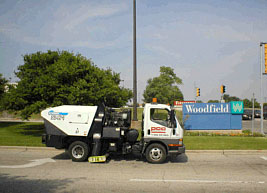 Another good idea that Weinberg offers is how he has structured his company's relationship with its fuel vendor; in a nutshell, PCC enters into a futures contract for fuel. The agreement provides them with solid fuel pricing in future months. This gives the company a level of certainty in its costing so it can better predict fuel costs during its budget and planning sessions.
"We have not had a good experience with adding on fuel surcharges in our area," said Weinberg. "Here, it is a difficult thing to do. With our futures contract for fuel, we are much better able to predict fuel expenses out into the future. Plus, the fuel vendor we use is local and saves us time in traveling to get fuel and provides us with excellent records of our fuel usage per vehicle."
In the audio you will also hear Weinberg discuss his experience with working with unions for some of the services his company offers. He has done a variety of union negotiating in the relatively pro-union Chicago area, and offers good ideas for how to conduct the negotiations in order to bring them into a 'real world reality' of discussion.
Weinberg also talks about his experience in finding new workers, which primarily centers around referrals from current employees. PCC has a number of workers of Hispanic and other ethnic origins, and has found that his employees are often familiar with friends and family members that do a great job when they come on board.
"In my experience," said Weinberg, "if one of my employees is going to refer somebody they are going to first make sure they are a quality individual. They will take their time and really evaluate that prospective employee. The current employee also typically explains the ins and outs of the business, his experience at working with the company and so forth prior to referring them to us. They are also available to answer any questions the new person might have, and sometimes doing that in their mutual native language, rather than their 2nd language of English, can make a difference, as well."
For more about how Professional Cleaning Co., Inc. operates from its location in the Chicago, Illinois area, including information not covered here, you are invited to listen to the approximately 50-minute audio interview with the company's president, Jim Weinberg.
Note: The audio interview with Jim Weinberg will play without downloading any files onto your computer. If you hear the interview at 'chipmunk speed,' you will need to download the latest version of Adobe's free Flash player.
Note: To play the interview, click this link or on the small triangle inside the circle you see to the left. If you have any trouble accessing this audio, please let us know.
---
Jim Weinberg may be reached via email sent to jimw@procleaningco.com. You may also reach them by calling (847) 259-4051. The company's website is located at www.procleaningco.com.
If you have questions or comments about this article and interview, please, let us know and we can add it in as an addendum to this article.