Owner of Supervac of Pensacola Provides a Veteran Perspective
Larry Morton got into the sweeping business because he had a mobile home park that had lots of trees. The leaves were a perpetual problem and he needed a way to keep it looking nice.

When he saw an ad for a Schwarze sweeper, he got the idea that if he bought a sweeper – and then got another customer or two to help pay for it – he could justify the expense.

At the time, total cost for a sweeper was about $15,000. His initial goal was to get enough business to operate the machine three nights a week, since he had a full-time job. In time, Morton grew his Supervac of Pensacola (a division of L.T.D. Enterprises) fleet to a 16-sweeper operation.
by Ranger Kidwell-Ross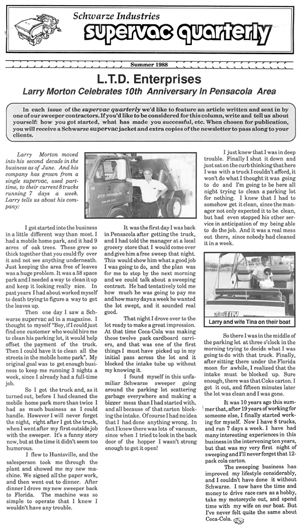 Larry Morton was one of the first sweeping contractors I ever wrote about. A brief overview on his company appeared in the second issue of the first newsletter in America produced for sweeping contractors, the Supervac Quarterly. In case you'd like to read it as a PDF file, click here or on the graphic of it shown to the right. I also read some excerpts from it during the audio interview, linked below.
You will definitely want to either read the article or listen to the excerpt, because Morton's very first night on the job for his first customer turned into every sweeping contractor's nightmare. For a long while, Morton recalls, he was convinced that buying the sweeper was the biggest mistake he had ever made since instead of picking up the debris his sweeper scattered it all over the lot.
From that rocky beginning, though, Morton slowly built his sweeping company to become the premier operation in the Pensacola, Florida area. At the company's height he ran 16 sweepers, primarily doing parking lot work. Today, Morton has pulled back his operation to four sweepers on daily/nightly routes and a couple of street sweepers that are used as needed.
"It's not nearly as hectic as it once was," says Morton. "Now I job-share with contractors who are on my market edge instead of trying to have such a large service area. Because of fuel costs it makes more sense to not run as far. We are concentrating on working smart instead of being as large as possible. We are utilizing a variety of new technology, including computers, cell phones, GPS and smart routing.
"Today I know where my drivers are, how fast they got there, how long they are staying on the routes and much more. In the old days all we had were two way radios that didn't work some amount of the time. That was before GPS, too, so there was no way to really keep track of what was going on out on the routes.
"Although I don't check the GPS output on a regular basis, I do get alerts as a result of a variety of factors. And, the GPS gives us a record of where we have been and when. If there's ever a problem in a shopping center or elsewhere, we can pinpoint pretty accurately what time of the night we were there, how long we were there and so forth.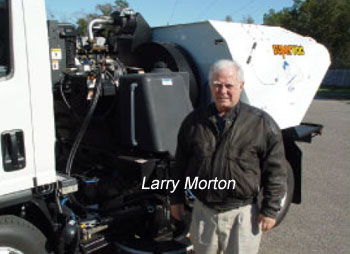 Morton provided another example of how things have changed through the years: "As a first for us," he says, "one of my employees was accosted by robbers out on the job. Although the bad guys were just 14-year-old kids, one of them had a gun and it was a very serious situation. Fortunately, we had two men on the crew and the sweeper driver saw what was happening and quickly got to the scene. Also fortunate was that a deputy happened to pull into the lot right then and the kids were apprehended."
One change that has occurred since that situation took place is that Morton makes sure to have two-person teams on all of his nighttime parking lot sweeping routes. The one on the ground wears a reflective vest, which makes it easier for the driver to keep up with him. His employees are also taught to keep an eye out for each other and to not get too far away from each other on the jobsite. Other than that, Morton says, there's nothing he's been able to think of that would have made a difference.

"There are also some shopping centers that I refuse to do, since they are in such bad neighborhoods. I just don't think there's a way to make sure my crews can work safely in them so we simply don't take the business. All business is not good business and when you have to go into a bad area where you are putting your employees at risk it's not worth any amount of money."
Morten is among those who has learned a hard lesson about dealing with national service providers. He cites the recent U.S. Maintenance problems as an example.
"They demand a lot of things that are unreasonable and then additionally do everything they possibly can to keep from paying you. For example if you have work completion reports that you have to turn in weekly or monthly, and then if the store manager happens to have dated it incorrectly, the fact is you probably won't get paid for that night's sweeping. Working with these national providers is the biggest nightmare I've ever had to endure in the 34 years I've been in business. I'm still trying to get paid for some of the work I've done dating back to last September, almost 10 months ago.
"Finally, when I couldn't get paid and I couldn't get any answers – in this most recent situation no one would call me back from either US Maintenance or Walmart – I just quit sweeping the properties. That got their attention after a few days and I then started getting phone calls. I told them that in some instances I hadn't been paid for three months and wasn't going to continue sweeping. That did make some difference but it's a shame when you have to operate your business in that manner or take such drastic action just to get properly paid as has been agreed upon."
Morton says one of the big problems in his area is similar to what many say is occurring throughout the United States: Contractors who do not know what their actual expenses are and so they bid too low in order to get a contract. "I have run into situations where street sweeping contractors have come in with a bid that is half of what the going rate per curb mile was 10 years ago," says Morton.
"They simply do not have a clue as to what their actual costs will be to do the sweeping and typically don't last too long. It oftentimes costs more to run the trucks then what they're making in total. It's great to make $1 million and that's what everyone wants to do; however, if it costs you $1.1 million to make the million..."
In our audio interview with Morton, which is about 50 minutes in length, he reminisces about how the industry used to be as well as discusses what he's seeing in the marketplace today. The interview provides an interesting perspective on the sweeping industry and how it has changed through the years.
Note: The audio interview with Larry Morton will play without downloading any files onto your computer. If you hear the interview at 'chipmunk speed,' you will need to download the latest version of Adobe's free Flash player.
Note: To play the interview, click this link or on the small triangle inside the circle you see to the left. If you have any trouble accessing this audio, please let us know.
---
Larry Morton may be reached via email sent to supervac@aol.com. You may also reach them by calling 850.477.4167. The company's website is located at www.supervacofpensacola.com.
If you have questions or comments about this article and interview, please, let us know and we can add it in as an addendum to this article.