Guardian Management Company Strives to Nurture Both Customers and Employees

When Ross Barton got into the sweeping business he already had strong credentials as the manager for a large landscaping firm. That, combined with the positive way he and his wife, Tina, choose to run their business, has provided them with a path to success.
by Ranger Kidwell-Ross
Ross and Tina Barton, owners of Guardian Management Company, have been serving Idaho's western Treasure Valley for a decade. More recently, they have expanded their services into adjacent areas of Oregon. Today, the company specializes in parking lot sweeping and landscape maintenance for both commercial and residential properties.
As items of pride they cite two major accomplishments: being able to exceed their customers' expectations while maintaining an outstanding level of customer service; and, providing an enriching, fulfilling and rewarding environment for their employees, one that results in long-term relationships.
"Our crews are trained to be proactive to notice even the little things," says Barton. "Quality control is built into everything we do. No matter what it is we see out of place on one of our customers' properties, we make sure to tell them about it."
Barton perhaps gained his attention to detail while managing the largest landscaping firm in his market area. While he was in that position, he was asked to approach the owners about purchasing several sweepers being sold by a local sweeping company. The landscape company's ownership were not interested, but Barton was. After getting permission to investigate the opportunity on his own, Barton ended up purchasing the sweepers.
For the first two years he stayed with his landscaping job and had two operators run the sweepers. After that, he realized he needed to be more hands-on so quit his landscaping job to work his business full-time. In part because he had a three-year noncompete for getting into landscaping, he added parking lot striping to his company's offerings. However, Tina continued to work in a doctor's office for three more years. At that point she was able to join the company, as well, and today runs all of the inside office portion of the operation.
---
Our Mission...
To attract clients and exceed their expectations in a long-term relationship.
and to
Provide an enriching, fulfilling, and rewarding environment for our employees.
---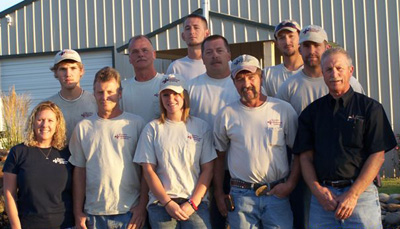 In my experience of conducting these interviews for many years I have found it common to have business owners tout that they provide excellent service. Seldom, however, do they complete the loop of how they are able to do that.
In this case, though, Ross Barton spends an equal amount of time talking about his employees and the relationship he and his wife strive to forge with them, which makes it clear exactly why his company would be capable of providing a top-notch level of service.
Another topic that Barton discusses at length in the audio interview is how he networks with others in his community, as well as why that is both a good business and personal model. His primary way of networking, he says, is through Business Network International (BNI), which lays claim to being the largest, most successful networking organization worldwide, with over 122,000 members in 5,450 chapters meeting in 42 countries.
On his local level the organization is composed of a variety of area business people. On average, Barton says, about 50 of them meet once a month to network and discuss ideas. "Referrals from friends and business acquaintances are much better than simply having leads or cold-calling on prospects," said Barton. "Although we still have to cold-call on occasion to grow our business, it's much better when someone each of you know has already told someone about you and your company. You're much more likely to make a sale when that's what occurs."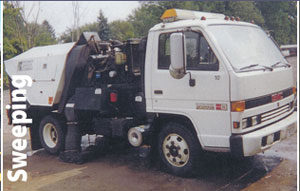 Sweeping contractors in a large metro area who conduct their business within the same 40 mile radius Barton cites as his company's territory might never leave their primary city. That same 40 miles for Guardian Management Company encompasses a total of 21 towns in two states, Oregon and Idaho. Because the company does work in a variety of small towns, any company's reputation is easy to find out. Barton makes it very clear that his reputation is of paramount importance.
"One thing I do not do is discount my services below the level where we can provide excellent work," said Barton. "We believe we must be able to do an excellent job for all of our customers and we work with companies that expect that from us. I recently chose not to become involved with bidding for US Maintenance, for example. The amount they would pay, given the specifications of the contract, was not enough for us to do work up to our quality standards. We simply cannot afford to take on an account if we know that what it pays won't allow us to provide that customer with great service."
In the following audio interview with Ross Barton, which is just under 18 minutes in length, he covers all the points discussed above and more. We encourage you to listen to what he has to say; as you will hear, Ross and Tina Barton are operating their full-service maintenance company exactly as one should be run. It is easy to see why they have gained the loyalty of both their employee team and their customers.
Note: The audio interview with Ross Barton will play without downloading any files onto your computer. If you hear the interview at 'chipmunk speed,' you will need to download the latest version of Adobe's free Flash player.
Note: To play the interview, click this link or on the small triangle inside the circle you see to the left. If you have any trouble accessing this audio, please let us know.
---
Ross and Tina Barton may be reached via email sent to guardian@fmtc.com. You may also reach them by calling 208-642-4643. The company's website is located at www.gotoguardian.com.
If you have questions or comments about this interview, please, let us know and we can add it in as an addendum to this article.