Accusweep Services has Gained Long Term Success by Being a Team Operation

In 1987, David McCaskill worked as a sales rep for a local radio station. One day when he was at lunch with one of his clients, as he often did he asked the man what type of job he thought David would be best suited for. The customer said "What about the parking lot sweeping business?" He then went on to explain that he, himself, had a sweeper truck and swept his own parking lot.

After asking some of his other customers if he could sweep their lots, and getting positive answers, McCaskill got a sweeper and got to work. Today, going on 25 years later, the Accusweep Services Team sweeps parking lots and much more.
by Ranger Kidwell-Ross

In a refreshing change of pace, the husband-and-wife team of David and Fran McCaskill insisted prior to the interview that if their company was to be portrayed accurately, they wanted to talk about their employees in their audio interview. "Day in and day out," they said, "this company is about the job our employees do for our customers. It's not just about us."

Whether you are a sweeping contractor, an Accusweep customer, or anyone else who takes part in managing a business and/or employees, there is much value in the McCaskill's approach. As you listen to the audio recording, I challenge you to think about your own employees while you listen to Fran describe Accusweep's key personnel.

How would you describe the people on your own team? Could you as easily – and without looking at notes – rattle off so many positives about your workforce as Fran McCaskill was able to do unrehearsed in the interview? If not, consider writing a list of the positives about each of your employees and then, once you've done that, share these with your workers. Better yet, find a way to make these accolades a part of the public record, as the McCaskill's have done. What better way to say "We appreciate you!" (As well as to show you know it takes more than just management to make a business hum!)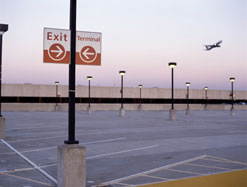 In our audio interview, the McCaskills offer a number of good ideas. One tip that most any sweeping contractor could use is what the Accusweep team does with regard to their garbage can liners. As any seasoned contractor knows, sometimes right after you or your employee changes out the liner in a trashcan someone will come along and fill it to overflowing. When this occurs, there's no way for your customer to know if your company representative forgot to change out the liner or not.
What the Accusweep organization does is to color code the tops of their liners; there is a different colored top for each day of the week. Customers may even be given a list of what color matches each day of the week. That way, it is easy for all concerned to know if the liner was changed when it should've been. Excellent idea.
The McCaskills choose to have both a sweeper operator and a backpack blower operator on each of their routes. They do this for a variety of reasons. One is they do not want to be so tight on employees that if someone can't make it in on a given night the customer will suffer any type of consequence. By having two people on a typical route they are still able to handle a route if they end up short-handed.
Perhaps the foremost reason, though, is the issue of safety. "One of our operators had a heart attack while he was at work," said David McCaskill. "If there had not been two people on the job the outcome could have been very different. As it was, the other employee was able to drive right to the hospital and the outcome was a good one."
Another innovative benefit that the Accusweep organization offers its regular sweeping customers is free emergency cleanup, whenever that might be needed. Although this is something that isn't necessary all that often, when it is the service is greatly appreciated. David McCaskill relates on the interview several of these situations and how the customer benefited in each. This very good idea is one I have not heard about anyone else doing.
The McCaskill's have two teenage daughters, which gives them a conduit in keeping up-to-date with what is going on in terms of social media on the internet. Fran McCaskill provides insight in the audio about some of the directions the company is headed in that regard in the near future.
Their upcoming website, which they anticipate will be ready by the end of April, will incorporate a variety of social media concepts as well as state-of-the-art tracking methods to see where people are coming from when they visit their website. In addition, they will be able to track what pages people go to while on the site, which will help them to better tailor what they offer.
"We know that people prefer to be educated when they visit a website," said Fran, "not to just see a company advertisement. We plan to offer a variety of information that will help visitors make better decisions, no matter whether they go with us or not." In the audio interview you can also hear David McCaskill discuss his take on national service providers and how he feels contractors should react to some of the "lowball, unsustainable offers" that some of the service aggregators seem to be insisting upon.
"I got some good advice a long time ago that is absolutely true in a situation like that," said David. "It costs a lot of money to run a sweeper and to be out on a route. If you're not going to make any money doing your job, and I'm talking about just a normal profit, then the fact is you'd be better off not putting the wear onto your sweeper and instead spend the time with your family."
He has more to say on this topic, all of which is well worth listening to. For that, and much more, you are highly encouraged to listen to the audio interview with David and Fran McCaskill. Hear for yourself what they have to say in our 34-minute audio interview. The audio includes details on the topics touched upon above, plus much more.
---
Note: The audio interview with the McCaskills will play without downloading any files onto your computer. If you hear the interview at 'chipmunk speed,' you will need to download the latest version of Adobe's free Flash player.
Note: To play the interview, click this link or on the small triangle inside the circle you see to the left. If you have any trouble accessing this audio, please let us know.
---
David and Fran McCaskill may be reached via email sent to accusweep@aol.com. You may also reach them by calling 803-782-2900. The company's website is located at www.accusweep.com/.
If you have questions or comments about this interview, please, let us know and we can add it in as an addendum to this article.