Uppsala, Sweden's Experience With the DISA-CLEAN 130, High Efficiency Sweeper
by Ranger Kidwell-Ross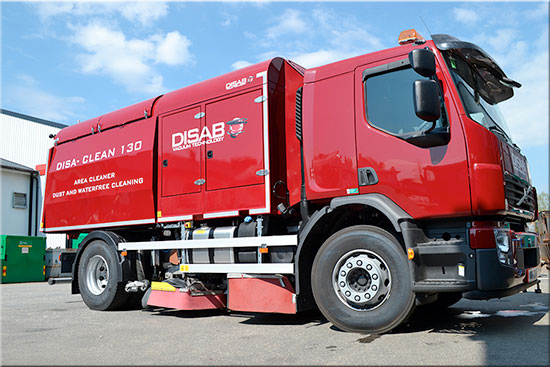 The increasing problems with maintaining water quality in the midst of burgeoning population growth and urbanization is a problem for most industrialized countries. Sweden is no exception. Here is an overview of the new sweeping technology to combat runoff pollution chosen by the City of Uppsala, Sweden's 4th largest city.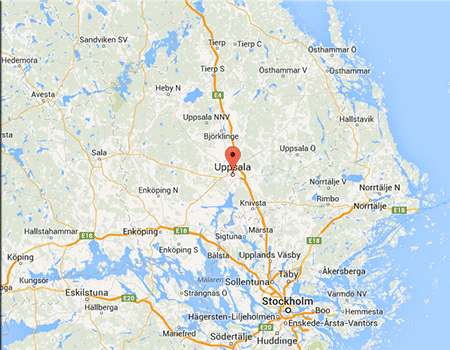 First, some background: Uppsala has about 190,000 inhabitants. The city has retained its small-town charm while offering the opportunities and attractions of a big city.
Uppsala is considered to be the religious and historic center of Sweden and, with two universities, the city has a solid base of both knowledge and tradition. Uppsala is located close to Stockholm, with a trip between the cities taking around 40 minutes by train.
A small sampling poll cited at Numbeo.com, pegs current satisfaction with 'drinking water quality and accessibility' at 83.33, a high mark. The overall Pollution Index, as compiled by the same website, is a favorably low 24.71. Numbeo's Pollution Index is an estimation of the overall pollution in a city. The biggest weight is given to air pollution, then to water pollution/accessibility, which are considered to be the two main pollution factors. However, a small weight is given to other pollution types.
As a comparison to cities in the U.S., the Numbeo website scores Seattle, Washington a 28.93; New York City's rating is 49.4; and, Miami, Florida gets a rating of 46.83. Paris, France is a 66.95; Cairo, Egypt 96.63 and Sydney, Australia pegs in at 24.48.
In spite of Uppsala's relatively low pollution index, city managers are taking significant steps to keep it that way – or, ideally, improve it.
Like most larger cities within the European Union, Uppsala is facing difficulties meeting and/or beating the EU's increasingly stringent PM-10 regulations. The toughest challenge regards air quality in terms of reducing ambient particle content. Violation of the EU-regulations can mean quite substantial penalties. Miss the targets and cities and communities are forced to pay a fine to the EU.

Since 2010 Uppsala and Stockholm have been doing serious tests in an attempt to come up with different solutions for sweeping and cleaning the street environment. One method that was initiated during 2010 was to utilize a sweeper made by Sweden's Disab Vacuum Technology, called a DISA-CLEAN sweeper. This is a model of road sweeper made in Sweden that boasts the ability to both brush and vacuum the street surface without the addition of water or chemicals for dust suppression or to aid in cleaning.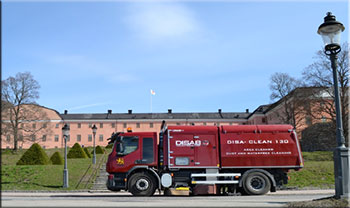 For the test, a contractor that owned a DISA-CLEAN model 130 was hired and a full scale test was conducted. The City's PM-10 levels were strictly monitored during the time period of the test, 2010-2012. The new method of sweeping proved to make such a difference to Uppsala's inner city air quality that the City decided to invest in its own DISA-CLEAN 130 sweeper.
Ake Westling and Per Blom, Business Unit Street managers at Uppsala, say of the City's experience with the DISA-CLEAN sweeper: "With the DISA-CLEAN 130 we can manage and control the particle level of PM-10. During 2013 [while using the DISA-CLEAN to sweep] we did not exceed the tolerated PM-level for one single day. With this method, using high vacuum instead of water, we really can suck up the fine dust, not just "paint" it to the surface.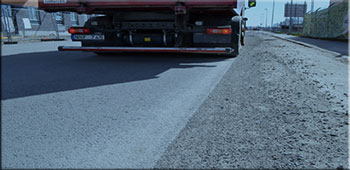 "The DISA-CLEAN is not just giving us a better result on the road surface and for air quality; it also increases capacity of sand removal in the spring and at normal street cleaning. As no water is added, operation in below zero temperatures is no problem."
For this article, we interviewed Disab spokesperson, Tommy Klang. "The DISA-CLEAN sweepers were developed to meet EU's legal requirements that apply to the removal of harmful PM10 particles in cities and industries. Our philosophy is simple and based on the way cleaning is done in a home.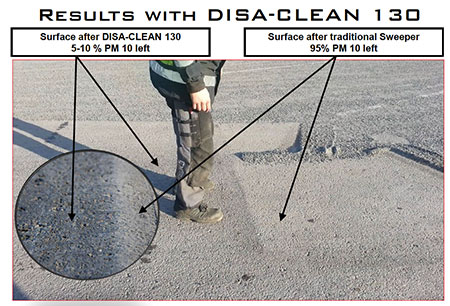 "For maximum dust removal, it doesn't make sense to wet the floors before vacuuming or using a broom. The best results are obtained when the floors are vacuumed first. The DISA-CLEAN vacuum sweeper combines brushing and vacuuming in one operation without the addition of water. This design method has made the DISA-CLEAN a very highly efficient at both large and small particle removal."
The DISA-CLEAN sweepers offer a four-step process for separating dust from its filtration system. This process ultimately cleans outflowing air to just 2.5 microns. (Human hair is about 72 microns wide.) The filters clean them automatically, whenever needed. The machine even offers a feature sweeping managers and contractor-owners are sure to love: a One Touch Command System that offers 'start cleaning' and 'stop cleaning' – designed to make operation as easy as possible.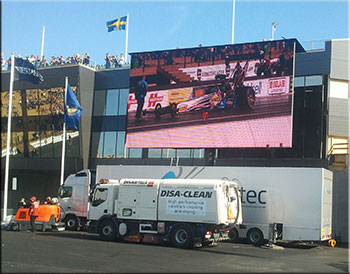 Without curb brooms, the sweeping path is 2500 mm/8.2 ft. With the addition of both left and right optional side brushes, the total sweeping width expands to 3100 mm/10.17 ft. The sweeper is mounted on a 13-ton chassis and the sweeper is powered by a 4-cylinder turbo engine. Engine output is 129 Kw/173 hp. Hopper capacity is 5000 L/6.5 cubic yards.
The DISA-CLEAN has also been found to be a very effective track cleaner and drying system for racetracks, as well. According to the track manager at Tierp Arena, Sweden, "the DISA-CLEAN is the best unit we have used so far."
Here is a brief YouTube video showing the DISA-CLEAN in action alongside a 'traditional' air sweeper.
If you would like more information on the sweeper, we offer a link to the sweeper's specification sheet. The DISA-CLEAN sweeper is available throughout the globe, although marketing is centered in the European Union. That said, Klang says a unit has been operating in Russia since 2008 and another unit is scheduled for delivery there now.
If you would like to make inquiries, you may reach Tommy Klang via email sent to tommy.klang@disab.com. General contact information for a variety of countries is also located at this web address. The Disab Vacuum Technology website is located at: http://disab.com/. The site is available in Swedish, German, Polish and English.
Ranger Kidwell-Ross is the Editor of WorldSweeper.com and Executive Director of the World Sweeping Association. You may reach him via email sent to: editor@WorldSweeper.com