About
Since 1964, RAVO has produced high-quality street sweepers for customers worldwide. A total of over 20,000 RAVO 5 Series, 5 iSeries — and recently also the 5 eSeries sweepers — have been delivered to cities like Berlin, Montreal, Rome, Amsterdam, Philadelphia, and many more. RAVO's core strength is still its pioneering spirit in combination with listening to its customers.
Add to this its solid, proven technology and intelligent innovation and it is no surprise that the RAVO 5 iSeries is the world's most sold sweeper.
---
The RAVO 5 iSeries: A clean street in one pass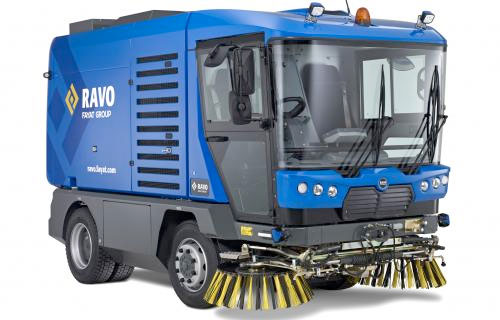 The RAVO 5 iSeries is built according to Dutch quality standards, focusing on robustness, superior technology and innovative design. The sweeper delivers at all levels, with its incredible uptime, fuel savings compared to twin engine sweepers, design with the operator's comfort but also ease of maintenance in mind. The sweeper has only 15 monthly greasing points for example.
The RAVO 5 iSeries has been developed to clean almost any street in one pass. Spring or Autumn, sand with pine needles, gravel or leaves, main streets or bicycle lanes, smooth tarmac or cobblestones, the 5 iSeries cleans thoroughly.  Debris is stored in its spacious 6.5 Cubic Yard stainless steel hopper which has an unrivalled compaction rate and loading capacity of 12,125 Lbs.
Check out the ISeries website for further information, to download a brochure, find links to YouTube videos or, better yet, to find your local dealer.
---

The RAVO 5 eSeries: The latest innovation in sweeping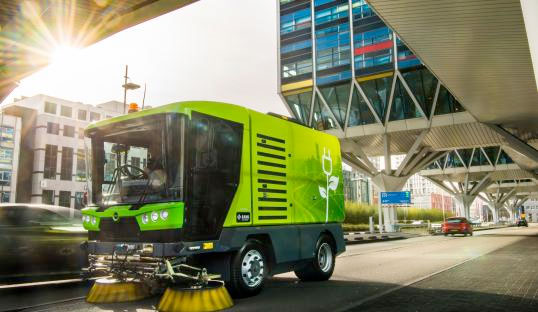 The RAVO 5 eSeries is a fully electric, super-silent, and emission-free sweeper that offers a sustainable solution for city environments. The 5 eSeries by Ravo is yet another step in the company's continuous drive to ensure the well-being of citizens and contribute to a healthy, clean future for everyone in the community.
Choosing the RAVO 5 eSeries, is not only choosing for the most sustainable solution for keeping any urban environment clean, but also for the highest quality and reliability, based on proven technology, derived from years of experience in the sweeper world.
The RAVO 5 eSeries offers all the great characteristics of the RAVO 5 iSeries: excellent sweeping performance, a powerful suction system, a high load capacity and unmatched compaction rate but with the benefits of being able to sweep without emissions, both exhaust and noise.
The RAVO 5 eSeries can be fully charged in two hours with a power charger whereas normal charging takes 8 hours. The RAVO 5 eSeries truly delivers on the promise of low maintenance costs. The number of moving parts is minimal, which means that little maintenance is required on the machine. This keeps the maintenance and running costs per hour of operation low.
Check out the eSeries website for further information, to download a brochure, find a link to YouTube videos or, better yet, to find your local dealer. To see a variety of photos of the RAVO 5 eSeries in action, click here
---
RAVO Sweepers: Endless options
RAVO offers a wide range of options to customize its sweepers, catering to many different needs and situations. Various dumping heights, heavy-duty packages and water options such as a high-pressure spray gun, water recycling, and an additional spray bar to name a few.  The unique third front broom option increases the sweeping width of the sweepers and allows drivers to clean pavements, shoulders, and street gutters more efficiently. Combine this option with the weed cutter broom to remove weeds in the most environmentally friendly way.
Meanwhile, the silent package reduces the noise level of the RAVO 5 iSeries by 15 percent whereas the patented SAIGA filter system reduces the dust emission to PM2.5.
---
Since 2010 RAVO has been part of FAYAT Environmental Solutions, a Business Unit established by the FAYAT Group to underline its commitment to a cleaner environment. Currently, the BU consists of the RAVO, Scarab, Mathieu and Dulevo brands and is the largest sweeper manufacturer in the world. But it doesn't stop here, the ambitions are to grow further however in a way which is beneficial for its customers as well. By combining engineering power and production processes, great results have been and will be achieved to which everyone benefits. For more information regarding FAYAT Environmental Solutions, please click here: FES.
For direct contact with Cees van der Put, sales manager at RAVO send an email to cp@ravo.fayat.com or call him at 262 725 4210 for North America or 0031 6 538 47 616 for the rest of the world.