About
MASCO Sweepers, Inc. is a manufacturer of street sweepers and truck-mounted vacuum parking lot sweepers. We have been providing well-built parking area sweepers since 1975 and our sweepers are in use in most every state as well as overseas.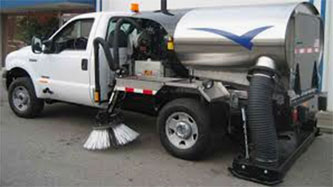 The sweeper shown to the right is our Model 1600RBS Parking Lot Sweeper. The Model 1600RBS is a three cubic yard, gas-powered, heavy duty vacuum sweeper designed to sweep parking lots with heavy trash. Combined with the Chevrolet C1500 gas truck it becomes a professional duo that will provide high performance sweeping for your business requirements.
Our Econo Model has many of the same specs as our 1600RBS, only with a 24" fan (instead of 28") and powered by a Kohler ECH749 air-cooled 750cc engine. You can learn all about this high-performance parking area sweeper at this website link.
We also can mount our 1600 and Econo Series on a variety of alternate chassis, including Ford F150, Toyota Tundra and RAM 1500. If you already have one or more of those model trucks, talk to us about mounting on your existing chassis, either short beds and long beds.
In addition to our new sweepers we have a full line of reconditioned sweepers, used sweepers and repo'd sweepers. Please call us for a current list. As always credit financing, no money down leasing, and short term rentals are available.
Thank you for your interest in our sweeping equipment. Give us a call at 800-345-1246 to speak with one of our representatives today!