If you're in the market for a street sweeper, you'll want to check out the machines produced by Bucher North America!
Our North American hub is based in Mooresville, North Carolina. Founded in 1904, Bucher North America is the world-leading manufacturer of outdoor surface cleaning equipment – street sweepers.
In the American market, Bucher offers four different models of chassis-mounted sweepers. Click on any of the photos or model numbers, below, to see more information on that model at the Bucher North America website.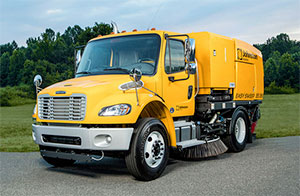 ES351 – MECHANICAL CHASSIS-MOUNTED SWEEPER
The newest member of the Johnston Sweeper family is the "ES351 Easy Sweep, "a four-wheel, mechanical sweeper.
A proven single-engine design that blends a superior collection of features that provides ownership advantages such as the tightest turning radius in the industry and a stainless steel hopper with a Lifetime Warranty.
VT652 – REPRESENTING OVER 50 YEARS OF AIR SWEEPER EVOLUTION
Our latest V Range sweeper, the VT652, is the result of over 50 years of evolution and continuous improvement. The V Range has established itself as Jo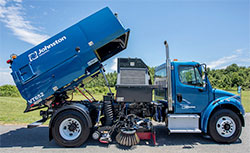 hnston's most reliable and dependable truck-mounted sweeper. The new VT652 is the natural evolution of the hugely popular outgoing VT651 model, incorporating literally thousands of customer-led design upgrades as part of Johnston's commitment to customer feedback and design excellence.
The launch of the all-new VT652 is the result of intensive design and testing by Johnston's engineering team, which has involved re-examining every single component of the V Range to bring the clever new sweepers to market.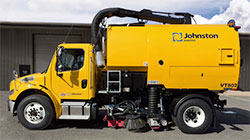 VT802 – HEAVY-DUTY WORK SITE POWERHOUSE
Available in dual- or single-sweep configuration, the maximum 3.6m swept path ensures superb coverage per hour – and with high capacity hoppers, water systems, and fuel tanks, the V Range is designed to stay at work for longer.
Mounted to the subframe, the hydraulically operated sweeping system is designed to prolong the life of the brush and reduce the cost of ownership. Both channel and wide-sweep brush installations feature quick-change mechanisms which reduce downtime between changeovers.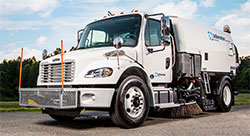 RS655 – POWER AND PERFORMANCE PACKAGED FOR THE CITY
The RS655 is a single-engine sweeper that provides cost-effective, efficient road sweeping. Regenerative air circulation allows for large forward-facing digger gutter brooms and a full-width suction to maximize sweeping speed. Combined with ergonomic operator controls and low running costs, the RS655 provides an ideal solution to long low-cambered roads and urban environments.
We invite you to visit the Bucher North America website for complete information about any of our sweepers. You can also determine your closest Bucher dealer, as well as arrange a personal demonstration of any of our world-leading power sweepers.