About
We know how important it is to make a great first impression. With Master Sweeping & Maintenance your tenants and customers will see the difference!
Keeping all outside areas clean and properly maintained is becoming increasingly recognized as an important element of successful business property management.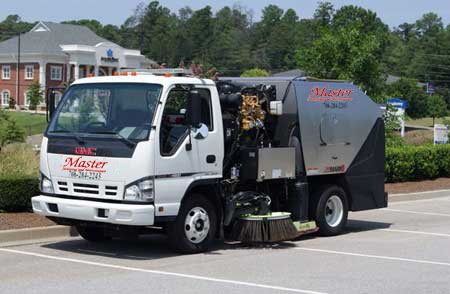 Most business owners know potential customers are negatively affected when there is visible debris and litter in their parking area and surrounding areas. Many do not realize, however, that a routine program of sweeping also helps maintain inside floor surfaces, sealcoating, striping and more.
We provide parking lot and construction sweeping and related services to a wide variety of customers, including:
Shopping Centers
Strip Malls
Commercial Buildings
Industrial Buildings
Indoor Garages
Churches
Restaurants
Schools
Construction Sites
Our operators are trained to see the things that others miss.
Because we are a full service property maintenance firm, you will find our awareness of property needs far surpasses that of most sweeping-only companies. We can typically identify problems on your property early on, when they're the least expensive to fix, and then work with you to develop the most cost-effective solutions.
We provide outstanding results in any of our many service areas. Here are some of the many exterior maintenance services we provide:
Lawn Service
Landscaping Maintenance
Pothole Repair
Pressure Washing/Graffiti Removal
Sealcoating, Pavement Resurfacing and Line Striping
Signage and Lighting Installation/Repair/Replacement
Large Item Removal
Holiday Decorations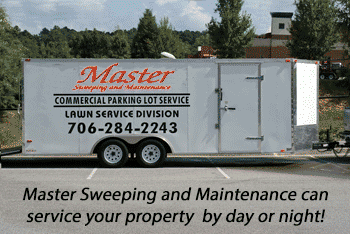 We invite you to give us a call at 706-284-2243 or visit our website, located at www.MasterSweepingAndMaintenance.com, to see more about our company and the quality services we offer.
Or, use the links to the right to let us know how we might assist you with completing your sweeping or other outside maintenance project, on time and within the agreed-upon budget.