About
MAJOR clean, INC.
Parking Lot Sweeping
MAJOR clean provides the highest quality, hassle-free parking lot sweeping services for any size parking deck and lot. We serve a large cross-section of small and large shopping malls, restaurants, and office complexes in Charlotte and surrounding areas.

Residential & Commercial Pressure Washing
In addition, we specialize in pressure washing vinyl siding, brick, stucco and concrete for both commercial and residential customers. Let us show you how to get your property looking its very best.

Deck & Fence Restoration
We are a Certified Wolman Wood Care Products Contractor.
We use an environmentally friendly, low pressure cleaning system to safely remove dirt, mildew and dead wood fibers to restore your wood to its clean, natural, like-new appearance. Then, we apply a high performance, water-repellent, preservative coating to keep your wood looking its best.
Awning Cleaning
At MAJOR clean, INC., we clean and seal both canvas and vinyl awnings for commercial and residential customers. We also provide cleaning services for metal canopies and awnings.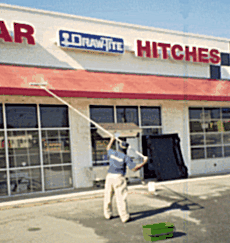 Graffiti Removal
Graffiti removal is a service that is becoming increasingly necessary as the city continues to grow. MAJOR clean, INC. offers VERY rapid response times on graffiti removal. Remember: The sooner you remove graffitit, the less likely that graffiti 'taggers' will strike again!

As a Charlotte native, Scott Major is invested in preserving the beauty and the environment of the city's local shopping malls, businesses and homes. MAJOR clean, INC. also serves the entire Southeast region, providing environmentally friendly cleaning products to enhance and protect your assets.
The company takes pride in its qualified, professional staff. The employees of MAJOR clean, INC. take the time and effort to do the job right the first time and to make sure you, as the customer, are satisfied.
At MAJOR clean, INC., we aren't just interested in having you as a customer once. We base everything we do on having you as our customer for many years to come.