About
Since our founding in 1991, Kleen Sweeps has been known for quality street cleaning services, exceptional efficiency and the highest level of professionalism. No matter what the job, we guarantee to meet your expectations and ensure your full satisfaction.
Our team is up for every job, managing projects with the skill and experience our clients have come to expect. Please get in touch to learn more about our team, our company or for details about the services we provide.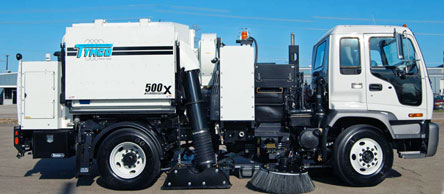 Our sweeping fleet is diverse and we have the right sweeper for virtually any type of sweeping situation. We also have a great team in place, mostly of Hawaiian or Samoan descent, and they are professional to the extreme. We also do our machine upkeep in our own facility, so you can count on our equipment to be in good shape and up to manufacturers' specs at all times.
We coordinate with landscapers to keep any stray grass clippings swept up. We also do all we can to get recyclables out of our waste stream to minimize what has to be put into our island's landfill system. We can also coordinate with you to sweep prior to large rainfall events, seasonal events, etc.

We sweep many of the military installations on Oahu, as well as the island's entire perimeter. Please let us know how we can assist in your particular sweeping need.
We also invite you to view the feature article that was done about us at WorldSweeper in 2009.
We will be glad to offer you a free professional assessment of whatever your sweeping need. Just let us know how we might be of assistance. Call us at 808-537-2278.