CPM offers great services to commercial and industrial clients.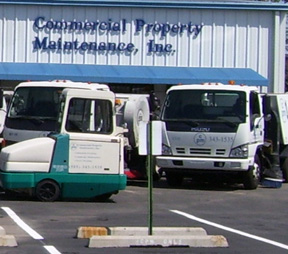 CPM offers the services of parking lot sweeping and landscape maintenance. However, these are supplemented by dayporter services and pressure washing of sidewalks and dumpster areas.
CPM feels a maintenance company can be very valuable if it can professionally serve the varied needs of the property manager or owner. It has thus diversified itself to provide many maintenance needs.
Parking lot sweeping is accomplished by the use of two basic types of sweepers-brush and air; different jobs require different machines.
In addition to mowing and trimming turf and pruning trees and bushes, landscape maintenance is augmented by licensed chemical application, qualified sprinkler system repair and flower bed planting.
CPM provides an annual landscape program for client's review. This includes recommendations and timetables for maintenance and chemical application.
CPM is fully insured to $2,000,000.00 for liability coverage.
Satisfaction is guaranteed. Quality control is employed by CPM's management through both follow-up and immediate response to client concerns.
If you are located within the greater Albuquerque region, please contact us for a no-cost professional assessment of your needs.