Carolina Sweepers began with one sweeper truck back in 2001, our steady growth has made us the largest sweeping company in North Carolina.
Today we have become a full service sweeping and exterior maintenance company. Our service area encompasses much of N. Carolina, including: Burlington, Chapel Hill, Raleigh-Durham, Sanford, Clayton and Wake Forest.
Competitive pricing, a strong reputation, and reliable customer service has made us the most thorough and turn-key sweeping service around. We service shopping centers, offices, parking decks, construction and roadways, and industrial sites.
Power Sweeping:
Our entire parking lot sweeper fleet is the only North Carolina fleet composed of the most quiet sweeper trucks in the USA. Unlike conventional sweepers, we can sweep your rear service area without violating noise ordinance regulations.

Our sweeper trucks are equipped with two blowers should one not start during the night.  This ensures your property is properly blown clean. 
We also maintain two back-up sweeper trucks of the same quality as our other sweepers.  These are available every night.
The sweeper fleet of Carolina Sweepers is maintained to original manufacturer's specifications by our full-time mechanic.  We staff each nightly shift with a sweeper manager who inspects and coaches and also maintain a regenerative air construction sweeper truck for heavier use than parking lot sweeping.
We also provide many other services...
Asphalt repair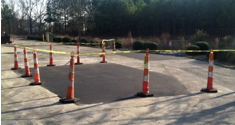 Striping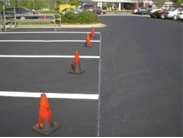 Seal Coating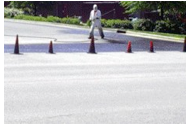 Pressure Washing:
Our knowledge and proper use of chemical solutions is different from the traditional methods. See results of a cleaner surface without damage to that surface.
We expertly use selected chemical solutions combined with a proper cleaning technique.  Both are essential to removing rust and copper stains, paint, grease, hazardous spills, and much more.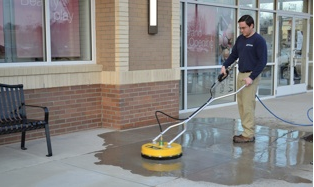 Rust and copper stains along with mildew are easily within our expertise to remove. Our experience includes sidewalks, dumpster enclosures, building facades, and more.

In addition to being Founding Members of the World Sweeping Association, we are also NAPSA members in good standing and offer many years of property management and maintenance experience. Our customers appreciate that one phone call is all it takes to handle most any sweeping or exterior maintenance need, from graffiti to pavement-related issues. 
Call 919-481-9003 to get any questions answered or for a free professional assessment of your needs. Our website is located at www.CarolinaSweeping.com.