CAM Services provides professional property maintenance services to more than 1,300 commercial, multi-family unit and institutional properties valued at over $7 billion across California. If you're looking for the best, you've come to the right place.
Our team of experts provides professional cleaning, janitorial, property maintenance, landscaping, power sweeping, steam cleaning, day porter, ADA remediation, trash chute cleaning and repair, and other services that protect and enhance a property's appeal and value.
Our vacuum trucks, backpack blowers and pan-and-broom teams will keep your parking lots and garages spotless. Our GPS tracking technology records our visits, providing service transparency and integrity. In addition, many of our clients for sweeping also utilize CAM for high-oressure power washing, steam cleaning and day porter services – and more.
CAM Services offers a complete suite of indoor and outdoor maintenance services, in addition to sweeping services. When you choose CAM Services, you'll have one phone call contact for most any type of interior or exterior maintenance service, including:
Premier Janitorial Services
From Class A offices and retail centers to universities and government facilities, CAM Services keeps buildings and businesses sparkling. Fully insured, CAM provides professional cleaning services using the latest techniques, tools and materials, including green-certified cleaning solutions.
• Full-service janitorial programs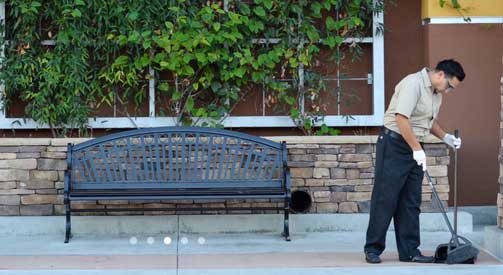 • Window cleaning
• Day porter
• Post-construction cleanup
Expert Floor and Carpet Care
To improve the beauty and lifespan of your floors, CAM Services provides state-of-the-art cleaning and maintenance for wood, stone, vinyl, ceramic, concrete and carpet surfaces.
Hard Surface Floor Care
• Stripping and refinishing
• Spray buffing
• Scrubbing and recoating
• Grout cleaning and sealing
Carpet Care
• Spot removal
• Bonneting
• Shampooing
• Hot-water extraction
• Sanitizing and deodorizing

CAM Services has been trusted since 1987 by leading retail, commercial and industrial brands, as well as government agencies.
CAM Services provides clients with high-quality workmanship and peace of mind as we improve the value and attractiveness of their buildings.
We invite you use the links shown to check out our website for complete information, or give us a call at 310.390.3552. We look forward to exceeding your expectations!